The people of Scotland have just 100 days until they vote in a referendum on whether their nation will remain part of the United Kingdom or separate to form its own country.
Opinion polls between those planning to vote "yes" or "no" to the split have narrowed in recent months, but the Better Together campaign to keep Scotland in the U.K. still has a firm projected lead.
British Prime Minister David Cameron, a vocal supporter of the "no" campaign, tweeted on Monday that people in the rest of the U.K. - that is Wales, England, and Northern Ireland - must send a strong message to the Scottish people.
The non-partisan website whatscotlandthinks.com collated recent polling figures in the U.K. and its average showed 58 percent of people planned to vote "no" in the Sept. 18 poll and 42 percent "yes."
Opposition leader Ed Miliband also sent a message via Twitter urging a "no" vote and focusing on Scotland's key role in building the U.K.'s widespread welfare state.
The Better Together campaign was given a significant boost last week when President Barack Obama appeared to give it his support.
"There is a referendum process in place and it is up to the people of Scotland," he said, speaking alongside Cameron in the Belgian capital of Brussels. "The United Kingdom has been an extraordinary partner to us. From the outside at least, it looks like things have worked pretty well.
"And we obviously have a deep interest in making sure that one of the closest allies we will ever have remains a strong, robust, united and effective partner. But ultimately these are decisions that are to be made by the folks there."
Alex Salmond, the First Minister of Scotland and supporter of the "yes" campaign, said Monday he thought Cameron had asked his U.S. counterpart to weigh in on the debate.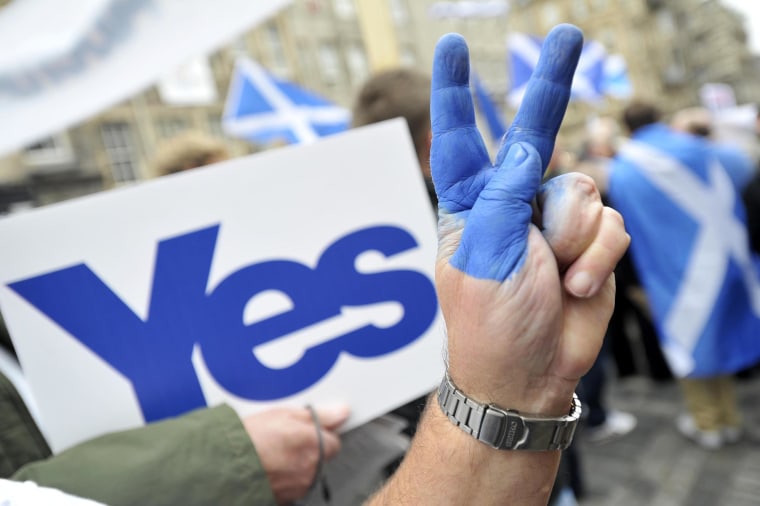 Speaking to Good Morning Britain, the morning show of NBC News' U.K. partner ITV News, Salmond said Cameron had asked "every world leader he could possibly imagine to make interventions about Scottish independence."
The first minister also hit back at claims by U.K. Chancellor of the Exchequer George Osborne that Scotland would not be able to use the British pound, leaving it to find its own currency.
"It isn't George Osborne's pound," he told Good Morning Britain in a program marking 100 days until the vote, but a currency built up "by the people of Scotland and the rest of the UK over many years."
- Alexander Smith