WASHINGTON — Missing Saudi journalist Jamal Khashoggi checked his cellphone just before entering the Saudi consulate in Istanbul last week, but never read messages sent to him minutes later, screenshots obtained by NBC News show.
The screenshots of WhatsApp messages sent to Khashoggi by a friend in the U.S. corroborate the timeline of his disappearance, providing further evidence that he did not leave the consulate, as Saudi Arabia's government has claimed.
Khashoggi's fiancé, Hatice Cengiz, has said he left a cellphone with her before entering the consulate. It's unclear whether that's the same cellphone to which the unread messages were sent. Reports in foreign news outlets have said Khashoggi left one cellphone with his fiancé but carried another into the consulate, and a person close to Khashoggi's family told NBC News that was indeed a possibility.
Either way, the unread messages indicate that after entering the consulate, Khashoggi never regained access to the cellphone that he used regularly to communicate with friends and others in the U.S. The Virginia phone number is the same one that NBC News had used in the past to arrange interviews with Khashoggi.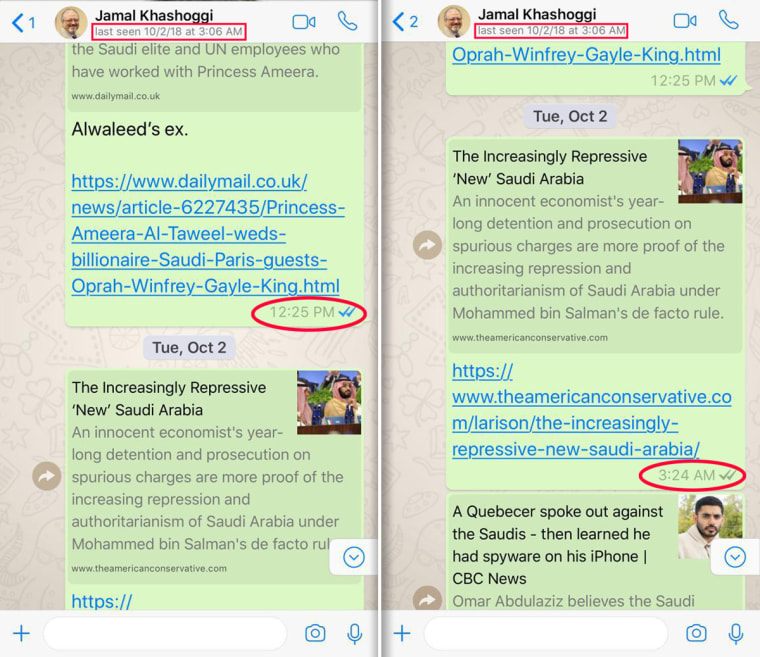 The WhatsApp messages consist of links to news articles sent by the friend to Khashoggi about Saudi Arabia, including some critical of the government led by Crown Prince Mohammed bin Salman. One was a link to a piece in the magazine The American Conservative entitled "The Increasingly Repressive 'New' Saudi Arabia."
Screenshots from the sender's phone show that a message sent to Khashoggi the night before, at 10:25 p.m. Istanbul-time on Oct. 1, was read. WhatsApp uses two blue check marks to indicate messages that have been seen by the recipient.
Later messages sent to Khashoggi show that he was "last seen" on WhatsApp on Oct. 2 at 1:06 p.m. Istanbul-time. The "last seen" feature reveals when a WhatsApp user was last online and using the encrypted messaging application.
Eight minutes later, Khashoggi entered the consulate in Istanbul at 1:14 p.m., according to the timestamp on CCTV footage that shows him walking into the building.
A message sent to him at 1:24 p.m. was delivered to his phone but was never read, indicated by two gray check marks next to the message.
The friend who sent Khashoggi the text messages was in the Western part of the U.S., so the time stamps on the screenshots are in Pacific Daylight Time — 10 hours behind Istanbul. The sender agreed to share the information on condition of anonymity out of concern for the sender's safety.
The new details about Khashoggi's text messages come amid a swirl of new, macabre reports and conflicting information about what happened to Khashoggi, complicating global efforts to determine his whereabouts and whether he's still alive.
Khashoggi, a Saudi citizen and critic of the government who wrote in The Washington Post, entered the consulate last Tuesday to obtain documents needed for his upcoming marriage to Cengiz, a Turkish citizen. Saudi Arabia has maintained that he left the consulate, but has not provided any proof.
Late Wednesday, The Washington Post reported that Crown Prince Mohammed had ordered an operation to lure Kashoggi to Saudi Arabia from Virginia, where he resides, citing "U.S. intelligence intercepts of Saudi officials discussing the plan." But the officials weren't clear whether the Saudis discussed harming Khashoggi or merely detaining him, the report said. NBC News has not had access to the intercepts.
Saudi Arabia's ambassador to the U.S. told Senate Foreign Relations Committee Chairman Sen. Bob Corker, R-Tenn., that consulate security cameras that would have captured his departure were not recording. But an individual familiar with Saudi embassy operations and protocol says that claim "raises questions."
"The Saudis take security at diplomatic posts very seriously, especially in a complex security environment like Istanbul," the individual said. "If the cameras were not working, it could have been a violation of security protocol."
Over the weekend Turkish authorities told NBC News and other news organizations that police believed Khashoggi had been killed inside the consulate. Turkish President Recep Tayyip Erdogan has said it's Saudi Arabia's responsibility to prove that he truly left the consulate.
On Wednesday, three people familiar with the investigation told NBC News that Turkish officials had told the U.S. that Turkey had listening devices inside the Saudi consulate, giving the Turks at least some insight into what transpired inside.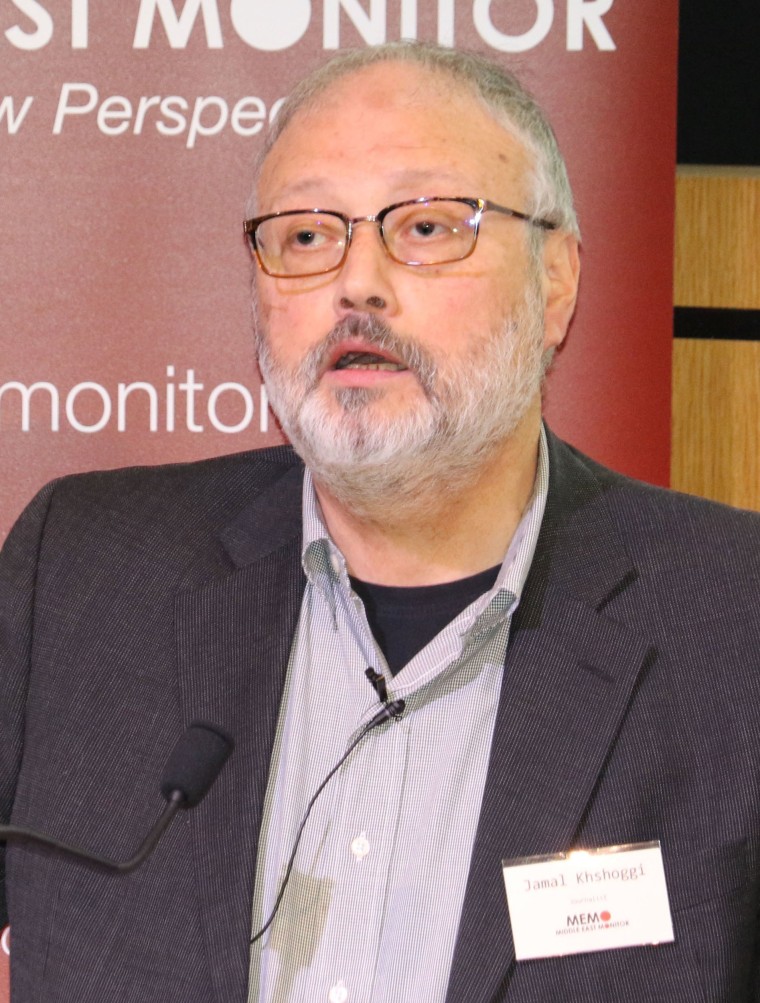 The case has drawn increasing concern from leaders in the U.S., including President Donald Trump, who is pledging to "get to the bottom" of his disappearance. John Bolton, the national security adviser, and senior White House adviser Jared Kushner spoke this week to Crown Prince Mohammed seeking information about Khashoggi, the White House said, as did Secretary of State Mike Pompeo.
"We're being very tough, and we have investigators over there and we're working with Turkey and frankly we're working with Saudi Arabia," Trump said Thursday in a phone interview with Fox News. "We want to find out what happened. He went in and doesn't look like he came out."
Corker and other senators on the Foreign Relations panel sent Trump a letter Wednesday giving the president three months to determine whether Saudi Arabia violated the Global Magnitsky Human Rights Accountability Act, which prohibits extrajudicial killings, torture and other egregious rights violations. A determination that Saudi Arabia did violate the act would trigger sanctions on Saudi Arabia unless Trump specifically waives them.
Corker and some other senators have been given access to a classified intelligence report regarding Khashoggi's case. After reading the report, Corker said he couldn't divulge its details, but told NBC News there was "no question" that it confirmed his skepticism about Saudi Arabia's explanations.
Khashoggi's disappearance has brought renewed scrutiny to the Saudi government's increasingly aggressive efforts to silence its critics. Trump and other Western leaders have praised Crown Prince Mohammed for pursuing ambitious reforms aimed at modernizing the country and its economy, but there have been growing concerns about other freedoms for Saudis violated in the process.