Facebook and Twitter haven't captured everyone's eyeballs yet, especially when it comes to looking for information about local restaurants, bars clubs and other and businesses.
A new study finds that among social media still plays a small role as a resource for that kind of info, far behind search engines, such as Google, and specialty websites. 
Newspapers, both printed and online, "run second behind the Internet as the source that people rely on for news and information about local businesses, including restaurants and bars," says Pew Research Center's Internet & American Life Project and the Pew Research Center's Project for Excellence in Journalism. The report, "Where people get information about restaurants and other local businesses," was issued Wednesday.
Word of mouth, too, "particularly among non-Internet users, is also an important source of information about local businesses."
For the 55 percent of adults interested in news and information about local restaurants, bars, and clubs, 51 percent of them go to the Internet, including these sources:
38 percent rely on search engines
17 percent on specialty websites
  3 percent on social media
For the 60 percent of adults who said they got information about local businesses, they said they rely on these sources:
47 percent say "some kind of online source."
30 percent said newspapers, either in print or online.
22 percent said word of mouth from family and friends.
  8 percent said local TV broadcasts or the stations' websites.
  5 percent said local radio.
Pew's survey of 1,087 adults was done Jan. 12-25 of this year. Here's a more detailed breakdown on those who search for restaurant, bar and club information: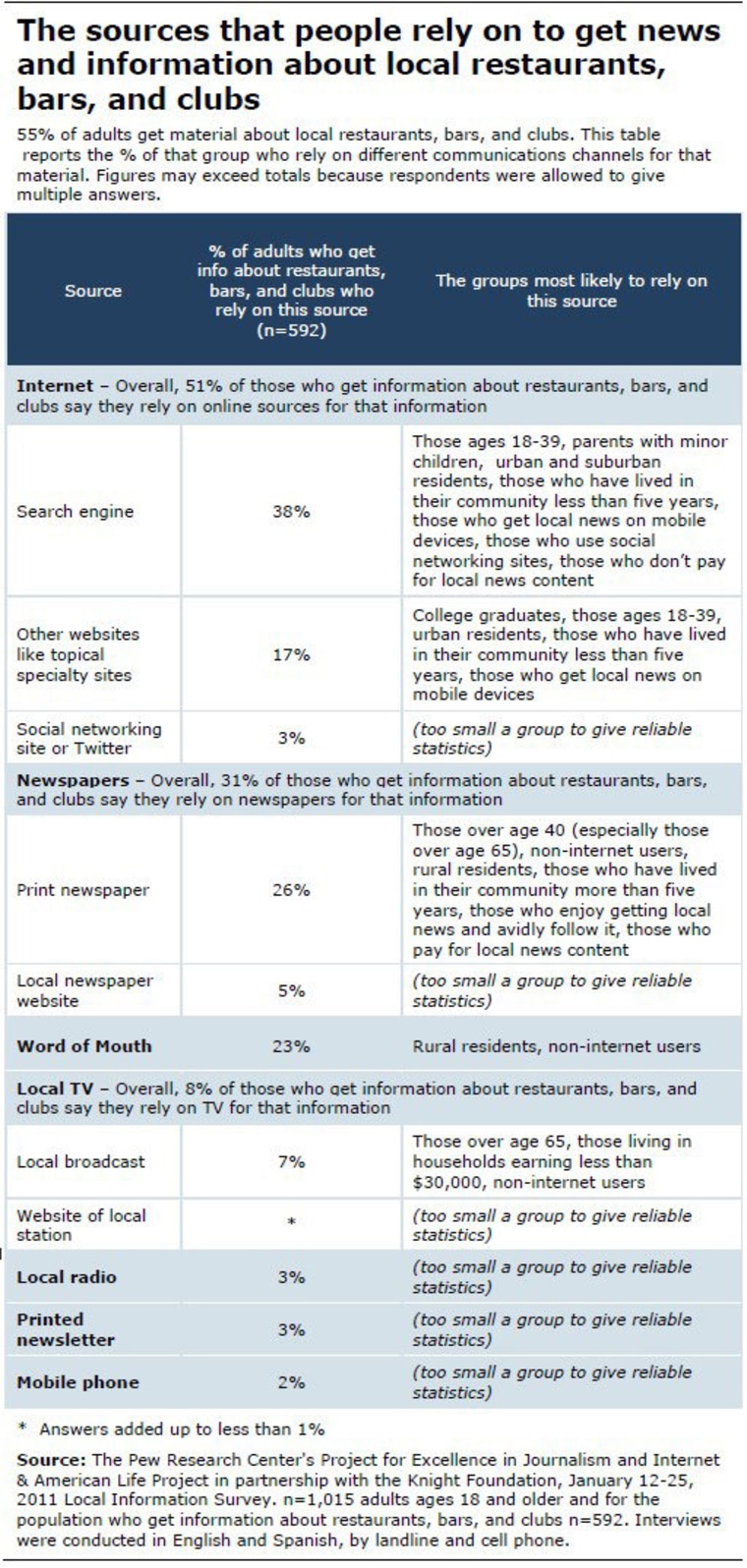 Related stories:
Check out Technolog, Gadgetbox, Digital Life and In-Game on Facebook, and on Twitter, follow Suzanne Choney.