Secretary of State Rex Tillerson on Thursday had tough words for Russia ahead of a visit to Moscow for official talks next week.
In a briefing after the U.S. missile strikes on a Syrian airbase, Tillerson said that Russia had either been "complicit or simply incompetent" in its failure to deliver on a 2013 commitment to ensure that Syria got rid of their chemical weapons stockpile.
The Thursday night airstrikes on a Syrian airfield were in retaliation for a chemical weapons attack on Tuesday that lead to the death of more than 100 Syrians, including dozens of children.
And the remarks come as Tillerson heads to Moscow next week for high-level meetings with Russian officials on a trip originally intended to turn a new page in the U.S. Russian relationship. Tillerson will be the first administration official to visit Russia since President Donald Trump took office.
A senior State Department official told reporters the chemical attack and the Kremlin's continued backing of Syrian President Bashar al-Assad would certainly "color" the upcoming discussions.
According to Russian state media quoting presidential spokesman Dmitry Peskov early Friday, President Vladimir Putin "considers the U.S. strikes against Syria an aggression against a sovereign country violating the norms of international law, and under a trumped-up pretext at that."
Earlier Thursday, Tillerson had said the United States had no doubt that the chemical weapons attack was undertaken by the Syrian government and warned Russia to "consider carefully their continued support of the Assad regime." The secretary also said the Russians and Iranians hold "great moral responsibility" for the attack.
PHOTOS: Rescuers Treat Dozens in Syria Chemical Attack
The senior State Department official also told reporters that Secretary Tillerson spoke with Foreign Minister Lavrov Wednesday, seeking Russian analysis of what they believed occurred during the chemical weapons attack. The Russians claim that the Syrian strike was on a warehouse where anti-Assad rebels stored and manufactured chemical weapons.
Tillerson said Thursday that the U.S. had "a very high level of confidence" that the attacks were carried out by the Syrian regime and involved the use of sarin nerve gas. The secretary also expressed confidence that the last three chemical attacks by Assad's government used the same nerve agent.
Tillerson argued these attacks had provoked no response from the international community and warned that Assad was "in effect is normalizing the use of chemical weapons, which then may be adapted by others."
"It's important that some action be taken on behalf of the international community so we make clear this is a violation of international norms," the Secretary said.
The secretary said the U.S. strikes in Syria Thursday night had been "proportional" and coordinated with European allies.
When in Moscow, Tillerson will meet with Lavrov for the second time since becoming secretary of state. The two first met in February during the G20 summit in Bonn, Germany, where discussions focused on the deteriorating situation in Eastern Ukraine.
The senior State Department Official said the secretary would reiterate that U.S. sanctions against Russia "will remain in place until Russia reverses the actions that triggered them."
A meeting with Putin has not been ruled out. State Department officials were also not able to confirm that Tillerson would be meeting with Russian dissidents or opposition members during his trip but said the details of the trip were still being scheduled.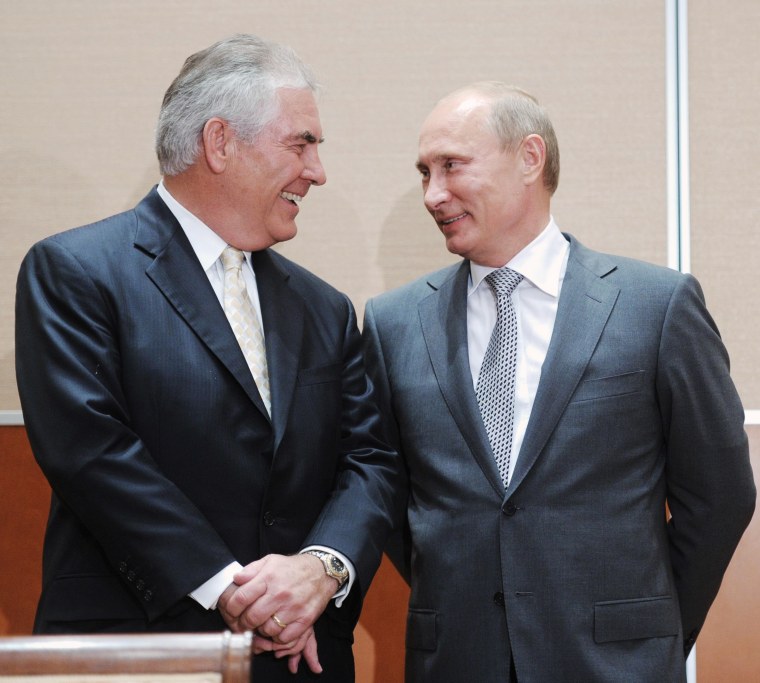 In discussions with Russian officials, the secretary also plans to address the increasing nuclear threat from North Korea. Officials said Russia could be helpful in applying pressure through stricter implementation of existing sanctions.
"There may be other economic measures they can take, and we can explore some of those with the Russians," said the senior State Dept. official.
The U.S. Special Representative for North Korea Policy, Joseph Yun, traveled to Russia ahead of Tillerson, to meet with Russia's Deputy Foreign Minister Igor Morgulov. Tillerson will be hosting Foreign Ministers for a Summit on the North Korea at the end of April at the United Nations.
Tillerson was in Mar-a-Lago Florida with President Trump for a two day summit with Chinese President Xi Jinping where North Korea was expected to be a central topic prior to Syrian strike.