When Republicans won control of the House and picked up six Democratic-held seats in the Senate in 2010, they were greatly helped by the money spent by 501c4 tax exempt groups which had been given new freedom to run ads by the Supreme Court's Citizens United decision and by FEC rulings.
According to an analysis by the Center for Responsive Politics and the Center for Public Integrity, 501c4s spent nearly $95 million in the 2010 campaign.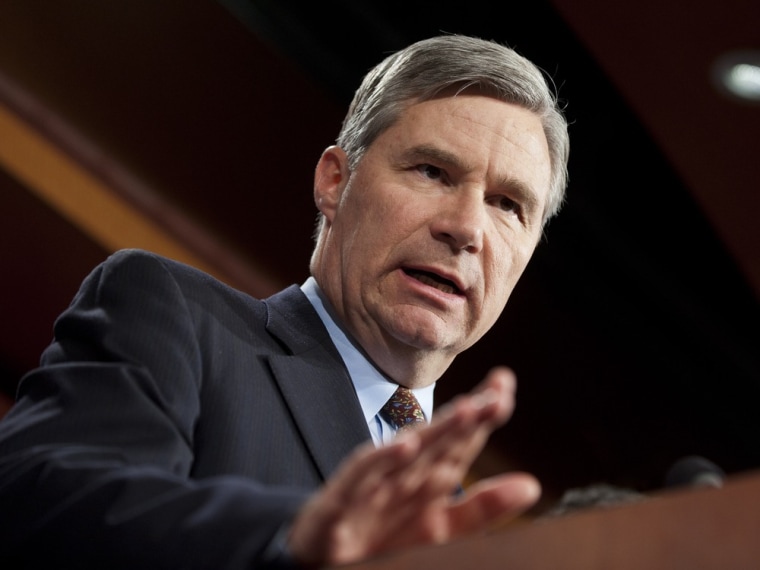 Since donors to 501c4 groups aren't required to be identified publicly, this vehicle is ideal for those who prefer to exert quiet and hidden influence. Citizens United did not change the long-standing law that those who give $200 or more to a candidate or party committee must be identified; it also didn't remove the ban on direct contributions to candidates by corporations or labor unions.
Less than two months before Election Day 2010, the Senate blocked a vote on a bill, the Disclose Act, to stop corporations, unions and individual donors from unlimited and undisclosed independent campaign spending. The bill fell one vote short of the 60 it needed to move ahead to passage.
In the run-up to this year's pivotal election, Democrats have been working hard to try to raise the issue for political advantage, although Democratic operatives have set up 501c4 groups to try to counteract conservartive groups. 
On Monday the Senate will revisit the question of forcing disclosure of secret political donors. It will vote on whether to proceed with a new version of the Disclose Act sponsored by Sen. Sheldon Whitehouse, D- R.I.
Meredith McGehee, the policy director for the Campaign Legal Center, a nonpartisan group which supports the bill, said she doesn't have any expectation that the bill will get the 60 votes it needs, but the vote will "ensure that this issue remains on the radar screen. It's really important that the American people and the media be aware of exactly what's going on right now – that this dark money… is really playing an enormous role and we don't know much about it….."
She added, "At this moment it's really important to get senators on the record" on disclosing political spending. 
Reform advocates contend that voters need to know who pays for political messages in order to evaluate their purpose and accuracy.
If, for example, a group is running ads attacking President Obama and his Affordable Care Act, reformers argue that if the donors to that group were revealed to be health insurance companies,  "that helps them (voters) address the credibility of those ads and the interest of the speaker," said Tara Malloy, senior counsel at Campaign Legal Center.
But the Club for Growth, a free-market oriented and low-tax advocacy group, urged a "no" vote. The bill, it said, "seeks to apply costly disclosure and compliance regulations that restrict political free speech."
A few factors make Monday's vote different from the one in 2010:
The new Whitehouse bill is a substantially different version of the 2010 bill. It would not take effect until after the 2012 election and wouldn't require each ad to include a tag line or "disclaimer" in which the group running the ad identified itself. But it retains the essence of disclosure: any donor who gave $10,000 or more to a 501c4 group that spent money on political advertising would need to be identified and disclosed.
In 2010, no Republican senator voted for cloture. But this time advocates for the Whitehouse bill hope that a handful of Republicans might join Democrats in pushing the bill forward. McGehee identified two of the Republicans who aren't running for re-election this year -- Sen. Richard Lugar of Indiana and Sen. Olympia Snowe of Maine – as possible supporters. The target list also includes Sen. Lisa Murkowski of Alaska, Sen. Scott Brown of Massachusetts, and Sen. Susan Collins of Maine.
In 2010 the effects of the Citizens United decision were still new and not fully felt. But since then voters and senators have had a chance to see the effects of the spending by 501c4s and other groups called Super PACs. If they're distressed by the number and stridency of political ads, Monday's vote would be a chance to start putting limits on independent political spending. 
In 2010 there were only 41 Republican senators. Now there are 47 – and Republicans have a reasonably good chance of regaining control of the Senate in November. The nonpartisan Cook Political Report currently has seven Democratic-held seats in its toss-up category (even the one in the longtime Democratic bastion of Hawaii, which hasn't elected a GOP senator in 42 years). Only three Republican-held seats as rated as tossups by Cook. Another Democratic-held seat, in Nebraska, is rated as "Likely Republican." So Republicans – who up to this point have benefited more from 501c4 spending than have the Democrats – have every incentive to not change the rules, even for the 2014 cycle.
The issue could play a role in some Senate races. In the toss-up race in Massachusetts, Brown voted 'no' on cloture in 2010 and his opponent Elizabeth Warren is pressing him on this vote.
"Citizens United unleashed a wave of special interest spending that threatens to drown out the voices of middle class families," Warren said Friday in a statement. "Billionaires and big corporations can spend unlimited amounts of money during campaigns while they hide behind a curtain of secrecy."
Warren said, "Unfortunately, Scott Brown and Republicans in the Senate have blocked this common sense measure.  It's time for them to stop protecting their influential friends by helping them hide their influence from the public."