Four months and four days after the Newtown shootings, the U.S. Senate has indefinitely shelved major gun legislation. 
The move follows the 54-46 defeat of a compromise to expand background checks, the most critical of a series of amendments that failed to pass the Senate on Wednesday.
Senate Majority Leader Harry Reid announced the decision on the floor Thursday. He said he spoke to President Barack Obama and the two agreed the best way to move forward was to "hit pause."
"Yesterday, President Obama said it was a shameful day for the Senate, and it probably was," Reid said. "But we should make no mistake. This debate is not over. In fact this fight is just beginning."
But realistically, Senate aides privately say, the issue is done with for now. Even pieces of the plan that might have passed with wide bipartisan support -- making gun trafficking a federal crime, improving school safety and addressing mental health -- will be set aside.
"This was a real emotional, everybody was involved," said Sen. Joe Manchin, D-W.Va., who led efforts for a compromise on background checks. "They'll look at it and take a little time, take a breather and make a decision."
Manchin said his compromise would have passed the Senate if the National Rifle Association hadn't threatened to dock lawmakers' grades with the organization if they voted for the amendment.
"If it wasn't scored, it would get 70," Manchin said.
Now, the political reckoning begins. Gun control advocates -- from the president on down -- were angry with Wednesday's outcome and urged Americans to keep up pressure on lawmakers who voted against it.
"Speaking is physically difficult for me. But my feelings are clear: I'm furious," former Rep. Gabrielle Giffords wrote in a New York Times opinion piece published after the vote. Giffords was shot at a Tucson grocery store as she met with constituents in 2011.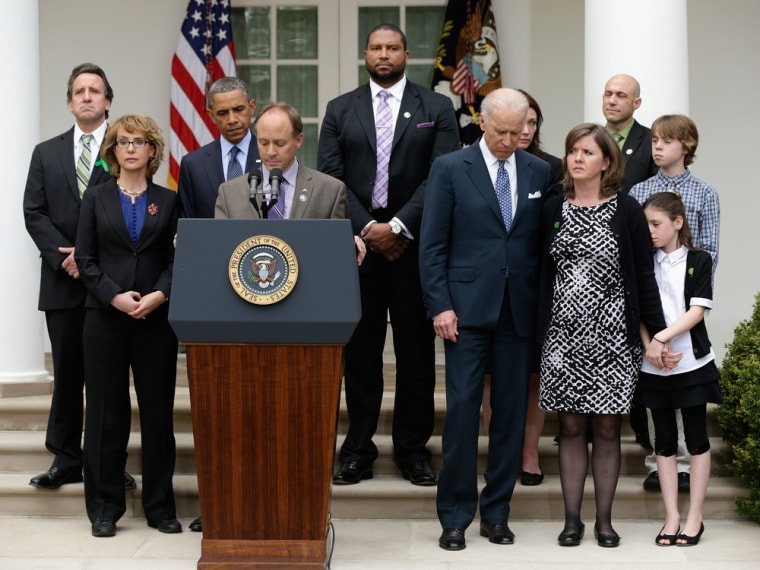 Of the senators who voted no, she wrote: "I'm asking citizens to go to their offices and say: You've disappointed me, and there will be consequences."
Visibly angry, Obama on Wednesday said even members of his own party voted out of fear of the gun lobby.
"A lot of Republicans had that fear, but Democrats had that fear, too.  And so they caved to the pressure, and they started looking for an excuse -- any excuse -- to vote 'no,'" Obama said.
Giffords' group, Americans for Responsible Solutions, insists they'll be a force in the upcoming 2014 elections, remembering this vote the same way the NRA will.
"It's a target-rich environment after yesterday, as we'd say in the military," Mark Kelly, Giffords' husband, told reporters at the National Press Club.
NBC's Kelly O'Donnell, Mike Viqueira and Ali Weinberg contributed to this report. 
Related story: