BATAJNICA, Serbia — Scarred by the memory of NATO bombs, and with close historical links to Moscow, Serbia would not seem an obvious choice for joint exercises with the U.S. military.
But last week, more than 200 American and Serbian paratroopers leapt from two U.S. Air Force C-130 aircraft together, painting dark dots onto a grey November sky.
In the late 1990s, U.S. aircraft targeted Serb forces as part of NATO's military intervention in the Balkans. This time, troops from both sides took selfies with each other and used parachutes provided by the Pentagon.
"We have that special brother bond," Spc. Jacob Hanner, 21, from the U.S. Army's 2nd Battalion, 503rd Infantry, told NBC News. "We are actually family, jumping together, no matter what nation we jump with."
Dubbed "Double Eagle," the exercise was the most extensive joint training between the countries in more than 10 years.
NATO remains deeply unpopular among Serbians, following the alliance's 1999 intervention in Kosovo which was aimed at driving our Serbian forces and stopping the killing and expulsion of ethnic Albanians.
It was American bombers that led the deadly airstrikes during the NATO campaign, killing more than 1,200 people including up to 500 civilians, according to Human Rights Watch. NATO's actions were widely regarded in Serbia as unjust.
'Serbs like Putin'
Opinion polls suggest most Serbians publicly favor military cooperation with Russia. Serbia was formerly part of communist Yugoslavia and Belgrade has long maintained strong ties with the Kremlin. And like Russia, Serbia is an Orthodox Christian and Slavic nation.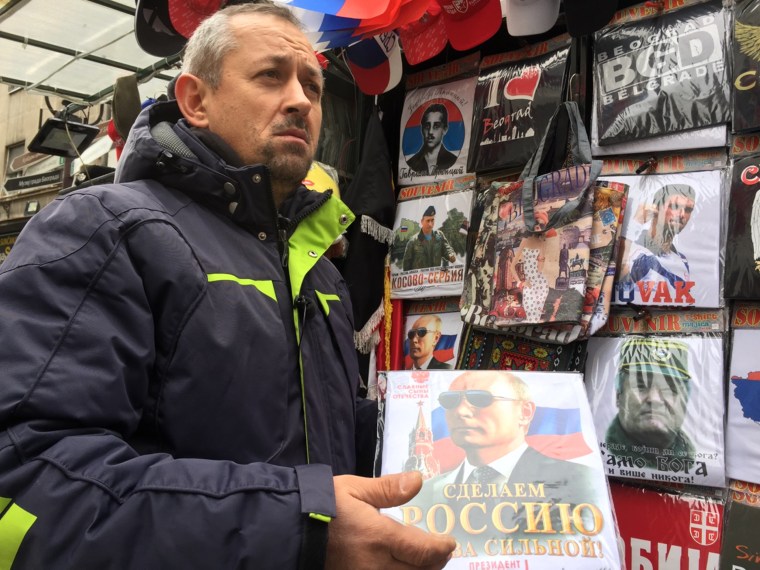 However, Serbia prides itself on officially being a neutral country.
A survey by research company Faktor Plus last month found that more than half of Serbians believe that good relations with Moscow would guarantee the country's security.
Dejan Garic agrees. The 42-year-old sells souvenir T-shirts featuring Russian President Vladimir Putin in the Serbian capital.
"If it's not possible to stay this way, we should choose to be on the Russian side," he said. "I think that Serbs like Putin. If he was in power in 1999, Serbia would never have been bombed by NATO."
In October, Russia donated six MiG-29 fighter jets to Serbia, which are stationed at Batajnica Air Base — a site that was part of the recent "Double Eagle" drills with U.S. forces. The base was also heavily damaged by NATO strikes during the Kosovo conflict.
Serbia applied for European Union membership in 2009, a lengthy process with no clear timeline. Its government has repeatedly stressed that joining the 28-member bloc is the country's most important foreign policy goal.
"We need to give a clear message that the E.U. is in the interest of all of us, that it is a strategic priority for all of us," Serbian Prime Minister Ana Brnabic said during a visit to Brussels this month.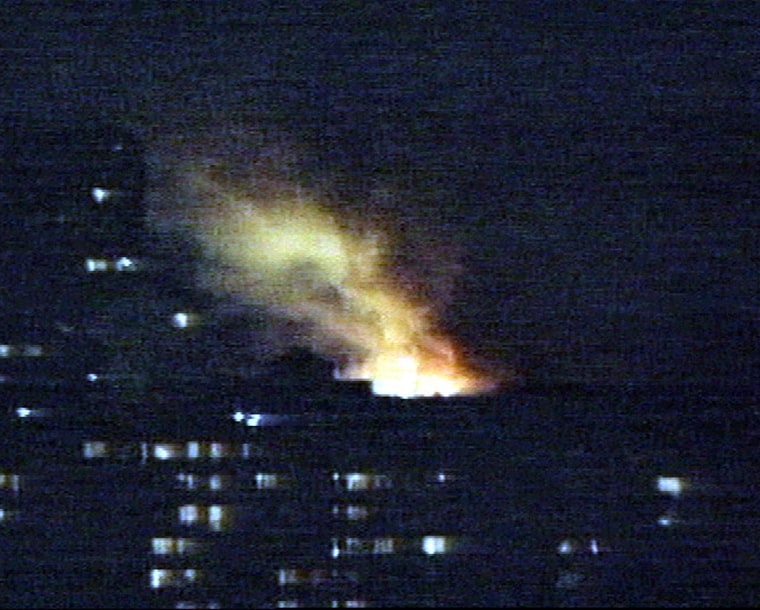 The E.U. is Serbia's largest trading partner and investor. While Russia controls Serbia's oil and gas supplies, it trails the E.U. by a factor of 10 in terms of Belgrade's foreign trade and investment.
U.S. officials insist that Washington is "not asking Serbia to choose between the European Union and Russia."
"We strongly support Serbia on its path to the European Union, and we do not believe that excludes good relations with Russia," U.S. Ambassador to Serbia, Kyle Scott, said in an interview with Novi Magazin, a Serbian-language weekly publication.
But during a visit to Belgrade in October, State Department official Hoyt Brian Yee hinted that Serbia may have to choose between the West and Russia at some point.
"You cannot sit on two chairs at the same time, especially if they are that far apart," Yee said.
NATO neighbors
The Faktor Plus poll suggested that Serbians believe the country's path to E.U. membership is widely regarded as "too slow and uncertain for many people," according to Vladimir Pejic, who heads the firm.
But when asked where in the world Serbians would prefer to live, a majority of those polled responded "mainly in the E.U. and the U.S.," Pejic added
Serbia joined NATO's Partnership for Peace program in 2006, but is not presently seeking membership in the military alliance.
"NATO has suffered great mistrust in public opinion due to the 1999 intervention, and this is not only limited to those who have lost family members," Pejic said.
Serbia's neighbors include NATO members Bulgaria, Romania, Hungary and Croatia.
Professor Florian Bieber, director of the Center for Southeast European Studies at the University of Graz, highlighted that Moscow is unhappy with former Warsaw Pact allies aligning themselves with the West.
"When Montenegro joined NATO this year, Russia was very hostile toward the Balkan nation and really tried to sabotage this process," Bieber said. Russia denied allegations it was behind a failed bid to overthrow Montenegro's pro-Western government and assassinate the country's prime minister.
"There is strong interest of the West to assure that Serbia does not turn into a hostile country," he said, with Russia "playing the role of a spoiler in the region by trying to thwart Western influence, particularly that of NATO and the E.U."
According to Bieber, Belgrade sees no reason to pick either side.
"This is a deliberate, strategic choice of the Serbian government, which is playing to both the West and Russia," he said.
'Master of your own house'
On the streets of Belgrade, some say that neutrality is a shrewd approach.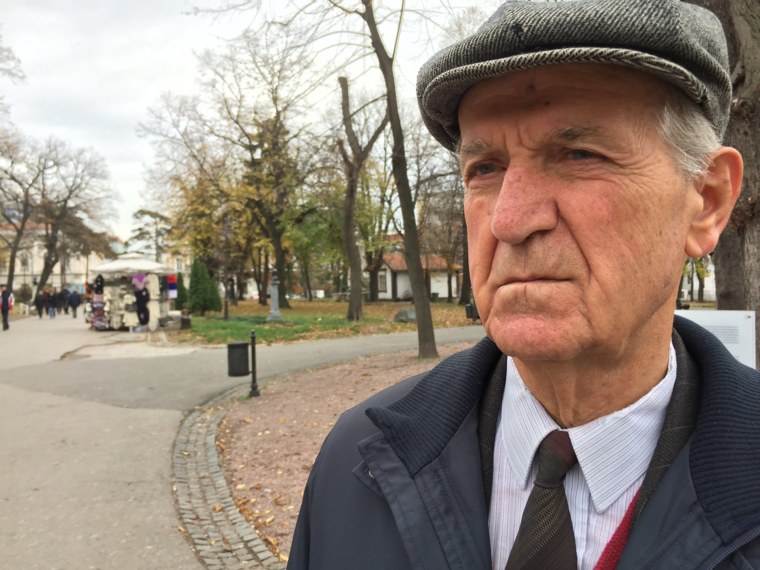 Dragomir Ostojic, 82, a retired forest engineer, said it was "important to be a master of your own house" and maintain independence from both Washington and Moscow.
"The U.S.A. and Russia are both strong, and we have to have political wisdom to stay away from their clashes," he said.
Radonja Milosavljević, 33, a waiter, supports a "middle way" that doesn't involve a military alliance with either the West or Russia.
"If we choose any side, there won't be anything better, just worse," he said. "We should continue to balance."
A matter of trust
Col. Ric Trimillos, known as Trimmy, the chief of international affairs for the U.S. Air Force in Europe, told NBC News that the "Double Eagle" drills and similar initiatives across the Balkans "are important to the overall posture and for regional stability."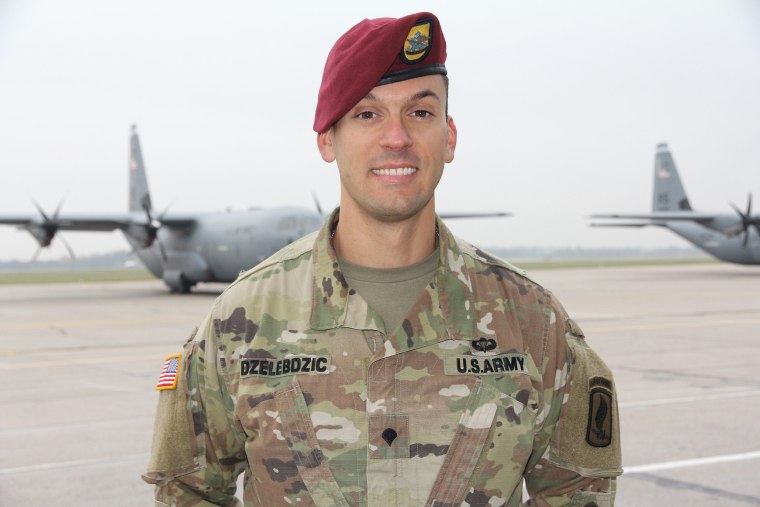 But the Pentagon's engagement with Serbia is also very much "about diplomacy," according to Trimillos.
The U.S. military is "trying to avoid anything that looks like a threat," he said, and could potentially cause political "escalation" with countries including Russia.
However, the two U.S. military aircraft flying low-altitude sorties at 1,000 feet over Serbia last week represented an emotional homecoming for one American soldier.
U.S. Army Spc. Uros Dzelebdzic was born in Belgrade and lived in Serbia until he was 17. He went to America as an exchange student and joined the military around two years ago because he "wanted to give something back to the country that gave him so much."
''This is a very special moment for me," said Dzelebdzic, 30, who became a naturalized U.S. citizen through his military service. "It is important for this kind of joint exercise to happen, so that we can earn the trust of the Serbian population and military, and have them earn our trust."
Vladimir Banic reported from Batajnica, Serbia, and Andy Eckardt from Ramstein Air Base in Germany.