LONDON — Serena Williams is back at Wimbledon for what could be the American tennis icon's farewell to the sport's most iconic championship. 
Williams is set to appear on Tuesday in her first Grand Slam match in a year after an extended break that has generated rampant speculation about what the future may hold for her already illustrious career. 
Williams, 40, was forced to bow out in tears from last year's Wimbledon after an injury. She did not compete until last week, when she returned to the court at a tournament in the British seaside town of Eastbourne after delighting fans earlier this month with the surprise announcement of her return to Wimbledon.
The former world No. 1, now ranked No. 1,204 after her long break, will face French player Harmony Tan in the first round after being given a special invitation wild card to play since she wouldn't otherwise qualify with her current ranking. 
Williams has 23 singles and 14 doubles Grand Slam titles to her name and needs just one more individual major title to tie the all-time record of Australian Margaret Court. Seven of Williams' singles trophies have been won on Wimbledon's storied Center Court.
The tournament holds a special place in Williams' career, British American Delia Lloyd, a longtime fan, told NBC News from her home in London.
"I think the British public has grown to love her," Lloyd, 56, said. "When she fell last year, I think everyone was devastated. She's got a real bond with this country and this court." 
Williams announced her return earlier this month with a simple message on social media. "SW and SW19. It's a date," she posted on Instagram, referring to her initials and the area code for the leafy southwest London neighborhood where the annual tournament is held. 
The summer slam is in many ways a gleaming green-and-white symbol of tennis' often-stuffy traditions, but the All England Club has also played a big part in Williams' journey to the game's pinnacle. While British fans will be overjoyed to see the tennis legend back on the grass this week, many will be wondering if this could be the last time they will see one of the tournament's most-decorated champions.
How the American will fare is "a huge unknown," former world No. 3 and Hall of Famer Pam Shriver told NBC News. 
Much depends on how well she kept up her base fitness level over the year, Shriver said, and her serve will need to be "at or near Serena Williams' top level" to contend for that elusive 24th major title. 
"We could be seeing the last of Serena at Wimbledon at any time," she added. "Playing singles over the age of 40 is very difficult, or more players would do it. Each time we see Serena play, we should pause and reflect on her greatness over many decades."
After taking part in her first competitive matches in a year in Eastbourne, Williams told reporters she felt "as good as one can feel after having such a long time off" and admitted that she "absolutely" had doubts about whether she would ever return to competitive tennis. 
But Williams has tiptoed around the question of whether her return this summer could be "one final farewell" to British tennis. "I don't know. I can only tell you that I'm here. And who knows where I will pop up next. You just got to be ready," she said Saturday in London.
Requests for comment to Wimbledon and Williams have not been not returned.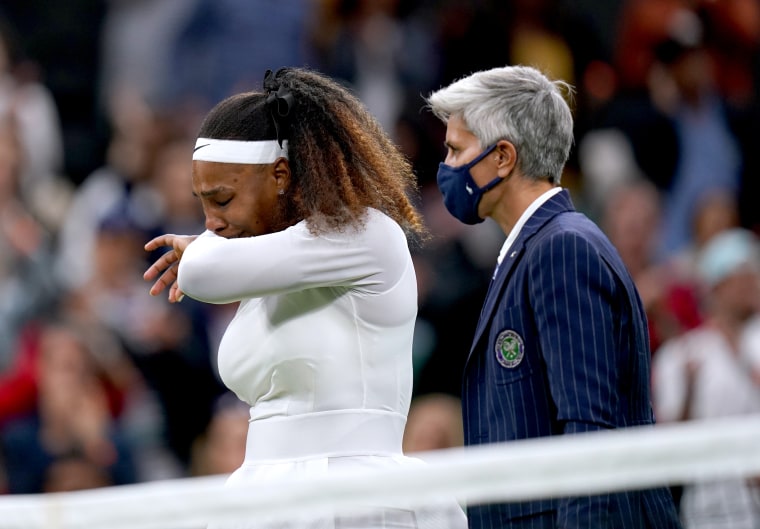 It's not all about Williams, of course. 
The favorite for the women's title will be Iga Swiatek, the top-ranked 21-year-old Pole who is on a 35-match winning streak. Defending champion Novak Djokovic headlines the men's draw, after his return to the sport following the saga over his Covid-19 vaccination status in Australia.
This year's Wimbledon has also been making headlines related to Russia's war in Ukraine, after organizers banned players from Russia and Belarus. As a result, players will not earn their usual ranking points by playing in the tournament after decisions by the sports' governing bodies.
Gerald Marzorati, author of "Seeing Serena," which examines Williams' life and game in recent years, said he would not count her out as a contender. 
"Grass-court tennis rewards big serves, big returns and attacking tennis, and that's Serena's game," Marzorati said. 
But she faces two main challenges, he added. 
Grass is slippery and not easy to move on, while Williams no longer moves as she did in her younger years. "And today's younger players are not as intimidated by her as players were 10 years ago, even five years ago," Marzorati said.
Her status as the most dominant champion that women's tennis has seen has long been cemented, Marzorati said, and her influence beyond the game — as a Black woman and someone who has been outspoken about issues related to race as well as body image — has been immeasurably important. 
It would not be a surprise, however, if this is her last Wimbledon, he added.
"So I'm glad she is returning and giving fans a chance to see her again, and possibly for the last time," he said.