WASHINGTON — Moscow's top diplomat in the U.S. — the central figure in suspicions about Donald Trump connections with Russia — is returning to his country after almost a decade in the job, a former U.S. official confirmed Monday.
Sergey Kislyak, 66, will depart his position as Russian ambassador to the U.S. at the end of the summer as part of a long-planned rotation, two other U.S. officials told NBC News.
Russia's Deputy Foreign Minister Anatoly Antonov — a hardliner who is under EU sanctions for supporting the deployment of troops in Ukraine in his former capacity as Deputy Minister of Defense — is being lined up as his replacement.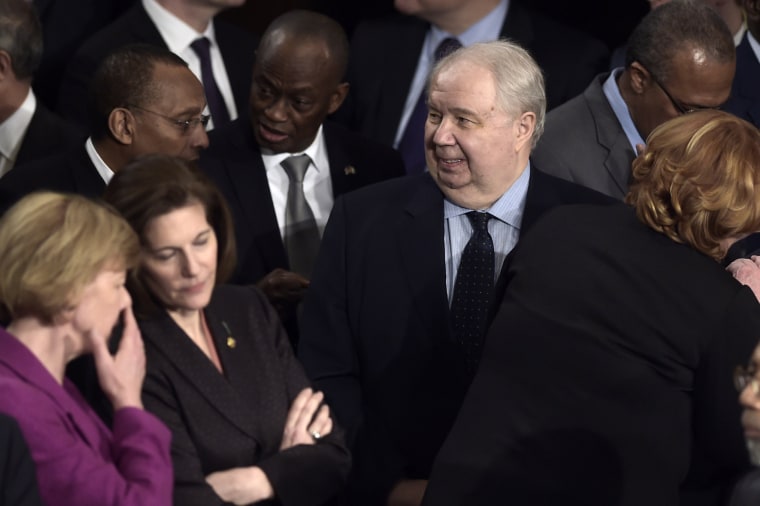 It comes amid investigations by the FBI and Congress into Kislyak's contacts with Trump aides during the 2016 election campaign.
U.S. officials told NBC News that the decision on Kislyak's departure pre-dated the controversy.
Kremlin spokesman Dmitry Peskov on Monday declined to confirm the switch - telling RIA Novosti: "When there is a decree … we will inform you" – but the U.S.- Russia Business Council is hosting what it called "a leaving party" for Kislyak at the St. Regis Hotel in Washington D.C. on July 11.
In the space of a few weeks, contact with Kislyak has led to the firing of a top adviser to the president and prompted calls for the attorney general to resign.
Trump's son-in-law Jared Kushner and ousted national security adviser Michael Flynn met with Kislyak at Trump Tower in December for what a White House official has since described as a brief courtesy meeting.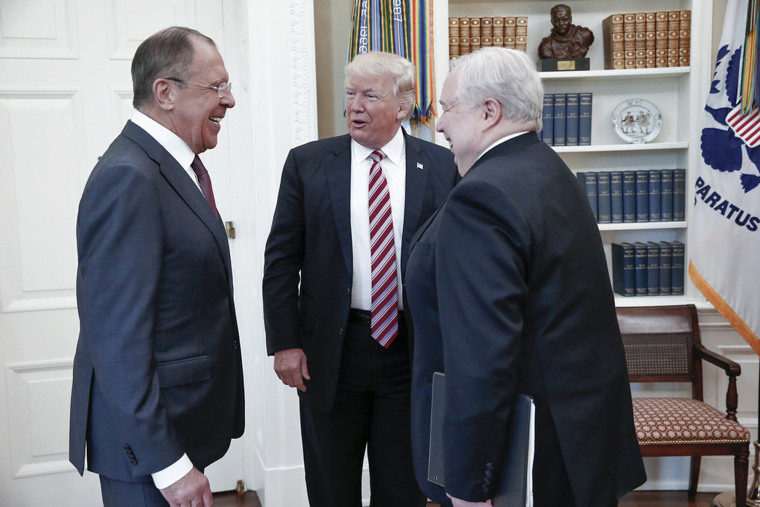 Flynn resigned Feb. 13, acknowledging he gave incomplete information to Vice President Mike Pence about previous phone calls with Kislyak and whether he had discussed U.S. sanctions.
Attorney General Jeff Sessions caught flak for failing to disclose during his confirmation hearing that he met with Kislyak twice during the 2016 campaign. He bowed to pressure in March by recusing himself from any federal probe of Russian meddling in the election.
Earlier this month, Sessions was also questioned about an alleged third private meeting with Kislyak at the Mayflower Hotel in April 2016. NBC News has reported that the FBI is also looking into that alleged Mayflower meeting. Sessions denied meeting with Kislyak at the hotel. "I came there not knowing he would be there," he told lawmakers.
Kislyak, who has been in the post since 2008, is regularly spotted walking around Washington D.C., heading to and from meetings. He has welcomed foreign policy professionals, Pentagon officials, journalists and Capitol Hill staffers through the doors of the Russian Embassy.
Those who have attended the events describe him as a gracious and amiable diplomat, although perhaps not as polished — nor as confrontational — as his more famous boss, Foreign Minister Sergey Lavrov.
Kislyak has bounced between the United States and Russia for most of his long career.
His first foreign posting was to New York where he worked at the Soviet delegation at the United Nations in the early 1980s. He spent the following years as the first secretary and then councilor at the Soviet Embassy in Washington before returning to Moscow in 1989, where he took a succession of senior jobs at the Foreign Ministry.
Washington D.C.-based based diplomats had previously suggested Kislyak's next post would involve a return to the United Nations, manning a new counterterrorism office. The position of Russian Ambassador to the U.N. also needs to be filled following the unexpected passing of Vitaly Churkin earlier this year.
When asked earlier this year about the possibility of taking a job at the U.N., he said New York was his first post and that for diplomats "the first post is usually the first love," but did not have anything to confirm one way or the other about where he would be heading next.
Kislyak's contacts have sparked questions about his role or involvement in the election hacking.
The U.S. and Russia, along with many other countries, have made it a practice to separate their top diplomats from espionage activities, although it is not uncommon for an intelligence agent to operate under the cover of a senior-level diplomat. Foreign diplomats to the United States likely expect that their activities will be monitored by U.S. authorities in the same manner that American diplomats are monitored in countries like Russia.
Russian Foreign Ministry spokeswoman Maria Zakharova last month ridiculed the claims of Kislyak's involvement in espionage as "total disinformation" and part of efforts to sway public opinion.
"I'll open a military secret for you: It's the diplomats' jobs to have contacts in the country they are posted to," she said sarcastically. "It's their obligation to meet with officials and members of the political establishment."
Separately, Kremlin spokesman Peskov said there were still no firm plans for an anticipated Trump-Putin summit.
"Unfortunately, there are no concrete plans," he was quoted by RIA Novosti as saying Monday.
Mansur Mirovalev reported from Moscow. Alastair Jamieson reported from London. Abigail Williams reported from Washington D.C.