Serial killer David Alan Gore, who admitted killing four women and two teenage girls in the 1980s to satisfy his sexual urges, was put to death by lethal injection in Florida on Thursday, Reuters reported. He was convicted and sentenced to death for the 1983 murder of Lynn Elliott, 17, whom he kidnapped when she was hitchhiking to the beach.
Elliott was Gore's final victim. The others were Hsiang Huang Ling, 48, and her daughter Ying Hua Ling, 17; Judy Kay Daley, 35; Angelica LaVellee, 14; and Barbara Ann Byer, 14.
After a series of delays, the execution went forward before two dozen relatives and law enforcement personnel, the Tampa Bay Times reported.
In his final statement on Thursday, Gore apologized to Elliott's parents and said he prayed they would find peace.
"I wish above all else my death could bring her back,'' Gore said, according to a record of the statement provided by corrections officials.
Gore, 58, was pronounced dead at the Florida State Prison near Starke at 6:19 p.m., governor's spokeswoman Amy Graham said. He spent 28 years on death row.
Gore shot Elliott, 17, as she ran outside naked and screaming in an attempt to escape after being repeatedly raped, according to court documents cited by the news agency.
The teen's murder, witnessed by a passing boy, led to Gore's arrest.
The case led to discovery of a series of earlier rapes and murders committed by Gore and his older cousin, Fred Waterfield.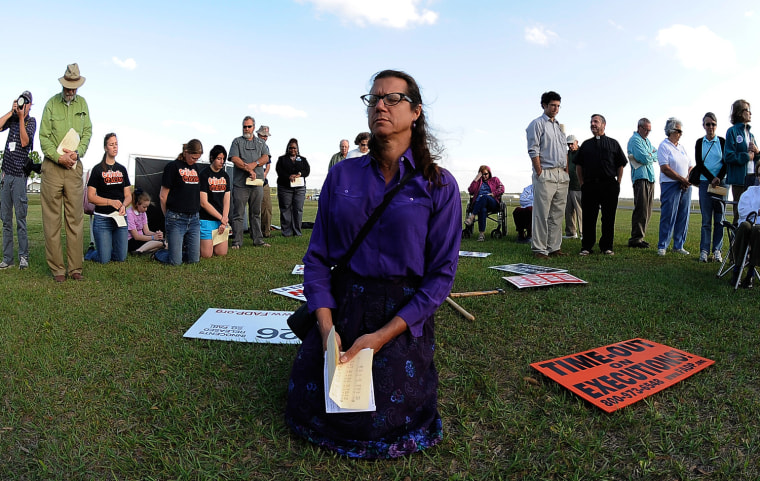 Criminal psychologists testified that the pair formed a morbid alliance, hunting young women at beaches and along stretches of roadways in and around Indian River County, a rural citrus-growing area about 150 miles north of Miami, Reuters reported.
Gore received life sentences for the deaths of the other five women and in 1984 was sentenced to death for Elliott's murder. After the initial sentence was overturned, he was again sentenced to death in 1992.
He was the fourth inmate put to death since Florida Gov. Rick Scott took office in January 2011, and the 13th executed in the United States this year, Reuters reported.
"This was an individual whose crimes were heinous," Scott said earlier Thursday, according to the Times. "He was convicted and sentenced to death."
Waterfield is serving two life sentences at a Florida prison.
Reuters contributed to this report.
More content from msnbc.com and NBC News: