LONDON — A former U.S. Army translator who was held in Guantanamo Bay for almost 14 years without charge has alleged that he was regularly beaten, doused in freezing water and hog-tied at the facility.
Father of four Shaker Aamer said he was pushed to the floor by guards and made to lay face-down over the hole in the ground he was given as a toilet.
He urged President Barack Obama to close Gitmo.
"Guantanamo is built on how to destroy a human being totally, how to damage him mentally, physically, spiritually ... it's a program that's been designed by psychologists," Aamer said in an interview with NBC News' U.K. partner, ITV News. "Torture is not about beating, torture is not about hanging from the ceiling with handcuffs and all that."
He added: "Everything that happened to us is a war crime in Guantanamo. Everything that is happening right now is a war crime in Guantanamo."
The 48-year-old said guards played rock music into inmates' cells as prayer time approached, with Bruce Springsteen's "Born in the USA" among the regular choices.
From ITV News: Who Is Shaker Aamer?
"They tie your hands and your legs together, and you cannot relax because your hands are behind your back and you are curved," he recalled. "If you relax, you will be putting all your weight on your wrist and your legs."
The Saudi-born Aamer, who is married to a Briton and has permanent residency status in the U.K., spent time living in Maryland and Georgia beginning in the 1980s. He was later employed as a translator for the Army during the Gulf War.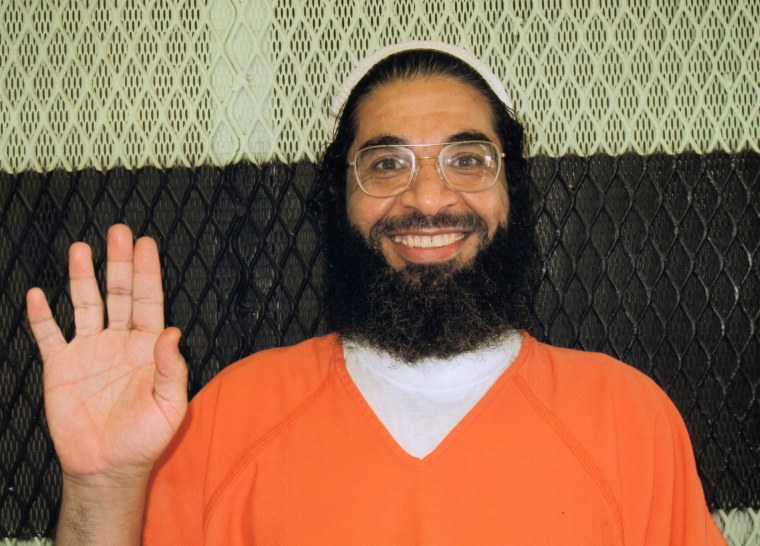 Obama pledged to close the military prison in 2008 but has been repeatedly thwarted by Congressional concerns over national security. The White House insists the Cuban facility will be closed before Obama leaves office in early 2017.
"My message to the President of the United States [Barack] Obama ... that if he wants to be the hero, to close Guantanamo," Aamer told ITV News. "If he really wants to establish justice, if he really wants to live by his word, he's not going to need to wait for the whole United States of America to support him."
From ITV News: 'Guantanamo Is Built on How to Destroy a Human Being'
Aamer was seized by bounty-hunters in Afghanistan in 2001 following the U.S. invasion of the country following the 9/11 attacks.
U.S. intelligence agencies believed he was working with Osama bin Laden, but he insists he had moved to the country to help with charity work. He was never charged and accusations against him were dropped in 2007.
Related: Mistaken Identify Has Kept Detainee at Gitmo for 13 Years
In his first television interview since being freed early this year, Aamer said guards also kept bright lights on detainees at all times, confiscating anything they might use to cover their faces to go to sleep.
"Their goal is to scare you, to make you submit, make you understand that if you refuse to comply with the orders it means you are going to get this punishment all the time," he said.
"They want you to submit to them, they want you to understand that they are overpowering you and you have no right to say 'yes or no,' just do what they tell you."