LIMA, Peru — A shallow magnitude 5.4 earthquake centered in southern Peru's picturesque Colca Valley killed at least four people, including a 65-year-old U.S. tourist, and left some 30 injured as it toppled adobe homes, authorities said Monday.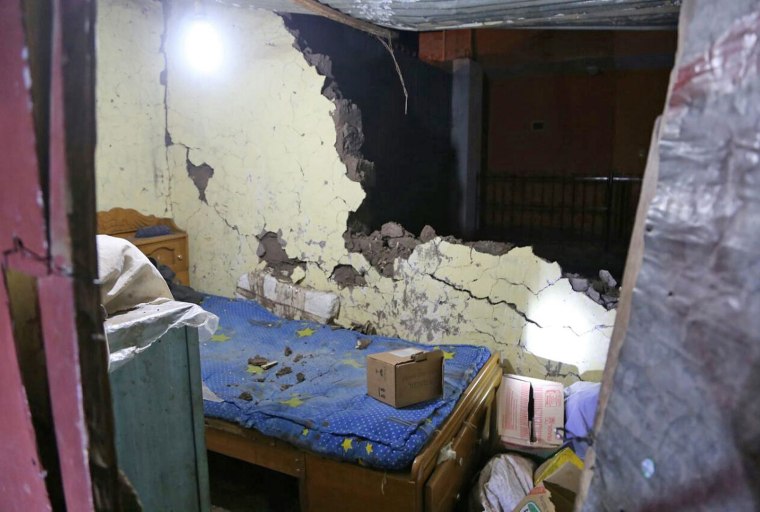 The quake hit at 9:58 p.m. local time Sunday near the town of Chivay near the city of Arequipa, with an epicenter just 6 miles deep, according to the U.S. Geological Survey.
The USGS later confirmed that a 4.3 magnitude had also hit the other side of the country about an hour earlier.
The U.S. man died at the Eco Inn Valle del Colca in Yanque, close to Chivay, when part of the hotel's ceiling collapsed on him, said local Gov. Cipriano Llasa.
"His body is inside the hotel because the highways are blocked and the prosecutor has not arrived," Llasa told The Associated Press by phone. The AP called the hotel repeatedly but the phone went unanswered.
The victim's identity could not immediately be confirmed, but U.S. State Department spokeswoman Elizabeth Trudeau told reporters, "We are aware that a U.S. citizen was killed during the earthquake, our condolences to go out to his family and friends.
"Out of respect for his family during this difficult time we have no further comment other than to express our deepest condolences to all of those impacted by the earthquake," said Trudeau. "We are monitoring the situation and remain in close contact with Peruvian authorities."
The walls and roofs of dozens of adobe homes in Yanque collapsed in the quake, Llasa said. "A lot of irrigation canals are destroyed, too."
He said the only way to evacuate the injured was by helicopter.
Yanque is an hour's drive from a famed condor-watching outlook that is popular with foreign tourists.
Peru's last major earthquake, of magnitude 7.9, hit on Aug. 15, 2007, and killed nearly 600 people in the coastal city of Pisco.