SHAOSHAN, China — He's been labeled one of history's worst dictators, but in this small Chinese town Mao Zedong is nothing but a hero.
The founder of the People's Republic of China lives on through his cult of personality throughout the country even nearly 40 years after his death: Mao's image decorates Tiananmen Square and his embalmed body is on display.
However, nowhere is the ongoing domestic love affair for Mao more visible than in the former leader's home village of Shaoshan — where the man popularly known as Chairman Mao is beloved, celebrated and even worshiped.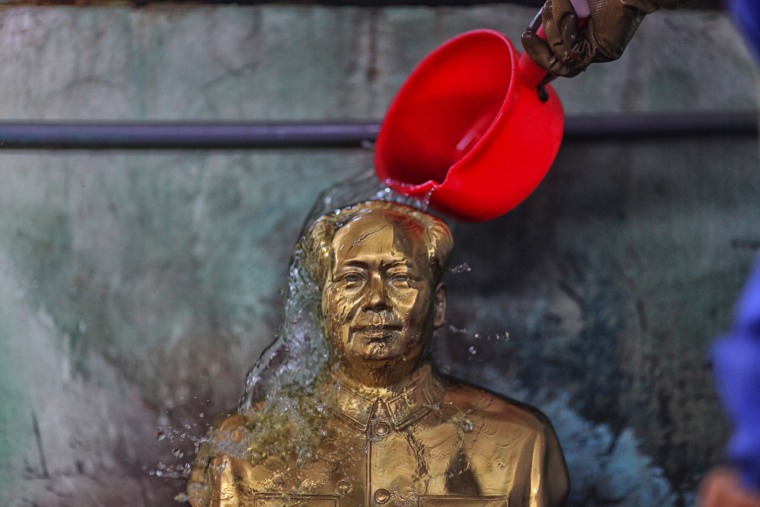 Thousands of visitors descend on Shaoshan every day. They come to pray or leave flowers at the giant statue in Mao Zedong Square, where stones engraved with the late leader's quotations line the perimeter.
Those with enough patience to wait in line can also see the farmhouse where he was born and raised, along with the Mao Zedong Memorial Museum housing his personal belongings and the Mao Zedong library displaying editions of his many books.
"We come here to visit him every year, one to three times each year," said Zhang Xiaoping, 45, from Changsha, who had come with her family. "He is amazing. We respect him so much."
Chen Dong, 30, from nearby Shaoyang, had brought his children with him to tell them about "Grandpa Mao."
"He freed China," he said. "I admire him so much."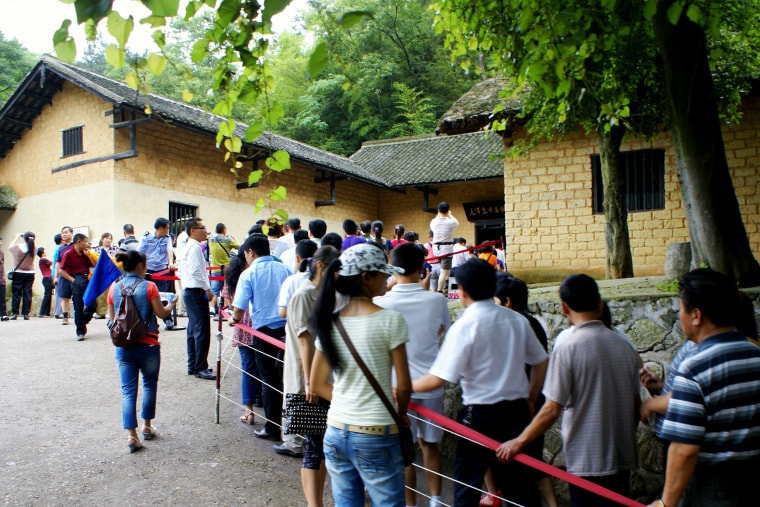 The affection and adoration on hand stand in stark contrast to the way Mao is viewed by many outside China. His name is sometimes listed alongside Hitler, Pol Pot and Stalin when it comes to ranking despots.
Mao's "Great Leap Forward," an attempt to modernize the country, was "the worst catastrophe in China's history," according to historian Frank Dikötter.
Dikötter, author of "Mao's Great Famine," calculates that at least 45 million people died from starvation, overwork or torture during Mao's revolution between 1958 and 1962.
China's Cultural Revolution also took place on Mao's watch — millions of academics across the country were persecuted and tortured in an attempt to rid the Communist Party of his critics.
"Intellectuals were beaten, committed suicide, or died of their injuries or privation. Thousands were imprisoned, and millions sent to work in the countryside to 'reeducate' themselves by laboring among the peasants," Jonathan Spence wrote in his book, "The Search for Modern China."
But in Shaoshan, those criticisms of Mao don't seem to stick.
"Because of him, we got freed," said Zhong Dingzhong, 75, who lived during Mao's rule.
He said critics of Mao outside China are jealous.
"They oppose our country. They are not happy that Mao made our country better."