Three-time world champion surfer Mick Fanning paid tribute Tuesday to a "warrior" surf buddy who came to his aid as he fought off a shark during a competition airing on live TV.
Fanning, 34, was competing against Julian Wilson at South Africa's J-Bay Open on Sunday when he punched the suspected great white shark after it attempted to pull him underwater by his foot rope.
"I was thinking that by the time I got there I would be swimming down to find him. It was such a horrific feeling"
He yelled at Wilson to get into shore — but the less-experienced surfer, who Fanning was mentoring as well as competing against — paddled out towards the danger in a desperate bid to help is friend.
"At that stage I was just screaming and telling Jules to 'get in,'" Fanning told a press conference in Sydney, Australia. He said the 26-year-old Wilson was a "warrior" for "coming after me."
Asked by reporters if Wilson was a superhero, Fanning added: "Yeah, he's a superhero."
Fanning's shark attack was watched by a large crowd at Jeffreys Bay, 40 miles from the southern city of Port Elizabeth, as well as a live TV audience.
The audience watched in horror as a gray fin appeared alongside Fanning, followed by a series of splashes as he was dragged underwater.
Both Fanning and Wilson were picked up by safety teams on jet skis just seconds later.
Annastacia Palaszczuk, the premier of Queensland state, said Tuesday that she had written to the country's government nominating Wilson for a bravery award.
Asked if he agreed Wilson deserved such an accolade, Fanning said: "Oh, for sure. You never know what you're going to do in that situation. He gave all regard up for himself and came for me … I was just thankful that he was there. He was like a powerboat coming for me. It was so brave … he's a warrior."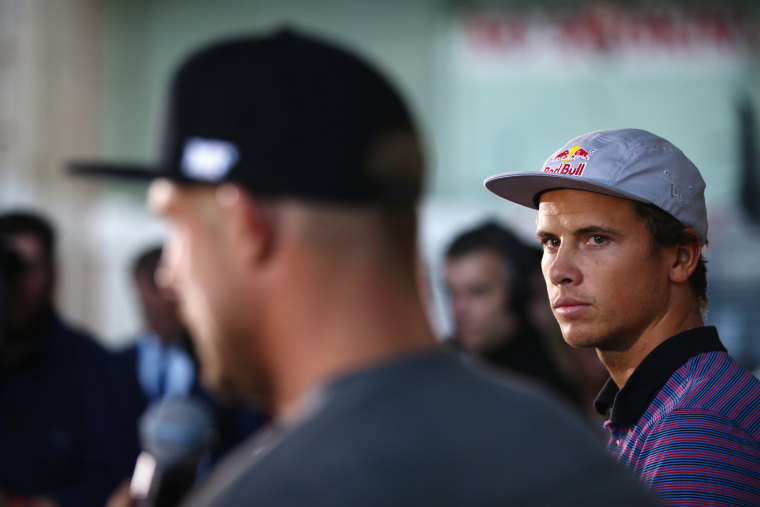 Wilson had idolized Fanning for years, the moderator of the press conference told journalists.
The younger surfer said he felt like his friend and mentor was "like a sitting duck" after losing his board during the attack. "I felt like I couldn't get there in time," Wilson said. "I was thinking that by the time I got there I would be swimming down to find him. It was such a horrific feeling."
Speaking while sitting next to Fanning, Wilson added: "I definitely was there to back him up and hopefully was able to give him some confidence and courage when he was left without a board in the water. I know the boats and jet skis got there pretty fast but it felt like an eternity."
According to Sarah Titley, project manager at Cape Town-based non-profit group Shark Spotters, the predator that Fanning encountered was almost certainly a young great white measuring at least six feet in length.
She told NBC News there was little doubt about its breed and size, based on "the shape, size and color" of its dorsal and tail fins.