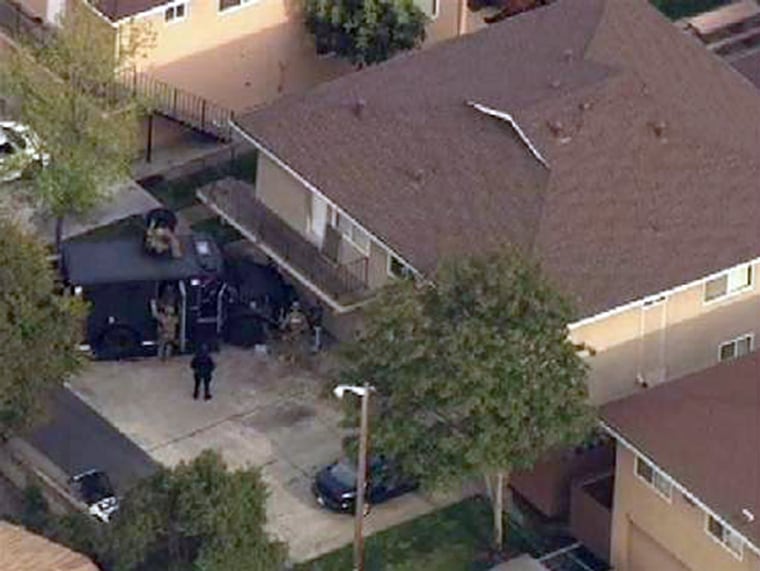 Updated at 6:35 p.m. ET:   Police found a body Friday afternoon inside a fire-gutted Modesto, Calif., apartment where a suspect had barricaded himself inside after a deputy and a civilian were shot dead.

The body was found in the rubble left by a raging blaze that broke out overnight, Modesto police spokesman Officer Chris Adams said.

The fire erupted during a daylong standoff with a man who police said opened fire as authorities tried to serve an eviction notice.
Adams said it will take days or weeks to identify the charred body, which authorities could not determine was a man or woman, the Modesto Bee reported. Police had waited for clearance from fire officials before entering.

At one point during the standoff, police broke the apartment windows with bean bag shots and fired flash-bang grenades and tear gas. Authorities evacuated nearby residents in the development of freestanding buildings, each divided into four apartments.

Earlier, Stanislaus County Sheriff Adam Christianson said the gunman, whose identity was not released, was presumed dead, The Modesto Bee reported.
According to CBS San Francisco, the deputy was serving an eviction notice at an apartment at the Whispering Woods development in Modesto when the gunman opened fire. A neighbor who asked not to be named said she heard at least 30 gunshots. Hours later, the fire erupted.
The blaze was mostly put out by firefighters shortly before 2 a.m. local time (5 a.m. ET) Friday. At 6:55 a.m. (9:55 a.m. ET), fire crews were mopping up hot spots and making sure to put out any spot fires.
"At this point we're just waiting for it to be safe enough for us to go inside," Christianson said.
It was not clear how the fire began, but the Modesto Bee reported that the county sheriff has acknowledged that flash-bang devices and tear gas could have been responsible.
Officials named the deputy killed as 16-year police veteran Robert Paris, 53, who is survived by his parents, a brother and two adult children. The civilian was identified as Glendon Engert, 35, of Modesto.
'Another dark day'
Christianson called the incident "another dark day" for law enforcement in California.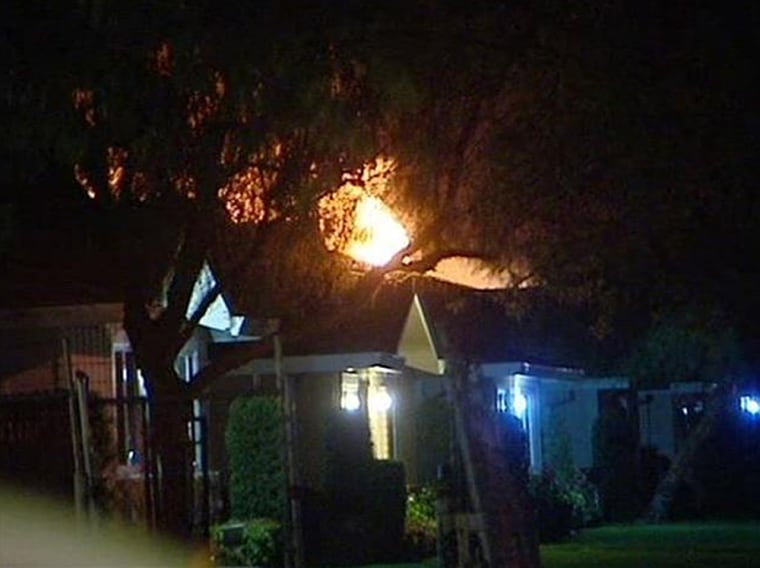 Neighbors Yemen Zokari and Steven Gasterlum, who said they live with their baby two doors down from the suspect gunman, told the AP that they looked out the window when they heard gunshots Thursday morning.
More police officers being killed despite drop in violent crime
They said they saw two men lying on the ground, one on his stomach and another on his back closer to the door of the house from where the shots came.
"There was another officer that was kneeling on the side of the house while they were laying there," Zokari said. "I think he was staying out of the way from being shot."
Christianson said he believed that his deputies did not return fire.
2 Coast Guard members shot to death in Alaska
The Associated Press contributed to this report.
More content from msnbc.com and NBC News: