As the fate of Mount Everest climbing season remained up in the air Wednesday with scores of Sherpas walking off the job, climbers and expedition teams are already heading home out of respect for the 16 guides lost in an avalanche last week.
One of those turning back is Ed Marzec, 67, a retired lawyer from Los Angeles and self-proclaimed "tough guy" who told NBC News "you wouldn't know it for all the tears I have shed up here."
That's because Marzec, who was in a bid to be the oldest American to summit Everest, was a witness to the horrific avalanche on Friday and saw three Sherpas from his own team perish — one of whom was a good friend who had saved his life on a previous climb last year.
"Maybe that some good will come of these lives that were lost right in front of me."
Like others who are scrapping the season, Marzec is leaving tens of thousands of dollars in unfinished business on the mountain — but, he notes, it's nothing when looking at the bigger picture.
"Yes, it's a personal disappointment," Marzec told NBC News on Wednesday, "Compared to the disappointment the families face for 16 dead men, it's — you know, a guy can come back, this mountain will be here a thousand years after we're all gone and I can come back next year or the year after and I can summit when it's appropriate. Right now it is not appropriate."
Marzec was watching when the avalanche struck on Friday: "And it came down and cracked and busted into pieces the size of cars and buses. Someone said, 'There are the boys!' And they had a telescope, or binoculars on a tripod and he's screaming, 'There are the boys, there are the boys!' and the thing just hit them and covered them. It's the most tragic thing I've ever seen in my life.
"There is no comparison," he continued, on the issue of his sacrifice versus what the Sherpas gave up. "My time and my money are things that are expendable. Lives are not expendable and I'm just a guest here ... And I willingly give that opportunity up to show the respect for those 16 men, three of which are still in the crevices there of the Khumbu Icefall."
His sentiments echo those of teams that have turned back. Alpine Ascents programs director Gordon Janow told NBC News Tuesday that they were pulling out "as a mourning for the Sherpa and climbers that were lost and not wanting to ask people to climb through the area where their friends and brethren were just killed.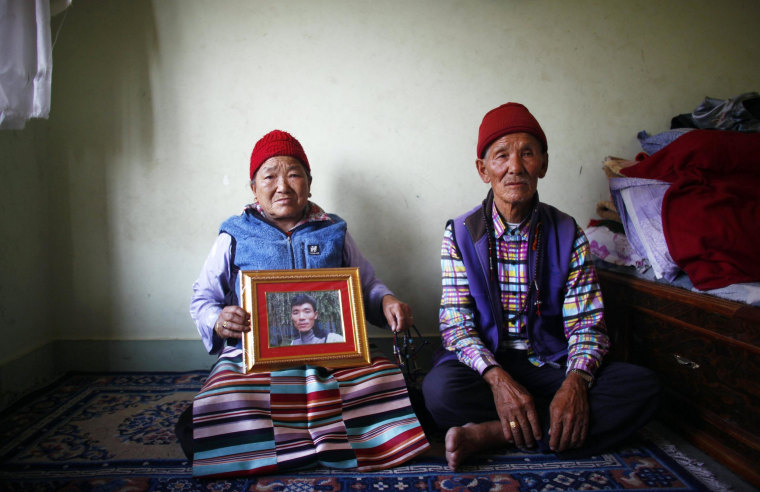 Dozens of Sherpa guides reportedly left Mount Everest's base camp Wednesday, after the tragedy brought up long-standing gripes the Sherpas had over their pay, treatment and benefits, The Nepalese government quickly announced that top tourism officials would fly to base camp Thursday to negotiate with the Sherpas and encourage them to return to work.
Nepal's government has been heavily criticized for not doing enough for the Sherpas in the wake of last week's disaster; the deadliest ever on the mountain, one top official blamed the walkout on "hooligans."
Immediately after the avalanche, the government said it would pay the families of each Sherpa who died 40,000 rupees, or about $415. But the Sherpas said they deserved far more — including more insurance money, more financial aid for the victims' families and new regulations to ensure climbers' rights.
"This mountain will be here a thousand years after we're all gone and I can come back next year or the year after and I can summit when it's appropriate. Right now it is not appropriate."
While it was unclear just how many of the 400 or so Sherpas on the mountain had joined the walkout, a number of expedition companies have already canceled their climbs, and the lucrative climbing season is in disarray. Most attempts to reach Everest's summit are made in mid-May, when a brief window normally offers better weather.
Tusli Gurung, a guide who was at base camp Wednesday, estimated that nearly half the Sherpas had left.
Marzec said he hoped the horrific disaster would at least lead to better working conditions for the local guides.
"I'm finding that maybe that some good will come of these lives that were lost right in front of me," he said. "It was very tragic and very sad, but I've committed myself to at least bringing some of the problems that the Sherpas suffer here to the attention of the public, and that's the best and the least I can do."
— with the Associated Press