Shimon Peres, who led Israel as prime minister and president in an enduring six-decade political career built on promoting peace between Arabs and Jews, died Tuesday while being hospitalized from a major stroke, his family announced.
He was 93.
"Today, with deep sorrow, we bid farewell to our beloved father, the ninth president of Israel, Shimon Peres," Peres' son, Chemi Peres, said at Sheba Medical Center in Tel Aviv at around 7 a.m. Wednesday local time (midnight ET).
"He was one of the founding fathers of the state of Israel and served our people before we even had a country of our own. He worked tirelessly for Israel, from the very first day of the state to the last day of his life," Chemi Peres said.
Peres, a Nobel Peace Prize laureate, had been treated at the Sheba Medical Center near Tel Aviv since Sept. 13 after complaining about feeling weak just days after having a pacemaker implanted.
Doctors said his condition had drastically deteriorated after suffering from brain damage, and Peres' family was summoned Tuesday to a bedside vigil.
Related: World Pauses to Remember Shimon Peres, 'the Face of Israel'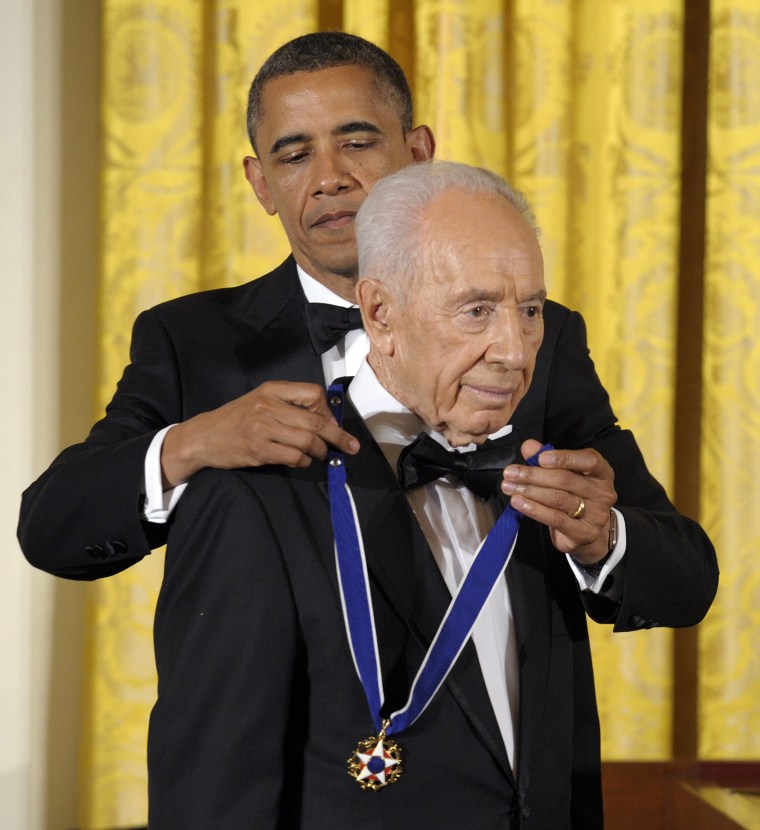 A spokesperson for Prime Minister Benjamin Netanyahu earlier announced Peres' death. "The PM and his wife, Sara, wish their deepest and personal sorrow of the passing away of former President Shimon Peres," the spokesperson said. "The PM will convene a special cabinet meeting."
U.S. President Barack Obama called the family, Peres' physician and son-in-law said at the press conference. "I will always be grateful that I was able to call Shimon my friend," Obama said in a statement.
Peres was born in Poland — the son of a timber merchant father and librarian mother — and immigrated to Palestine at age 11 before settling in Tel Aviv. He began his career at the side of Israel's first prime minister, David Ben-Gurion, at age 24. When he was 30, he was installed as deputy minister of defense in charge of fortifying the nascent nation.
From there, he held various positions as a member of 12 cabinets, from transportation to finance to foreign affairs. He was an interim prime minister in 1977 and then served in the position again in the 1980s and 1990s.
He was initially a strong supporter of Jewish settlements in the West Bank until reversing course. He believed that those communities were becoming a roadblock for ending hostilities with Israel's Arab neighbors.
In 1994, he won the Nobel Peace Prize, sharing the honor with then-Israeli Prime Minister and political rival Yitzhak Rabin and Palestinian leader Yasser Arafat. Peres was the Israeli foreign minister during talks between Israel and Palestine, which led to the creation of the Oslo Accords and the first time the State of Israel and the Palestine Liberation Organization formally recognized one another and the possibility of a two-state solution.
While longstanding peace in the region failed to flourish after the Oslo Accords, Peres maintained that the talks were essential in opening the door to communication.
He remained an iconic figure in Israeli politics and was an unabashed ambassador of optimism in a part of the world mired in conflict — drawing criticism from more right-wing party hardliners. From 2007 to 2014, he served a stint as president — the country's ninth and the only one to have also been a prime minister. He became the world's oldest head of state by the time he retired.
"My greatest mistake is that my dreams were too small," Peres lamented during a TED talk in Tel Aviv in 2015.
He oversaw the creation of the Peres Center for Peace in 1996 to foster tolerance, economic development and other peace-building initiatives in the Middle East. In a 2013 interview with The New York Times Magazine, Peres said he still hoped that a permanent peace could be achieved.
"I think and believe so," he said. "If I have another 10 years to live, I am sure that I will have the privilege of seeing peace come even to this dismal and wonderful and amazing part of the world."
Chemi Peres thanked those around the world, from Israelis of all ages as well as heads of state, who offered words of support and prayers. Obama called the family Tuesday morning, Rafi Walden, Peres' physician and son-in-law said.
"There are few people who we share this world with who change the course of human history, not just through their role in human events, but because they expand our moral imagination and force us to expect more of ourselves," Obama said in a statement. "My friend Shimon was one of those people."
"The passing of Shimon Peres, the 9th President of the State of Israel, two-time Prime Minister and Nobel Peace Prize winner, marks the end of an era," read a statement from Rabbi Marvin Hier, Founder and Dean of the Simon Wiesenthal Center. "He was the last of the pioneers who helped found the State of Israel and no Israeli leader was more respected internationally than Shimon Peres. Every world leader would take his call immediately."
The Anti-Defamation League issued a statement reading: "Literally present at the creation of the Jewish state, Shimon Peres was the diplomatic, political and social innovation face of Israel over a seven decade career. Through the years, he merged a stalwart, hands-on commitment to Israel's viability and security with a dogged determination to promote peace between Israel and its Arab neighbors, including a two-state solution with the Palestinians."
The American Israel Public Affairs Committee said in a statement: "We join the people of Israel in mourning the loss of Shimon Peres... As an indefatigable advocate for justice and human progress, he earned the respect and appreciation of his fellow leaders and the global community. Indeed, his life's work was an inspiration to all who strive for peace and freedom."
Chemi Peres said that his father spent his life devoted to people and nation he believed in.
"My father used to say, and I'm quoting, 'You're only as great as the cause you serve,'" Chemi Peres said. "He had no interest other than serving the people of Israel, in whom he had great love.