TOKYO -- Japan's leader signaled a potential change to Tokyo's decades-old pacifist outlook on Thursday but vowed that it would not become "a country that wages war."
Prime Minister Shinzo Abe said he believes Japan should consider exercising its right to participate in so-called "collective self-defense."
The major policy shift would mean Japan would assist close allies if they come under attack, even if there was no direct threat.
The Asian nation has previously enforced a self-imposed ban on the idea of getting involved in foreign conflicts citing Article 9 of its pacifist constitution.
The policy has been in effect since the aftermath of World War Two and limits the use of arms solely to situations where Japan is being attacked.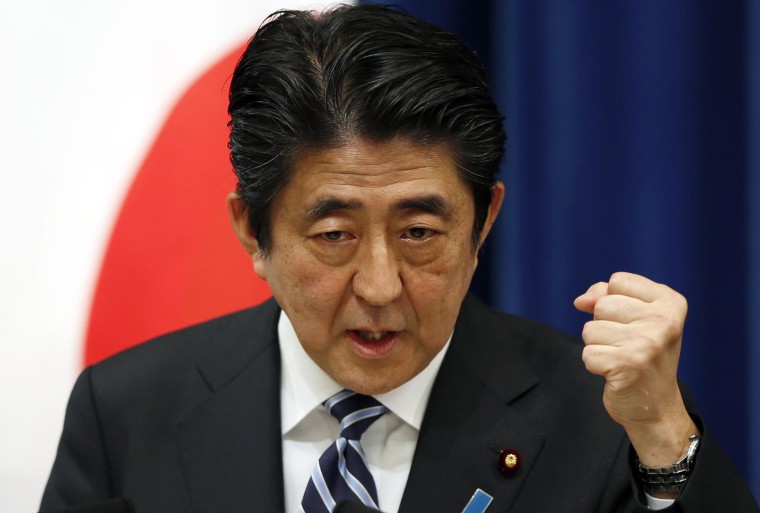 Abe made his statements in a televised address following the recommendations of a key advisory panel, headed by former Ambassador the the U.S. Shunji Yanai.
"Japan has walked the path of a peaceful country for nearly 70 years since the end of World War Two," the conservative leader said. "That path will not change. But we cannot protect our peaceful lives simply by repeating that we are a peaceful country."
Abe unsuccessfully attempted to push similar legislation through during his previous tenure as prime minster from 2006 to 2007.
Experts predict this time his efforts will be successful but one major challenge will be convincing neighbors the move will stabilize, not exacerbate, tensions in the region.
"What this policy change would do in theory is give Japan a lot more freedom to act like a true ally and true member of the international community," said Richard Bush, senior fellow at the Brookings Institution. "The problem will be more political in East Asia among those who have suffered because of Japan, especially Korea and China, who will view this as one more step towards Japanese militarism."
President Barack Obama expressed his support for Abe's stance during his to visit to Tokyo last month.
"The decision itself is significant," said Nick Szechenyi, senior fellow at the Center for Strategic and International Studies in Washington, D.C. "It's a significant sustained effort to change the way Japan thinks about its defense policy and its contributions to global security."
However, Abe will need to convince his coalition partners in government who appear skeptical about implementing such a change, and are related to Buddhism which promotes pacifism.
Reuters contributed to this report. Christina Boyle reported from London.