LONDON — An assailant who killed two female police officers and a civilian before seizing a hostage at a high school in the Belgian city of Liege has been shot dead by police, authorities said Tuesday.
Prosecutors are looking into whether the attack was a terrorist incident or just a bizarre murderous rampage.
The police officers were stabbed from behind before one of their own guns was used to kill them, prosecutor Philippe Dulieu told reporters. A 22-year-old man who was in the passenger seat of a car parked nearby was also fatally shot.
Officials said the attacker later sought refuge at a nearby high school, taking a female employee hostage. He attempted to use the woman as a human shield before coming back out and shooting at officers gathered outside.
In total, four other officers were injured in the shootout, including one with a severed femoral artery, Liege Police Chief Christian Beaupère said at a press conference.
The gunman's motive was to "target the police," Beaupère said, according to the Associated Press. He had just been released from prison on a two-day leave on Monday, Justice Minister Koen Geens said, the AP reported. Geens said he was a repeat offender who had been incarcerated since 2003.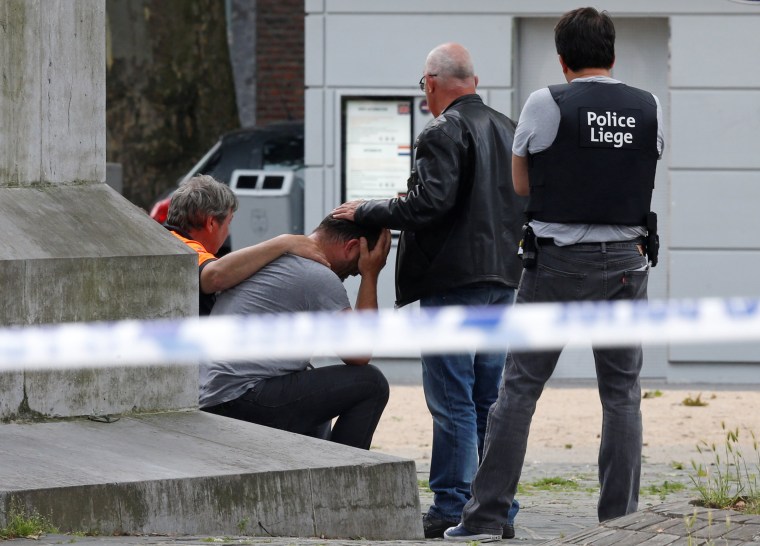 The suspect's identity was not immediately released but source told the Paris-based Agence France-Presse news agency that he had been on a police watch list for having "contacts with radical Islamists," and a senior official at Belgium's federal prosecutor's office told the AP that there were "indications it could be a terror attack."
Nonetheless, Yves Stevens of Belgium's federal crisis center described security in Liege as under control, and said there was no reason yet to raise the country's terror threat level.
"There is absolutely no confirmation yet that the incident is terror-related," Stevens told the AP.
The two officers who were killed were ages 45 and 53, Beaupère, the police chief, said. The 53-year-old victim was the mother of twins, he added.
Liege Mayor Willy Demayer confirmed none of the high school students were injured.
Belgian police officers have been targeted repeatedly in recent years.
In August 2016, two female police officers were stabbed in the city of Charleroi by an Algerian national who had been due to be deported. The attack was later claimed by the Islamic State group.
Three police officers were also attacked in Brussels in October 2016 by a man wielding a machete. Another machete attack in the Belgian capital wounded two soldiers in August.
Attacks on Brussels airport and on the city's subway network also killed dozens of people in March 2016.
Alice Tidey reported from London, Nancy Ing from Paris, and Elizabeth Chuck from New York.