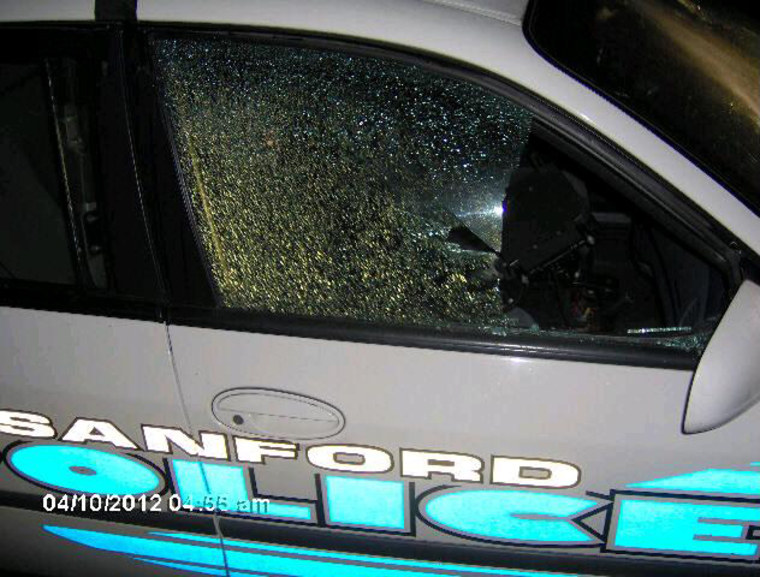 Updated at 4:48 p.m. ET: Police in Sanford, Fla., say a marked patrol car was shot at several times Tuesday morning while parked near the gated community where teenager Trayvon Martin was shot and killed.
No one was inside the cruiser at the time of the 4:30 a.m. shooting, according to Seminole County Sheriff's Office deputies, NBC News affiliate WESH-TV in Orlando reported.
Several bullets damaged the car's front windshield, a side door window and the hood, Sanford Police Sgt. David Morgenstern told msnbc.com.
"I don't know how many bullets were fired, but I can say that it was several. We're checking and looking into everything," Morgenstern said.
Morgenstern would not provide any other details.
The patrol car was parked outside Bentley Elementary School to deter tour buses from using the school's property during the day and evening, according to Morgenstern.
Mich. teacher: I was fired over Trayvon Martin fundraiser
He said police stationed a patrol car at the school with the aim of helping students and teachers navigate through the increased traffic.  A number of tour buses have headed into the area to visit the shooting site, Morgenstern said.
"Apparently the buses are coming in to pay their respects to the Trayvon Martin memorial," Morgenstern said.
The elementary school is across the street from Retreat at Twin Lakes, the gated subdivision where the 17-year-old Martin was shot to death by George Zimmerman, 28, a neighborhood watch volunteer, on Feb. 26. Zimmerman has claimed self-defense, telling police Martin attacked him. Martin, who was black, was unarmed. Zimmerman, whose father is white and mother is Hispanic, has not been charged. 
George Zimmerman takes to Web to raise money for legal costs, lawyers confirm
A special prosecutor is looking into the case. The U.S. Justice Department and the FBI are also conducting their own investigations.
More content from msnbc.com and NBC News: