LONDON — A British judge ordered that critically ill infant Charlie Gard should be moved from a hospital to a hospice, where he will "inevitably" die within a short time.
Judge Nicholas Francis made the order after a noon Thursday deadline for Charlie's parents and a hospital to agree an end-of-life care plan came and went. The judge said that meant the 11-month-old, who has a rare genetic disease, should now be transferred to a hospice and taken off life support.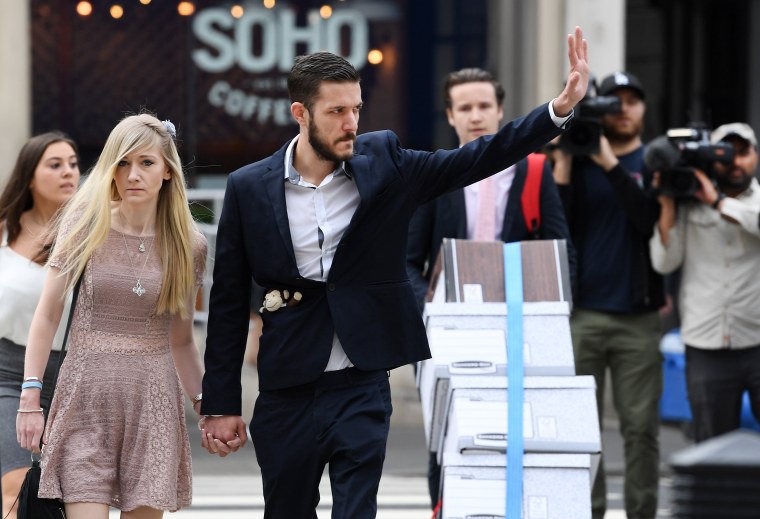 Charlie's parents, Connie Yates and Chris Gard, have been fighting with the hospital on his end of life arrangements. The parents and the hospital disagreed with how long Charlie would have in hospice before his breathing tube is removed.
The Thursday deadline was meant to yield a plan for what happened after Charlie was transferred to a hospice. Judge Francis earlier issued an order barring publication of the name of the hospice and the date when Charlie is taken there.
Great Ormond Street Hospital said on Tuesday that it had found a hospice willing to care for Charlie. However, it said that due to the invasive ventilation that Charlie needs, the hospice would be unable to provide care for more than a period of hours. Charlie's parents argued they had found a team of medical professionals willing to help Charlie at a hospice for up to a week.
"We deeply regret that profound and heartfelt differences between Charlie's doctors and his parents have had to be played out in court over such a protracted period," a hospital spokesperson said in a statement. "It has been a uniquely painful and distressing process for all concerned."
"Charlie's parents have tirelessly advocated for what they sincerely believed was right for their son, and nobody could fault them for doing so."
On Wednesday, Charlie's parents gave up on their fight to bring their baby home to die after the hospital said that it wouldn't be in Charlie's best interests. The hospital has instead suggested that a hospice provide Charlie's end of life care.
Charlie's condition is an inherited mitochondrial disease generally referred to as MDDS, or mitochondrial DNA depletion syndrome. He is unable to move his arms or legs or breathe unaided.
On Monday, Charlie's parents ended their legal fight to take their son to the U.S. for experimental treatment after new tests showed that it wouldn't help his condition.
The case has drawn the attention of both Pope Francis and President Donald Trump, who have both expressed support for the family.
With emotions running high on both sides, the hospital said over the weekend that staff have been subjected to abuse and even death threats as a result of the high-profile case.