Raneem still remembers the day almost a year ago when Syrian opposition forces surrounded her town and began to deprive its population of every basic resource.
Since then, tens of thousands of people have been forced to drink rain water, eat grass and donkey meat, and cope without electricity and medical supplies.
"That day our dreams were shattered — we lost our future," 21-year-old Raneem told NBC News from inside besieged Foua this week.
"We just want to live our life without bombing and fearing"
She is one of 40,000 civilians who were cut off from the outside world after opposition forces began to sweep the surrounding Idlib province in last March.
Foua and Kfarya, both Shiite towns in the region, have been isolated ever since.
The opposition fighters, who included extremists from al Qaeda's affiliate in Syria, the Nusra Front, found little resistance after forces of President Bashar Assad fled from the nearby Idlib city.
"We felt alone," said Raneem, who taught English at a university before war broke out in 2011. "We did not expect them to take control of Idlib this fast."
Now in its sixth year, the civil war has killed more than 250,000 people and forced 11 million others to flee their homes. A shaky truce brokered by the U.S. and Russia has brought a cease-fire in some areas although there have been accusations of violations.
Related: 'You Can Smell the Death Everywhere' in War-Torn Syria
Both opposition and government forces have surrounded towns and used siege tactics and starvation as a weapon of war.
Some respite came for Foua and Kfarya on Thursday after aid convoys were able to enter and deliver vital supplies. Aid was also delivered to Zabadani and Madaya, twin towns surrounded by the government near the Lebanese border.
United Nations humanitarian adviser Jan Egeland told Reuters, however, that the government was still preventing aid getting to six other besieged towns.
"It is a violation of international law to prevent us from going," he added. "I cannot understand why we cannot go there. Even wounded fighters have a right to be treated under international law."
Before the aid reached Foua, 30-year-old resident Maisa told NBC News how bad things had become.
"Daily life has become very primitive here," the engineering graduate said. "Energy sources are basically nonexistent."
She implored the international community to take more action. "What did we do to deserve this? Where is the United Nations? Are we not part of this world?" she asked.
Rebels have been hitting Foua and Kfarya daily with rockets and mortar shells, according to residents.
Raneem added that many residents are suffering malnutrition and are in dire need of medical attention. Children are losing their teeth and nails, and many people are suffering from disease.
"We just want help," she said. "We just want to live our life without bombing and fearing."
Opposition fighters have tried to infiltrate on several occasions, offensives that have taken a grave toll.
"Eighty percent of the town's infrastructure is destroyed, 80 percent of the houses are unsuitable to live in," Maisa said. "But the people are still trying to manage."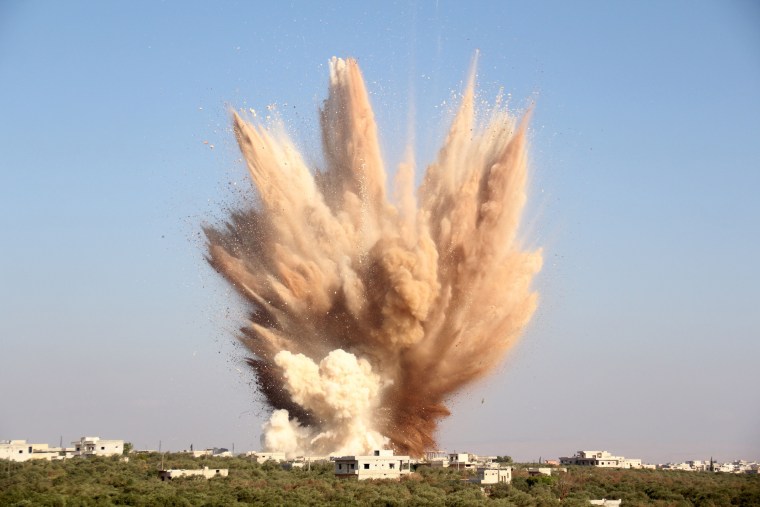 One of the last lines of defense in Foua are the residents who have taken up arms against the rebels.
"I am fighting for my dignity and my honor," 48-year-old Ahmad Aswad said.
He worked with the Syrian Civil Defense humanitarian group before the war started but now counts himself as one of the residents who, while not part of any organized militia or fighting force, has pledged to defend the town against the opposition forces.
"We are only a defense line," he said. "We do not attack, we do not have the fighting experience."
Aswad said his colleagues do not belong to any party or organization. "We are the sons of these towns," he added. "They are warning us that they are going to butcher and slaughter us."
Despite the bleak outlook, Raneem is investing her hope in the efforts of Assad's forces.
"It's really hard to be optimistic about the future," she said. "But we have hope in the army. They managed to free Nubbol and Zahra [two other Syrian towns] — they will manage to free us."