While we all eagerly await the arrival of The Sims/Katy Perry collaboration, the former's association with Facebook appears to be going quite swimmingly. Both EA and Playfish, the companies behind "The Sims Social," produced the following info graphic, which details player trends and interactions, and compares them with the real world: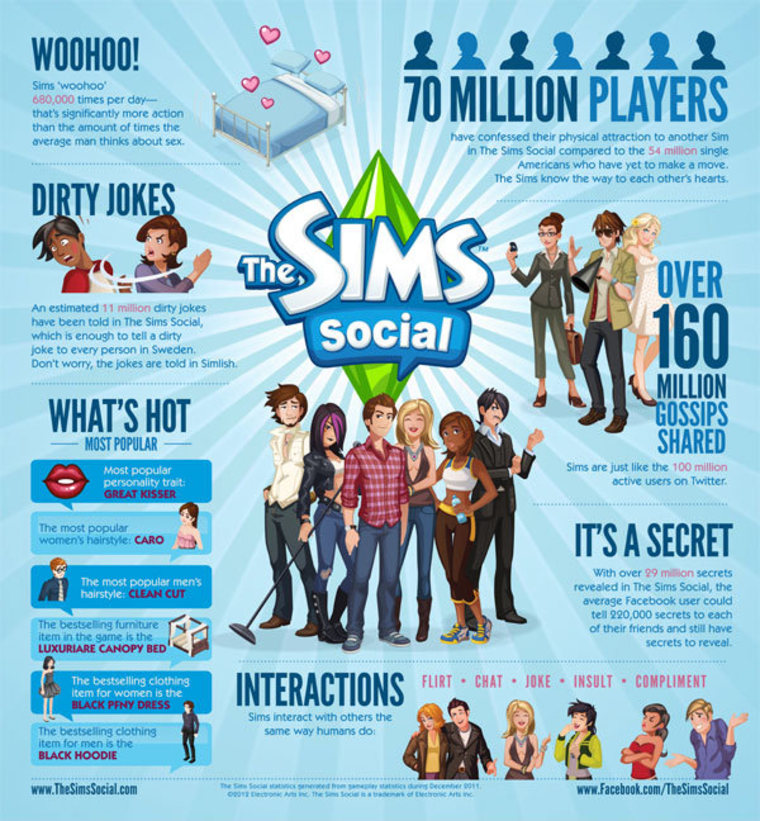 Notable highlights include how 70 million players have broken the ice and asked someone out in-game, compared to the 54 million single Americans who have yet to make a move. Apparently, the true language of love isn't French, but Simlish.
On a related note, players "woohoo" each other 680,000 times per day, which we are told is significantly more than the number of times the average man thinks about sex. Though some males reading this may beg to differ.
Another popular past time in The Sims Social is talking smack about each other. Other 160 million "gossips" have been shared thus far. Which means that "Sh*t That The Sims Says" is an inevitability.
Related stories:
Matthew Hawkins is a NYC based game journalist who has also written for EGM, GameSetWatch, Gamasutra, Giant Robot, and numerous others. He also self-publishes his own game culture zine, is part of Attract Mode, and co-hosts of The Fangamer Podcast. You can keep tabs on him via Twitter, or his personal home-base, FORT90.com.