LONDON — The world's eyes will be trained on the tiny Asian city-state of Singapore next week, as the historic summit between President Donald Trump and North Korean leader Kim Jong Un sweeps into town.
The meeting between two of the world's most unpredictable leaders would present serious security challenges in the best of circumstances — but the short notice and off-and-on-again nature of the summit adds an extra layer of complication for Singaporean authorities and international officials.
Experts say, however, that already strict laws and ubiquitous surveillance mean Singapore is particularly up to the challenge.
"We don't have any protests in Singapore, and if they have happened, they've been dealt with quickly."
"It's not a surprising choice, really," Graham Ong-Webb, a research fellow at Singapore's S. Rajaratnam School of International Studies, told NBC News by phone. "It's a very safe and secure country, we have an immense amount of security infrastructure in place... Singapore has been a very competent event organizer."
Preparations in the country are already well underway. Ahead of the summit, Singapore's foreign minister Vivian Balakrishnan reportedly met with Secretary of State Mike Pompeo and national security adviser John Bolton earlier this week, before quickly jetting off to meet his North Korean counterpart in Beijing.
It's easy to see why both sides chose Singapore as a venue, both optically and from a security perspective.
The country has a proven track record, having hosted the 2009 APEC summit and other high profile global events, and is a cosmopolitan former British colony which embodies the concept of East-meets-West.
It's a hyper-modern, free-market financial hub with some key tenets of western democracy. But Singapore has also been criticized for what many see as an authoritarian approach to law and order — including a sprawling police-state surveillance network and notorious bans and harsh penalties for chewing gum, spitting, vandalism — and male homosexual intercourse.
"I think that the government of Singapore is probably very well-suited to providing the external security for all of this," Tim Bradley, senior consultant from Florida-based security company the Incident Management Group told NBC News.
"They certainly don't have any problem implementing surveillance and monitoring people in Singapore. So I think it was a natural choice, and one that appealed to both sides very quickly," he continued.
Singapore also sentences hundreds of prisoners to caning each year as part of a system that has been criticized by rights groups.
The punishment became global news in 1994 when American teenager Michael Fay was caned for damaging cars and public property, despite appeals for clemency from the U.S. government, including then President Bill Clinton.
Protests are also almost entirely illegal in Singapore, something that is likely to have appealed to both the Trump administration and the Kim regime.
"You need a country with a special mix. As part our special mix you have very strong laws, iron-clad laws, that have very little tolerance for protests. We don't have any protests in Singapore, and if they have happened, they've been dealt with quickly." Singaporean research fellow Ong-Webb said,
"With that in mind, that's worked in our favor for this summit, because you can enter a country where you'll probably not see a protest."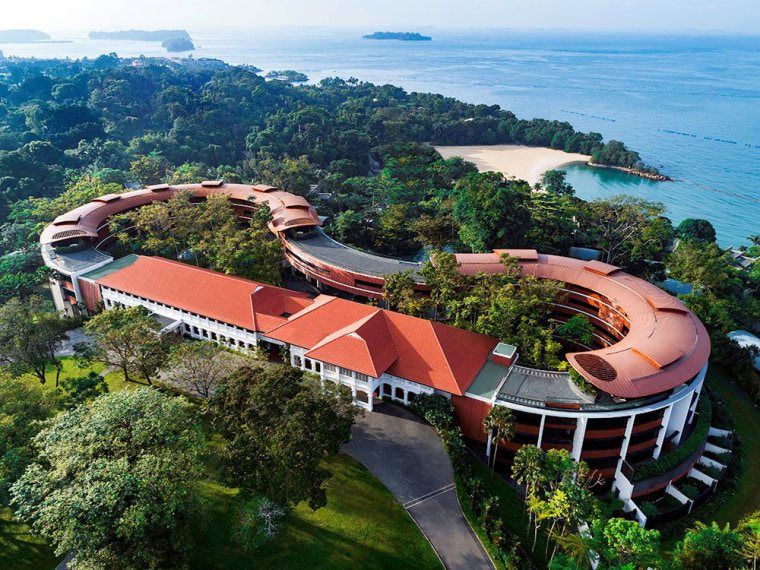 The venue for the summit itself is the luxury colonial-era Capella Hotel on the beach-lined Sentosa Island. It has been designated a "special event area" and is subject to stricter security measures, with authorities being handed additional security power for the summit period.
Sentosa Island is a big tourist destination, boasting a number of high-end hotels, golf courses, and a Universal Studios theme park.
(Universal Studios Singapore is part of NBCUniversal, the parent company of NBC News.)
It was also once a British military base and Japanese prisoner of war camp, which later served as the place of internal exile for former long-time Singaporean political prisoner Chia Thye Poh, who was imprisoned for more than thirty years without charge or trial for alleged pro-communist activities.
Located off Singapore's south coast, it can be reached from the mainland by causeway bridge or cable car.
"They did absolutely the best thing, and that is to isolate this and put it on this resort, where they can control the access to it. You don't want a security failure to be the story that comes out of this." security consultant Bradley said.
"Think about threats: there are two broad categories, the internal threats and the external threats. Being in an island like that where you can control access like that, the external threats are diminished tremendously."
For research fellow Ong-Webb, the choice of hotel — a former British army officer's quarters whose recent renovation was designed by world-famous architect Norman Foster — very much acts as a microcosm for the choice of Singapore as a venue as a whole.
"It speaks to that same message: cosmopolitanism, neutrality, East meets West, bit of the old, a good dose of the new. And Singapore resonates with all of that too," he said.
Because of the country's small size and contained nature, Singapore also is more easily able to implement strong security measures at the border, while Sentosa being an island makes it easier to control access.
"Because of our tight border security, you filter out all the security risks right from the get go," Ong-Webb said.
And just as Singapore is widely seen as a neutral country and an honest international broker, the Capella Hotel offers its own degree of neutrality.
"If neutrality is something you're pursuing... the Capella would be the cherry on top of the cake," Ong-Webb said. "The Capella is Singapore-owned. It's not American-owned or Chinese owned."
That detail is likely to be particularly important to the U.S. — after officials told NBC News of concerns over Chinese bugging and spying at the summit on Friday, and the increasingly sophisticated methods being used.