MITZPE SHALEM, West Bank — The Dead Sea is dying. Thousands of sinkholes have opened up around the historic tourist destination, turning some areas into a treacherous landscape resembling a giant Swiss cheese.
As many as 5,000 sinkholes have appeared since the 1980s, often swallowing buildings and roads in their path without warning. The situation has become so dire that 400 sinkholes are now reported around the body of water every year — a rate of more than one per day.
So far there have been no confirmed injuries linked to the cavities, which can measure 80 feet in diameter.
But last month, a sinkhole materialized overnight at Mineral Beach, a resort in the Israeli settlement of Mitzpe Shalem. It engulfed the parking lot along with with treatment rooms and several palm trees.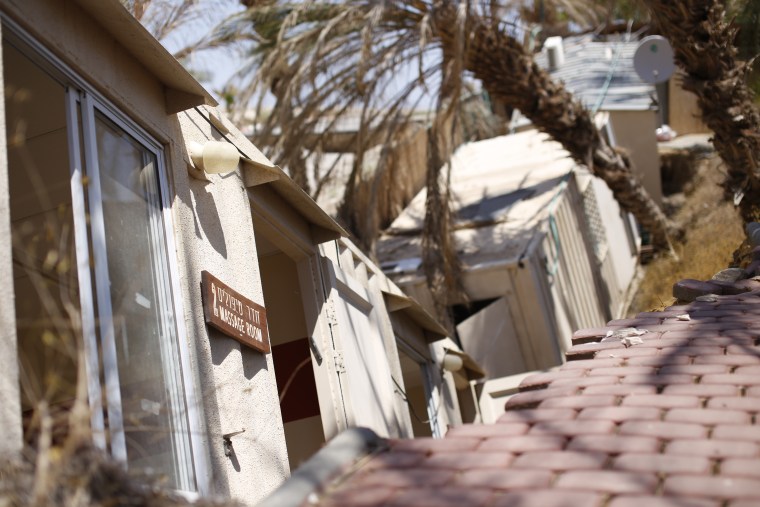 "We used to have 250,000 visitors a year, and half-a-year ago we had to shut the resort down," manager Avi Cohen told NBC News during a recent visit.
Cohen came to Mitzpe Shalem 20 years ago to run the resort when he said it was one of the main attractions in the area. Today, it looks like a movie set from a Hollywood disaster film.
"We are a small kibbutz and this resort was our supporting pillar, economically but also socially," Cohen said. "This was a shock for us but slowly we are picking up the pieces and expect the country to help us out."
The Dead Sea sits on the border of Israel, West Bank and Jordan. At around 1,400 feet below sea level, it is the lowest area of land on the planet.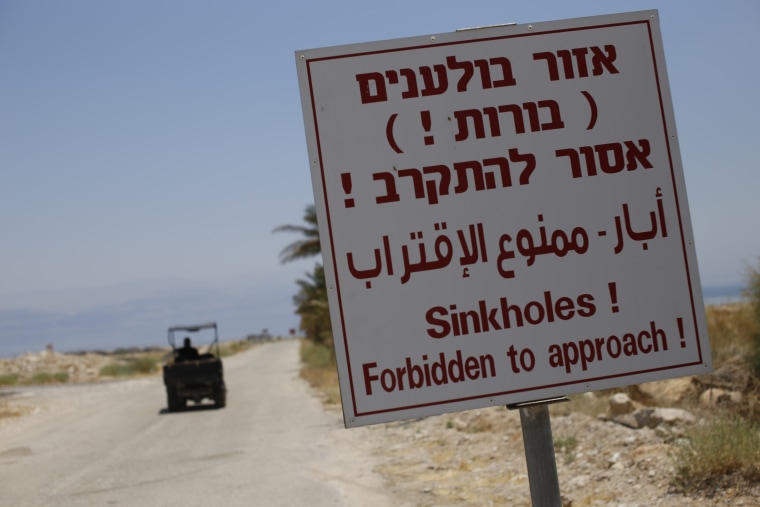 Along with Utah's Great Salt Lake, it is also one of the saltiest bodies of water on Earth, and gets its name because it is very difficult for animals and plants to thrive there.
It is popular with tourists who are eager to float in its buoyant waters and experience its natural mineral spas. These pursuits are now under threat, however, with resorts like Mineral Beach being forced to close because they cannot guarantee the safety of their customers.
And the situation is only getting worse.
Environmentalists say they are being caused by dams blocking the Dead Sea's freshwater supply, and an over-consumption of its minerals by potash mining companies.
"Since 1980, the Dead Sea water level has dropped by about 100 feet, which is a rate of three feet a year," said geologist Gidi Baer, from the Geology Survey of Israel. "Water that used to flow from the Sea of Galilei [in northern Israel] was dammed so almost no water is currently flowing into the Dead Sea."
The sinkholes originate in a 100-foot-thick layer of salt that was formed 10,000 years ago at the end of the last ice age. Traditionally, this was covered by salt water that protected it against the elements, but as the salt water has receded the layer has been dissolved by fresh water.
"When the salt is dissolved, cavities are formed and grow until the roof can't stand the weight and then the sink hole is formed," Baer said.
About 30 percent of the water level drop is caused by the extraction of minerals by potash mining companies, and there are no signs production is about to slow.
The only solution in sight is the plan to build a $900 million canal stretching from the Red Sea to the Dead Sea. However, environmentalists say this would only slow down, rather than stop, the decline.
Alexander Smith reported from London.