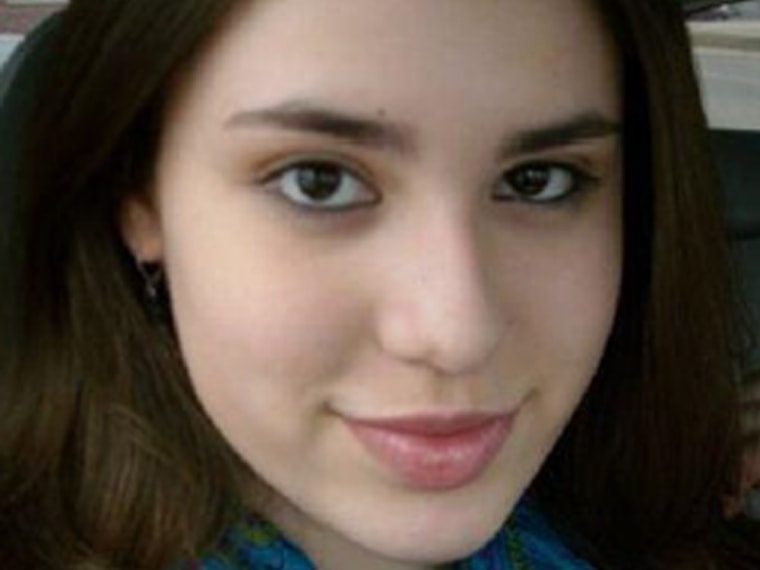 SAN DIEGO — An online blog posted by slain Marine wife Brittany Killgore when she was just 17 is giving the public more insight on her past.
The blog is titled 13smyfavoritenumber. Friday, April 13, was the day she was last seen alive. Her nude body was found Tuesday in a small ravine in Riverside County. In court documents, police have said that she had suffered "homicidal violence."
In her blog, Brittany talked about suffering from depression as a teen but said she stopped taking pills for it after feeling better.
Brittany Killgore talked about things that concern most teenagers: insecurities, traveling the world and finding true love.
In fact, she wanted to get married someday and have two kids, but she was also concerned because the divorce rate is so high.
Read the original story at NBCSanDiego.com
Early last week before she went missing, the 22-year-old Fallbrook resident filed for divorce from her husband, Marine Cory Killgore.
Like many teens, she wrote that she didn't get along with her family and but looked forward to going to college.
She also said she didn't do drugs and channeled all her energy into her artwork.
New details also emerged about the woman accused of killing Killgore and a man who has been called a person of interest in the case.
Jessica Lynn Lopez, who is charged with first-degree murder, and Louis Perez, a Camp Pendleton Marine, either lived together or lived at the same residence at different times, according to legal records examined by NBCSanDiego.com.
On Sunday, 45-year-old Perez, who authorities have said is the last person to be seen with Killgore, was arrested. He is accused of stealing an AR-15 assault rifle and was booked into Las Colinas Detention Facility on $500,000 bail. Perez was questioned regarding Killgore's disappearance, but detectives said he was uncooperative.
Authorities have not said what, if any, role they suspect Perez of playing in Killgore's disappearance.
Lopez, 25, was arrested on Tuesday at a Ramada Inn in San Diego. She had self-inflicted injuries, according to Homicide Lt. Larry Nesbit of the San Diego County Sheriff's Department. She went to UCSD Medical Center for "medical necessity" before being booked into Las Colinas.
Lopez pleaded not guilty in court on Thursday. A judge set bail at $3 million; Lopez's next court appearance will be next Friday.
It is unknown if Lopez and Perez lived in the residence at the same time, but housing records show that each of them lived at the same residence at some point.
A former neighbor of Lopez's told NBC San Diego that Lopez's family still lives in that home.
Court records reveal two warrants were issued for the arrest of Lopez last year, after she failed to appear in court for traffic citations.
Those citations give two addresses for Lopez — on Rorex Drive in Escondido, and more recently, on Fallbrook Street in Fallbrook. Killgore and her husband also lived in Fallbrook.
Lopez has two sisters, one of whom is married to a military man, according to a neighbor. The neighbor said Lopez went to San Pasqual High School and attended a North County community college.
Lopez's family is represented by Escondido attorney Dean Broyles, who said they are "still reeling" from Lopez's arrest. Broyles is also the Lopez family's neighbor.
Broyles urged the public to disregard the the rumors and innuendo surrounding Killgore's death, and let the legal system do its job. "Don't rush to judgment until all the facts are out," he said.
On Thursday, Killgore's father, Darryl Wrest, spoke publicly about his daughter, choking back tears as he read a short statement.
"I am here to speak for Brittany, as her voice was taken from her," he said. "Brittany was a beautiful, kind caring young woman trying to find her way in this world."
Wrest defended his daughter against rumors circulating about her private life.
"Please leave my daughter in peace, she does not deserve to be the victim of lies and innuendo, any more than she deserves to be murdered," he said adding that Brittany's family was going to fight for justice for her.
This article includes reporting by Tony Shin, along with Paul Krueger, Greg Bledsoe and Sarah Griecoof NBCSanDiego.com.
More content from msnbc.com and NBC News: