Palestinian teenage protest icon Ahed Tamimi was sentenced to eight months in prison by an Israeli military court on Wednesday for slapping soldiers after a plea bargain was reached. NBC News visited Tamimi's home in the occupied West Bank in the lead up to the sentencing to report the following story published March 10.
NABI SALEH, West Bank — The online footage of a 16-year-old Palestinian girl, Ahed Tamimi, slapping and punching armed Israeli soldiers towering over her reverberated around the world.
After being arrested with her mother, Nariman, days after the Dec. 15 incident, the teen with long blond curly hair swiftly became a global symbol of resistance to Israeli occupation.
Tamimi, now 17, did that by simply bucking a longstanding stereotype of Palestinian activists — hoary old warriors and rock-throwing young men — and in the process electrifying a Palestinian population disheartened by years of settlement-building on land envisioned as a future state. She also prompted renewed international attention on Israel's occupation of the West Bank, and on the Palestinian cause in general.
The teen's fate now lies in the hands of an Israeli military judge who is weighing charges of incitement and assault. She has been imprisoned since her arrest, and her trial was scheduled to resume Sunday behind closed doors. Family members told NBC News it had been postponed until March 21.
Sineen Amereh, 16, a Palestinian resident of Arab-majority east Jerusalem, has no doubt about Tamimi's importance to her people's struggle against the occupation, as well as to the role of girls in that resistance.
"She's a perfect idol for all girls her age — nobody before has done something like that," said Amereh, an 11th grader. "If we weren't brave, then the Israeli soldiers would think we're weak, think we will just give up."
Amereh says she and others are scared of soldiers like the ones Tamimi faced, but her fellow teen's actions have given her confidence to stand up to injustice.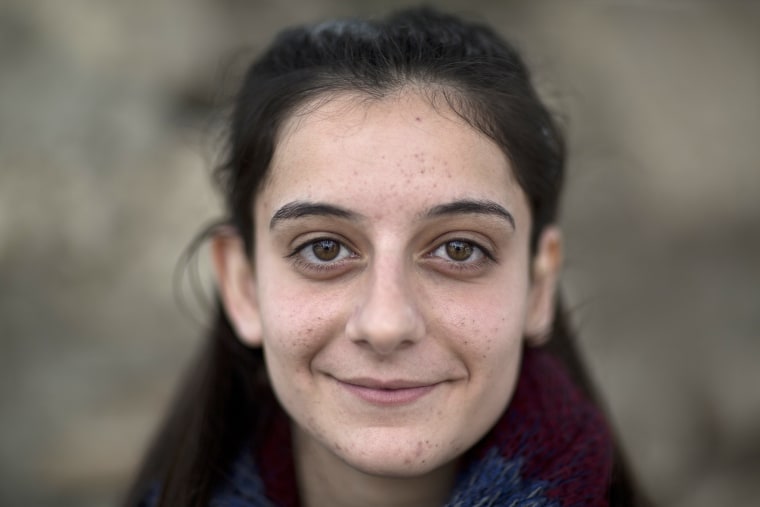 "Everyone is afraid, but we will keep fighting because it is not easy to give up on your land, on your home," said Amereh.
It is commonly felt by Arabs in east Jerusalem and the West Bank — which Israel has occupied since the 1967 war with Syria, Jordan and Egypt — that Israel is deliberately driving Palestinians from their homes. From 1967 to 2016, some 200 Jewish settlements housing around 600,000 people were built on occupied land, according to the Israeli human rights organization B'Tselem. There are some 2.5 million Palestinians in the West Bank.
Israeli checkpoints limit the movement of Palestinians, and many cannot get to land that they say is legally theirs but lies near Jewish communities. Meanwhile, a process to create an independent Palestinian state as part of a "two-state solution" has foundered.
While Ahed Tamimi has excited many Palestinians hoping to end decades of statelessness, she and her family have been denounced in Israel for being, at best, terrorist-sympathizers who train children to deliberately provoke soldiers on film to discredit the country and its army.
"In India they give a small amount of poison to every child born to protect him and defend him from the snakes."
"It's an extended family that committed terror attacks, and she's part of this theater," said Anat Berko, a member of Israel's Parliament and an expert on female and child Palestinian suicide bombers.
"You're speaking about a society that used and abused those children," Berko said of the Palestinians, adding that filmed episodes involving Tamimi and her family were classic "Pallywood" — an attempt to manipulate the media to score public relations points against Israel.
Berko praised the Israeli military — "the best soldiers on earth" — who have been criticized for heavy-handedness in this and other cases.
"She slapped a soldier and he didn't do anything," Berko said. "An American soldier or a British soldier — do you think he would let her push him in such a way?"
Berko does not question the Tamimis' authenticity, but others have.
Israeli Deputy Minister Michael Oren sparked outrage in January after admitting that the Tamimis had been the subject of a classified investigation into whether they actually "light-skinned" actors and not a real family.
'Entrance For Israeli Citizens Is Forbidden'
Ahed Tamimi has long been filmed and photographed protesting and confronting soldiers in Nabi Saleh, a cluster of buildings on a couple of hillocks in the Israeli-occupied West Bank.
An Israeli watchtower sits in a gray-walled base on the road into town. Next to it a sign warns in white lettering against red: "The Entrance For Israeli Citizens Is Forbidden, Dangerous To Your Lives And Against The Israeli Law."
Rows of neat red-roofed houses sit within sight of the village. This is Halamish, a Jewish settlement deemed illegal by international law.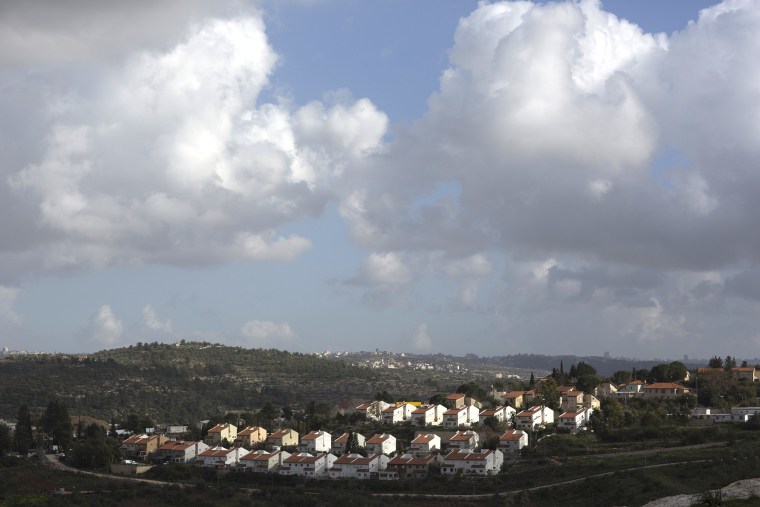 In 2009, led by Ahed Tamimi's father, Bassem Tamimi, villagers and rights groups started holding weekly Friday protests against what they saw as the settlement's expropriation of land and appropriation of the village's water source — a spring.
In a recent act of violence in Halamish, a Palestinian man broke into a home in July and fatally stabbed three member of one family
Nabi Saleh has an estimated population of around 600, almost all of whom are Tamimis, a clan famous for its decades-long resistance to Israeli occupation. Hundreds of villagers have been detained, wounded or killed protesting.
In 2011, Mustafa Tamimi died after a tear-gas canister hit him in the face at close range as he threw rocks at soldiers. In 2012, Rushdi Tamimi was shot dead by Israeli soldier while he was throwing stones. Tamimi's cousin Ahlam Tamimi was imprisoned for her involvement in a 2001 suicide bombing of a Jerusalem pizza restaurant that killed 15 and wounded more than 120.
A handful of Israeli soldiers stand smoking on the side of the main road into Nabi Saleh one day last week. Three skinny young men hover around 100 yards away. A couple of hours later, a series of booms echo up the hill, sending a herd of goats scurrying to the edge of a field. White clouds of tear gas drift over the rocky ground before dispersing.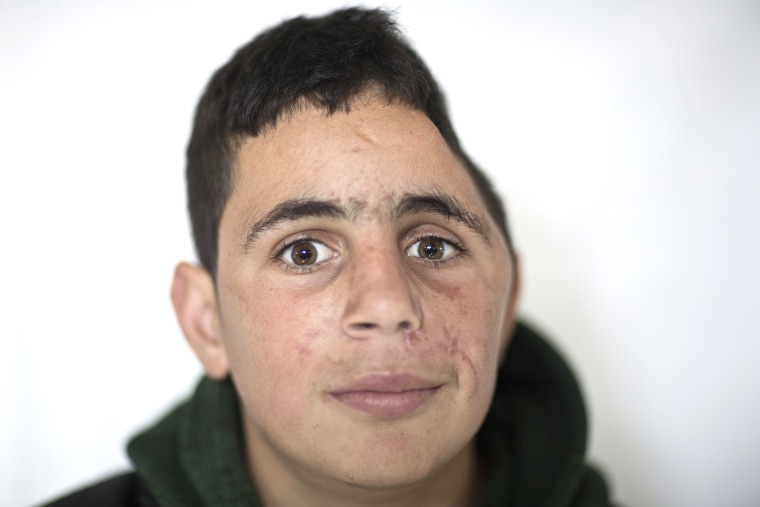 A few children wander the town's streets, chatting and joking with journalists. One is Mohammed Tamimi, 15, a gangly boy who looks like part of his skull has been sliced off at an angle.
According to the family, Mohammed's injury provoked Ahed's outburst in December. Family, rights activists and journalists who have seen medical documents say he was shot in the head by an Israeli soldier minutes before the confrontation in the front yard of Ahed's house.
At least one Israeli military official contests that account, and says Mohammed admitted during interrogation that he was injured falling off a bicycle. Later, Mohammed said he had been under duress during the detention — part of regular sweeps of Nabi Saleh's young people — and was afraid he wouldn't be let go if he told the truth.
Israel has been criticized for its arrests of boys and more recently girls — a trend Ahed has been part of.
In 2015, one out of every 250 inmates in Israeli prisons was a girl, according to Ayed Abu Eqtaish of the Defense for Children International Palestine, which advocates for the rights of minors in Israeli detention. After October 2015, that ratio rose to around 10 girls out of every 300 inmates.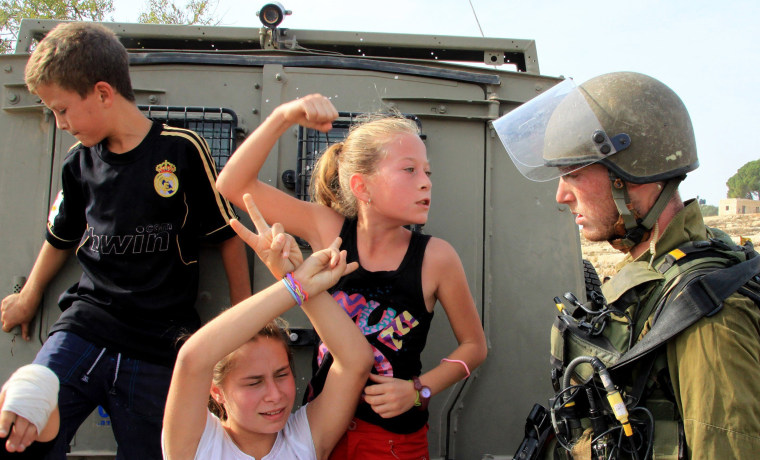 Amnesty International has also criticised Ahed's detention, saying in a statement that "footage of this incident shows that she posed no actual threat and that her punishment is blatantly disproportionate."
She's also garnered the support of a series of public figures in the U.S., including the N.F.L.'s Michael Bennett, the academic Cornel West, and the actors Danny Glover and Rosario Dawson, who signed a petition calling for her release.
The comedian Sarah Silverman provoked praise as well as outrage when she said on Twitter that Jewish people had "to stand up EVEN when — ESPECIALLY when — the wrongdoing is BY Jews/the Israeli government."
When asked to comment on this story, an Israeli military spokesperson said in a statement that "unfortunately, in recent years, many minors, sometimes very young, have been involved in violent incidents including acts of terror, and other offenses."
"When the law is enforced against minors, it is done taking their age into account," it added.
'A dancer'
Privately some Palestinians are asking whether they should allow their sons and daughters to get caught up in protests at all. While there has been no public discussion on the issue, Nabi Saleh's children haven't held a protest in weeks.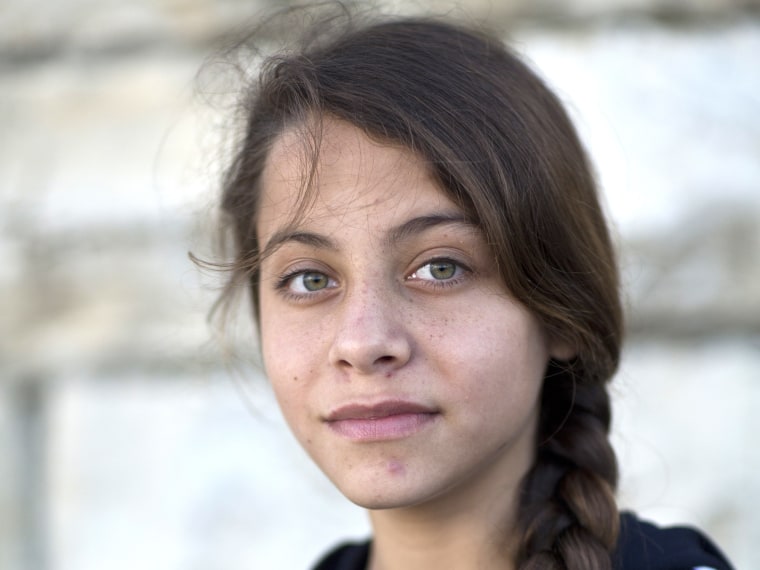 One Palestinian who asked not to be named because he didn't want to put his children in the public eye said that while he admires Ahed as a fighter for Palestinian rights, he would not wish for his own daughter to do the same.
"She should go to school and be at home," he said.
Ahed's younger cousin Janna, 11, does not stay at home. She calls herself the world's youngest journalist and has some 275,000 followers on Facebook, where she goes by the name Janna Jihad. She's been active since the age of 6 or 7.
Janna speaks English with an American accent, and finishes many of her statements with, "So yeah."
"I wanted to be the voice of the Palestinian children and send their message to all the world," Janna said. "Let this world know about our suffering our feelings, our parents getting killed, our sisters and brothers getting injured and arrested."
Janna then climbed a tree next door to pick green almonds for her family and guests, before kicking a soccer ball up the road outside Ahed's home.
Bassem Tamimi, Ahed's father, is exhausted by the constant media requests, as well as from looking after three children without his wife — who remains in jail too — while also working at the Interior Ministry of the Palestinian National Authority.
An experienced activist, he has been detained many times by Israeli authorities, and convicted of "sending people to throw stones, and holding a march without permit."
Amnesty International has called Bassem Tamimi a prisoner of conscience, while the European Union has labeled him a human rights defender.
A tour of Ahed's bedroom reveals orange walls out of the 1970s, dirty clothes spilling out of a hamper and posters of Ahed on one of two single beds covered in rumpled purple sheets.
While Tamimi says he's slept in his daughter's bed a few times since she went to jail, he is unsentimental about raising his children to fight the Israeli occupation. For one thing, he said, it is impossible to keep them out of trouble, what with regular military raids and the presence of soldiers.
"In India they give a small amount of poison to every child born to protect him and defend him from the snakes," he said. "And we must train ourselves from the snakes in our life, the occupation."
His children have no choice but to live under occupation where "there was no safe place," he said.
But, he adds, "if you give me a promise from your country, and European countries ... if we have a promise that the occupation will leave our life [in] 10 years, I will send [Ahed] to be a dancer."