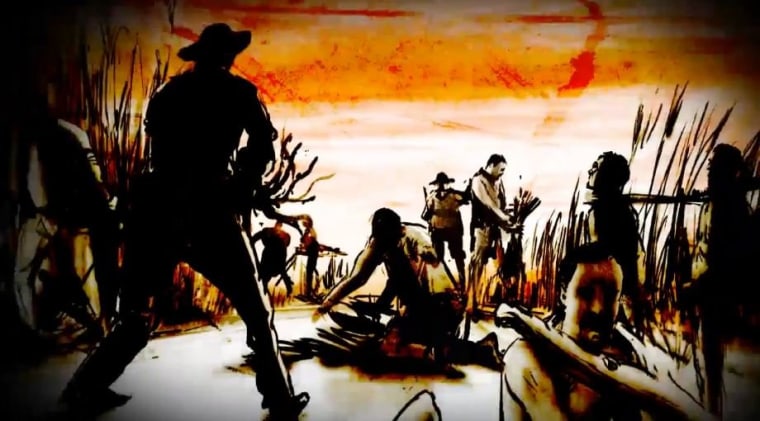 Before we start, let's just call this what it most likely is: a hoax, a big fat troll, someone's idea of a (truly awful) joke.
And yet, there it is, "Slavery: The Game" — an adult-rated real-time strategy game that is supposedly in the works for the Xbox 360, PlayStation 3 and PC.
Over the weekend, a trailer and website for this game started making the rounds ... and, understandably, making people upset. According to the trailer, the game takes players back to the 17th Century and encourages them to "buy slaves, discipline them, exploit them, become the most powerful slave trader." See for yourself:
Awful? Absolutely. Really in development? Highly unlikely.
"Slavery: The Game" is supposedly being developed by a company called Javelin Reds Gaming. And according to at least one version of the trailer that's floating around out there on YouTube, Javelin Reds is an offshoot of the company The Creative Assembly.
The Creative Assembly is a very real company which makes the very real "Total War" strategy games. Many of these games are, indeed, based on historical fact. But The Creative Assembly has made it clear that they have nothing to do with "Slavery: The Game," tweeting: "The Creative Assembly and SEGA have no knowledge of, and are not in any way involved with the alleged title 'Slavery the Game'."
As for Javelin Reds, the company doesn't seem to exist.  As The Escapist points out, the phone number listed on the site leads to a Google Voice inbox with a Kentucky area code (you can leave a voice message, but no one picks up) and the "info@javelinreds.com" email address doesn't seem to work.
Meanwhile, the above trailer (which seems to be the original) was posted to YouTube by someone named Jeshua hailing from the Netherlands. And as one commenter pointed out, Javelin Reds is an anagram for "De Slavernij," which, in Dutch, means "the slavery."
So, could this be some kind of gross publicity stunt? It wouldn't be the first time. Some badly executed satire? Perhaps. Just an offensively lame YouTube joke meant to provoke people? Seems likely. Whatever it is, it should be noted that, although the trailer claims the game is coming to the Xbox 360, PlayStation 3 and PC, the chance of Microsoft or Sony ever licensing such a game for their consoles is ... well, really, there's not a snowball's chance in hell.
But if you're concerned nonetheless, there is an online petition you can sign calling for Javelin Reds to stop making their game.
(Thanks to The Escapist for the heads up.)
For more game news, check out:
Winda Benedetti writes about games for msnbc.com. You can follow her tweets about games and other things here on Twitter or join her in the stream here on Google+. And be sure to check out the In-Game Facebook page here.