MASIK PASS, North Korea -- The secretary-general of North Korea's ski association views the sprawling alpine landscape before him with unabashed pride. Facing a strong, cold wind, he points to a dip in the rugged, tree-covered mountains and says the sunrise there is a sight of unmatched beauty, worthy of the nation's supreme leader, Kim Jong Un.
This is the Masik Pass ski resort, North Korea's latest megaproject, the product of 10 months of furious labor intended to show that this country, so often derided for its poverty and isolation, is as civilized and culturally advanced as any other.
The complex of ski runs, resort chalets and sleigh rides will formally open Thursday, though late last month the main hotels appeared to be little more than shells, potholes filled the access roads and foundations were still being dug for secondary buildings.
Who will ski here? Perhaps Kim Jong Un, who reportedly enjoyed the sport as a teenager studying in Switzerland. By the estimate of the ski official, Kim Tae Yong, there are only about 5,500 North Korean skiers in this country of 24 million -- a skiing population of 0.02 percent.
Even so, as he sweeps his hand over the scene, the official displays no doubt that what his country really needs right now is a multimillion-dollar ski resort in the secluded depths of North Korea's east coast. Kim bristles at the suggestion Masik will be a playground for the nation's elite and a trickle of eccentric tourists.
This, he says, is his country at work. It is proof of the great love of the great leader.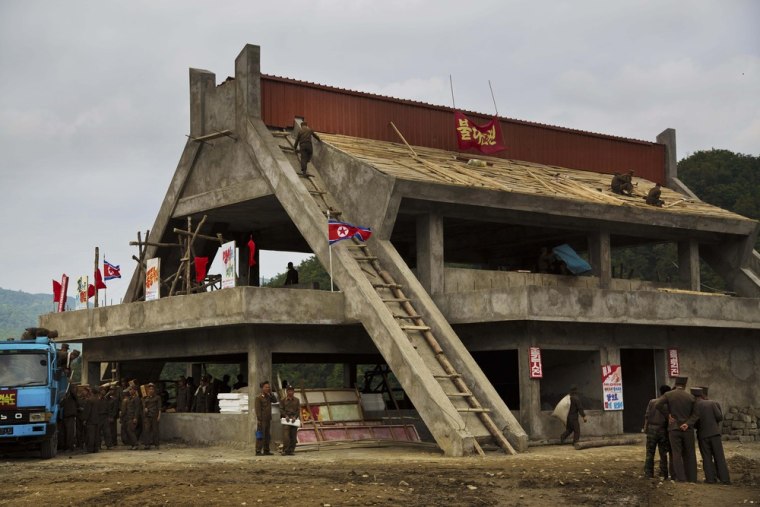 The narrow road to Masik Pass winds through rugged mountain terrain, small farming hamlets and lush foliage -- beauty untouched by modern development.
As the road turns to dirt, brightly colored propaganda posters and ubiquitous slogans in blood-red letters come into view, followed by rows of barracks for workers -- drab, hastily built shacks of stone carved out of the slopes along a clear flowing river.
Beyond that, hundreds, if not thousands, of soldier-builders in drab olive-colored uniforms -- "shock brigades" assigned to especially urgent and difficult tasks -- scour the slopes. Some, carrying blocks of concrete on their backs, look like they are barely teenagers. Others workers pound at the stone with hammers. Young women march with shovels over their shoulders. Minivans equipped with loudspeakers blast patriotic music into the crisp mountain air.
Masik's ski runs -- at the moment long stretches of bright-brown dirt dotted with rocks, weeds and patches of stubborn grass -- cut their way through the trees to converge at the hotel construction site below. Though two simple lifts have been installed, neither was working during a reporter's recent visit; visitors drove to reach the top of the slope at Taehwa Peak.
Officials claim the resort will be a wonder for all to see.
As the showcase capital of Pyongyang, with its many amusement parks, looming bronze statuary and countless marble-laden pavilions so amply demonstrates, North Korea has a tradition of diving into lavish, monumental projects, no matter their relevance to larger economic conundrums such as producing reliable electricity or adequate food.
But why a luxury ski resort?
With South Korea set to host the 2018 Winter Olympics, there is little doubt Pyongyang felt it had to do something lest it be outdone yet again by its prosperous southern brethren.
Ski chief Kim said Masik was floated as a potential venue for the 2018 Games, but Seoul turned that offer down. Kim -- who began skiing as a child and competed in international cross-country competitions -- vowed that with Masik as a training center, North Korea will have a world champion of its own in just a few years. So far, it has won only two medals at the Winter Games -- both in speed skating.
There is more going on here, however.
Outside the North Korean bubble, most of the world's attention has been on how Kim Jong Un has pushed ahead with his late father's strategy of establishing North Korea as a nuclear state, no matter the cost in lost trade and international sanctions. But internally, it is not forgotten that Kim has said improving the economy is as important as nuclear weapons development.
Kim and his coterie of advisers have vowed repeatedly to lift North Korea's standard of living, which is among the world's lowest and, if left unchecked, could lead to domestic instability.
They have focused on boosting tourism, providing the impoverished country with the accoutrements of a "civilized" nation and, most visibly, encouraging a broader interest in sports. The development of Masik Pass dovetails nicely with all three policy goals.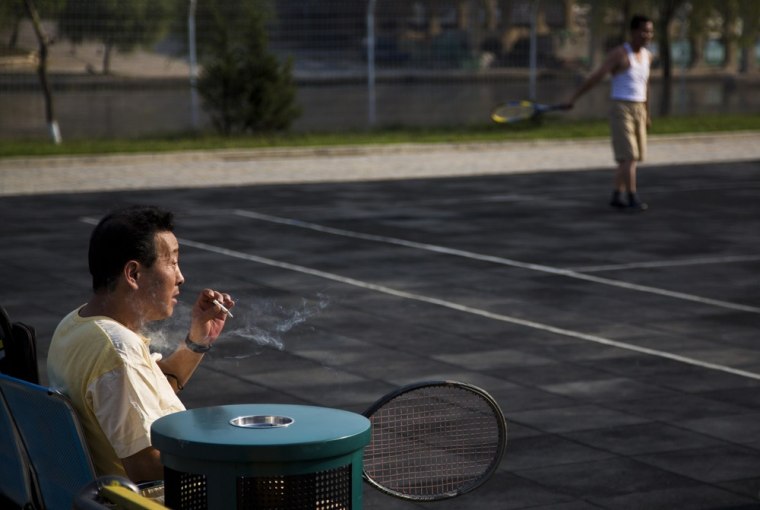 Sports are billed as a means of energizing and mobilizing the masses, or as North Korea's slogan spinners say, "the hot wind of sports blowing through Korea."
All this is reflected in North Korea's otherwise head-scratch-inducing association with former NBA star Dennis Rodman, who had Kim's ear and received the red carpet treatment both times he visited this year.
In Pyongyang, a plethora of recreational sports parks, basketball courts and inline skating rinks have popped up over the past several months. Very few North Koreans could afford Masik Pass, but the leadership could offer trips as rewards for loyalty or exceptional work.
Many outside economists argue that if it's serious about improving its economy, North Korea should implement market reforms, build its energy and agricultural sectors and improve international relations by focusing less on nuclear weapons and ballistic missiles.
"Certainly, the calculus is different in North Korea than in most places -- they've demonstrated pretty consistently that economic efficiency is not the priority," said Andray Abrahamian, executive director of Choson Exchange, a Singapore-based nonprofit that aims to build North Korean business savvy and economic growth.
But Abrahamian said Masik is not merely a gilded albatross.
"These kinds of projects are no more a boondoggle than say, hosting the Olympics or the World Cup," he said. "The financial costs are very high, but the broader social gains -- which don't show up on a balance sheet -- are deemed to be higher. Nationalism, civic pride, health, urban regeneration, tourism dollars, construction projects for cronies -- all these things come into consideration."
Though the actual ski season begins around December, officials plan to open the resort Oct. 10, the 68th anniversary of the Korean Workers Party.
Kim Jong Un has visited the site twice, most recently last month. "Masik Pass Speed" has joined the long list of North Korean propaganda accolades for those who selflessly carry out the orders of their rulers.
With the clock ticking, the pace is frenetic. North Korean media recently claimed workers are "carrying out their daily quotas at more than 200 percent."
As recently as last week, worker brigades were scrambling to finish not only the two main hotels -- a 250-room, eight-story building for foreigners and a 150-room hotel for Koreans -- but also an underground parking lot, employee housing and access bridges and a pumping station.
The resort won't be finished by Thursday; Kim Tae Yong, the ski association chief, said much of it will be built in phase two.
His only concern: the ski lifts.
Last month, the Swiss government nixed plans for a company to sell North Korea $7.7 million worth of lifts and cable car equipment because of new sanctions barring the sale of luxury goods to the North. Austrian and French ski-lift manufacturers also have reportedly said no.
North Korea's state-run media has called the Swiss decision a "serious human rights abuse that politicizes sports and discriminates against the Koreans." Kim called it "a pity," but said Masik Pass will have three functioning lifts this year.
"We can make nuclear weapons and rockets," he said. "We can build a ski lift."
Related: