Bolivia said it would complain to the United Nations Wednesday over the "abduction" of its president, Evo Morales, whose plane was grounded amid a false rumor that NSA leaker Edward Snowden was on board.
The country reacted with fury to the enforced diversion of the plane, saying international law had been violated and that it would file a formal complaint to the U.N. Human Rights Commission.
Morales' jet took off from Vienna, Austria, on Wednesday morning almost 14 hours after they say was forced to land there because France, Portugal, Italy and Spain all denied it access to their airspace.
The aircraft was taking Morales home from Russia, where he had met with Russian President Vladimir Putin at a summit for gas exporters. No unauthorized people were found on board.
"We want to tell Bolivians, we want to tell the world, that President Evo Morales, our president, the president of all Bolivians, was kidnapped in Europe today," Vice President Alvaro García Linera said late Tuesday in front of the official presidential residence in the capital, La Paz. "We want to say to the nations of the world that President Evo Morales has been abducted by imperialism and is being held in Europe."
In  a statement from aboard his presidential plane Wednesday, Morales underlined the indignation and fury felt at the highest levels of the Bolivian government, and made a thinly-veiled attack on Western powers.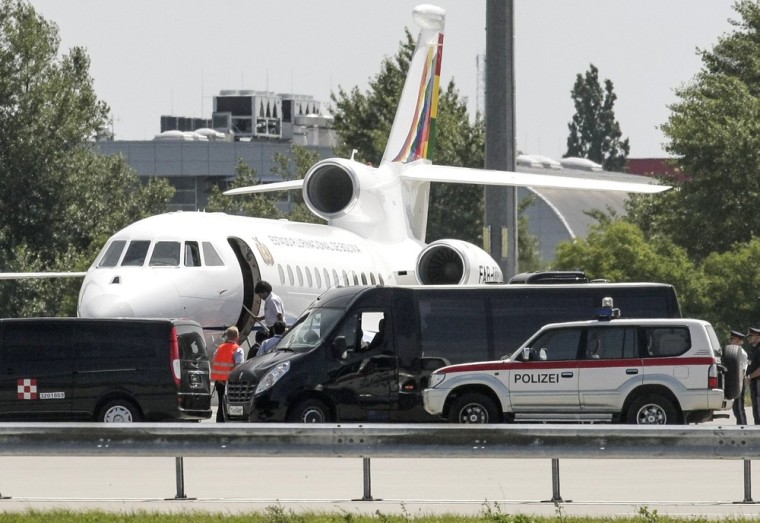 "I feel this was an excuse to frighten, intimidate and punish me. More than anything, an excuse to try and silence us on the struggle against the politics of plunder, invasion and domination," president Morales said.
The statement added that Morales' life was put in grave danger when Portugal and France stopped his plane at the last minute.
"I don't understand why France, Italia, Portugal and Spain would say ... that they were stopping me because I was taking a certain Edward Snowden," he said.
Snowden was "no suitcase that could be taken aboard a plane" and flown to Bolivia, the statement added.
Cuba echoed his comments, denouncing the international decision to divert Morales' flight as "inadmissible, unfounded and arbitrary."
"Cuba calls on the international community to mobilize against these violations of international law and human rights," said a foreign ministry statement that was issued late Tuesday and carried by state media on Wednesday, according to Reuters.
Earlier on Wednesday, Morales told journalists in the Vienna airport who asked about the delay that officials were "surely consulting with their friend, and their friend must be the United States."
The Morales government already has a strained relationship with the U.S. In September 2008, his administration expelled the U.S. ambassador along with DEA agents and USAID officials.
And in April 2009, Morales said he suspected U.S. intelligence was behind an attempt to assassinate him at a hotel. Police commandos shot dead three men in a hotel room in the eastern city of Santa Cruz, which was said to be the base for plot to stage a coup. The U.S. denies his claims.
Sacha Llorentty Solíz, Bolivia's ambassador to the United Nations, told reporters in Geneva that Austria's move was an act of aggression and a violation of international law.
A tweet posted on the official Twitter page of the Austrian foreign ministry read: "Rumors claiming that Snowden was on board the plane of President Morales that landed in Vienna are not correct."
A senior U.S. official said there was no indication Tuesday that Snowden was anywhere but still in the transit area of a Moscow airport. When asked if it was possible Snowden had managed to leave the country on a foreign official's plane, the official said: "I've heard nothing remotely like that."
The incident was the latest turn in 30-year-old Snowden's attempt to evade the United States since he spilled details of a secret American government surveillance program called Prism. 
NBC News' Mary Murray and Erika Angulo, and Reuters contributed to this report. 
Related: