LONDON — Four-time Olympic champion Mo Farah has criticized U.S. President Donald Trump's immigration policy, saying Sunday the temporary travel ban "seems to have made me an alien" and leaves him unsure whether he can return to his U.S. home.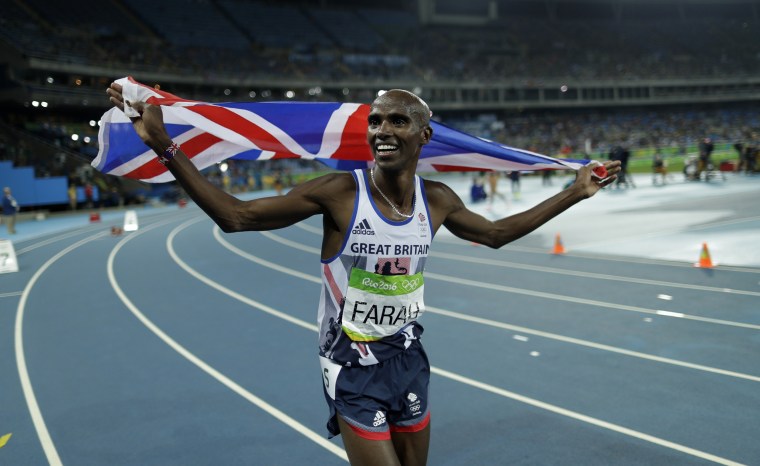 Farah is a British citizen who was born in Somalia, one of seven predominantly Muslim nations subject to the executive order signed by Trump that currently bars entry to the United States.
Farah currently is training in Ethiopia. His wife, Tania, and four children are in Portland, Oregon, where the Farah family has lived for the last six years.
"It's deeply troubling," the 33-year-old Farah said in a statement on his Facebook page, "that I will have to tell my children that Daddy might not be able to come home — to explain why the President has introduced a policy that comes from a place of ignorance and prejudice."
Farah and his representatives are trying to establish whether the fact he was born in Somalia will now present a problem for him when he wishes to return to the United States. Farah has a British passport and does not have dual nationality or hold a Somalian passport.
"It's deeply troubling that I will have to tell my children that Daddy might not be able to come home."
"We are seeking to clarify the situation with the US authorities," Farah's agent, Jo Livingston, told The Associated Press in an email. "Mo is currently at a training camp and is not planned to return to the U.S. for a number of weeks. However, as I'm sure you can appreciate, he and Tania want to understand the direct impact on them (if any) as a matter of urgency."
Farah moved to Britain from Somalia at the age of 8 and is now regarded as one of the greatest-ever athletes in British sport after winning the 5,000 meters and 10,000 meters at both the 2012 and 2016 Olympic Games and at the 2013 and '15 world championships. He also won the 5,000 gold at the 2011 world championships and was recently given a knighthood by Queen Elizabeth II.
Related: Officials Say Visas Were Being Revoked Prior to Trump's Executive Order
"On 1st January this year, Her Majesty The Queen made me a Knight of the Realm. On 27th January, President Donald Trump seems to have made me an alien," Farah said in his statement.
"I am a British citizen who has lived in America for the past six years — working hard, contributing to society, paying my taxes and bringing up our four children in the place they now call home. Now, me and many others like me are being told that we may not be welcome."
AP writer Justin Lynch in Kampala, Uganda contributed to this story.