The explosion that forced a Somali plane to make an emergency landing shortly after takeoff appears to have been caused by a bomb, NBC News has learned.
"It is likely this was a bomb attack," a high-ranking diplomat with knowledge of the investigation said Thursday.
That was echoed by Daallo Airlines chief Mohammed Ibrahim Yassin, who said he has been in touch with investigators probing Tuesday's apparent aerial attack.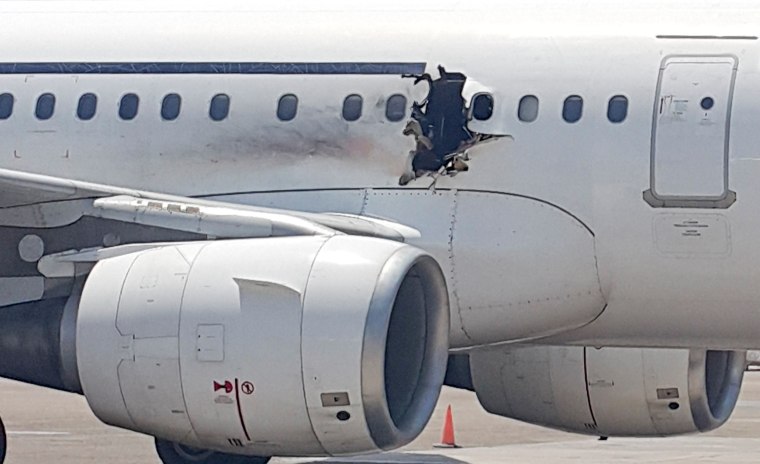 "There's a residue, they're saying, of explosives," Yassin said in an interview with The Associated Press. "But they cannot really make 100 percent that it's a bomb."
It will be several more days before the initial findings are released, he said.
So far, no terrorist group have claimed credit for the blast. But Somalia has been waging a long-running battle with the terrorist group al Shabab, which is allied with al Qaeda.
Meanwhile, the Somalis identified the passenger who was killed after he was blown out of the plane by the blast as Abdullahi Abdisalam Borleh, 55.
A high ranking intelligence officer with the Somali government told NBC News that Borleh is not believed to have been the bomber.
His body was found in the town of Jowhar which about 56 miles north of Mogadishu and the airport from which the Airbus A 321 with 74 passengers on board took off, officials said.
The jetliner was had only climbed to an elevation of 12,000 to 14,000 feet when the blast rocked the plane just minutes after it took off from Mogadishu International Airport. Had it been higher, the difference in pressure would likely have been more devastating.
Capt. Vladimir Vodopivec, the pilot, managed to turn the plane around and bring it safely back to the airport.