Cyril Ramaphosa formally became South Africa's new president on Thursday following the resignation of scandal-tarnished Jacob Zuma.
A protégé of Nelson Mandela, Ramaphosa is the county's fifth ruler since the end of apartheid in 1994.
Zuma, who had been in office since 2009, had refused to relinquish his grip on power for more than a week. But with a no-confidence vote looming in parliament, the 75-year-old succumbed to pressure and resigned on Wednesday night.
Ramaphosa's first task will be to deliver a state of the nation address that had been postponed during the political turmoil.
"I will work very hard not to disappoint the people of South Africa," the new president told lawmakers Thursday. He pledged to serve "with humility and dignity."
Ramaphosa grew up in Soweto, Johannesburg's notoriously impoverished segregated township. He became one of South Africa's richest men after the end of white-minority rule, but his toughest years may lie ahead.
It is not just politics that the 65-year-old former labor organizer, will need to clean up. South Africa is beset by high unemployment and low growth, while one of its largest cities, Cape Town, is likely to run out of water within weeks.
In fixing the country, Ramaphosa will first need to unite his own party, the African National Congress. It has become factionalized since the golden era of Mandela's release from prison and the end of white minority rule.
"This was the party of liberation, of Nelson Mandela, and under Zuma it has fallen so far it is unrecognizable from the party Mandela led," said Pieter Du Toit, a journalist who co-wrote "Enemy of the People: How Jacob Zuma Stole South Africa and How the People Fought Back."
"The hope is Ramaphosa will turn that around," he said.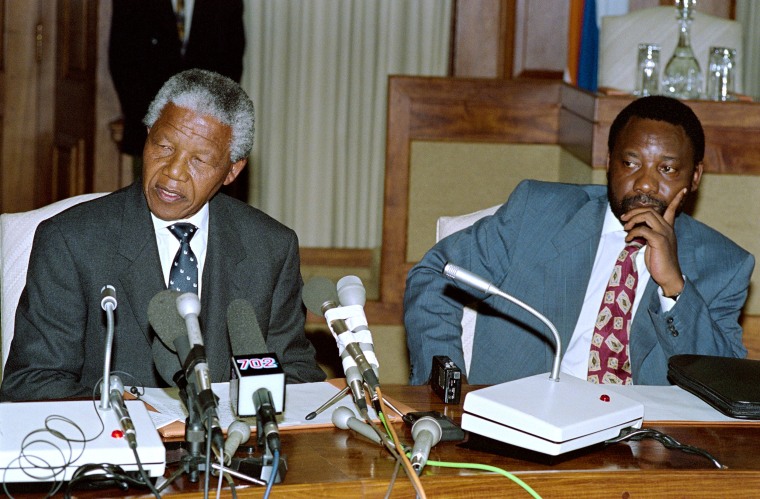 While Ramaphosa will need his experience as a lawyer and businessman, he may rely even more on negotiating skills earned during his years as an apartheid-era union leader.
Ramaphosa's business reputation — Forbes estimates his wealth at $675 million — has already brought the country some much-needed economic stability. Since he took over the ANC from Zuma in December, South Africa's currency has strengthened and business leaders are more optimistic about the country's prospects, according to analysts.
"Part of the hope and expectation is around roles he's had in the past," said Chris Vandome, a research analyst with the Africa program at Chatham House, a British think tank.
"There will be easy gains [at first] for Ramaphosa on corruption," Vandome said. "He will have to show the party that he has a plan and that they can deliver inclusive growth to everyone rather than just those at the top."
Rafiq Raji, chief economist at Macroafricaintel, a research consultancy based in Nigeria, said: "The investment and business community have confidence in him and his abilities. … They see him as more predictable and more sensitive to their interests."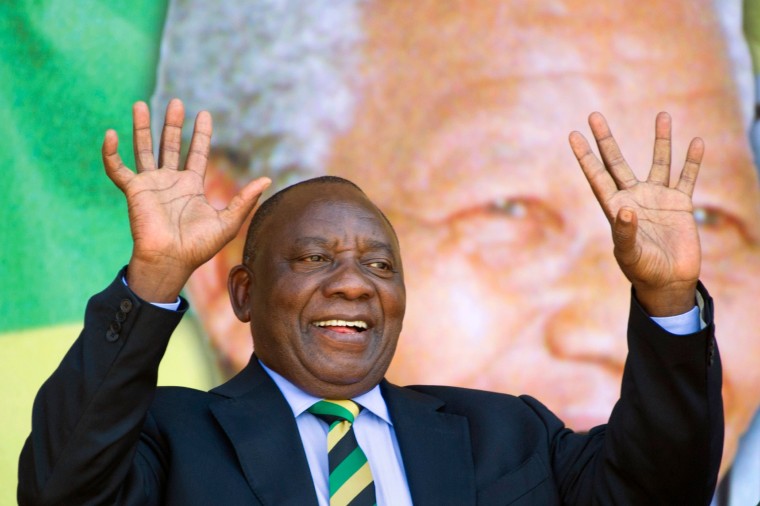 Zuma last month agreed to establish an inquiry into the extent of "state capture" in South Africa — corruption so endemic that it pervades a country's laws and institutions — but graft allegations have persisted throughout his almost nine years in office. In 2016, he was forced to pay back some of the millions in state money he used to upgrade his private residence.
In a separate case, Zuma's lawyers earlier this month submitted arguments to the government about why he shouldn't be prosecuted for corruption charges tied to an arms deal two decades ago. The charges had been thrown out but a court reinstated them last year.
On Wednesday morning, South African police raided the home of prominent business associates of Zuma who are accused of being at the center of corruption scandals that have infuriated the country. An elite police unit entered the compound of the Gupta family, which has been accused of using its connections to the president to influence Cabinet appointments and win state contracts.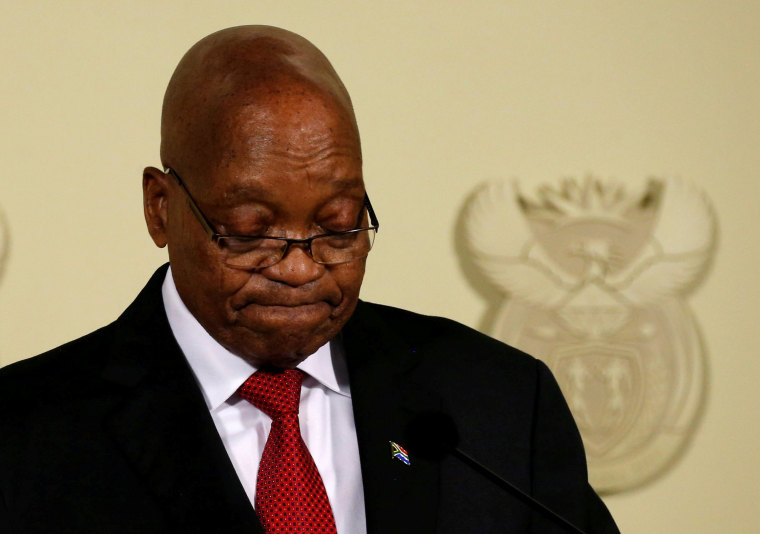 Several people were arrested during police operations, South African media reported.
The former president was defiant in a television interview earlier Wednesday, saying he had done nothing wrong despite the ANC's demand for his resignation.
"I'm being victimized here," Zuma told state broadcaster SABC. He complained that Ramaphosa and other ANC leaders had not given him clear reasons about why he should go.
"The party has been slowly but steadily corrupted since Mandela left."
Ramaphosa's business interests have also attracted attention. He was the main architect of black economic empowerment after the end of white minority rule, but has also been one of its main beneficiaries, weakening his claims to be able to tackle cronyism.
Once the leader of the powerful National Union of Mineworkers, he later became nonexecutive director of Lonmin, the U.K.-based platinum corporation, and briefly ran the South African subsidiary of McDonald's. He is married to the sister of the country's first black dollar billionaire, Patrice Motsepe.
"The ANC has dominated for so long that it went unchallenged, and they became complacent," said Du Toit, the author. "It was seduced by power and access to resources. The party has been slowly but steadily corrupted since Mandela left."
Ramaphosa's childhood growing up in Soweto, which saw decades of deadly apartheid-era violence, may help him understand the party's popular base, a group who may be tempted to switch to more left-leaning parties.
But Raji, the economist said he is still unlikely to recreate the unity of the Mandela era.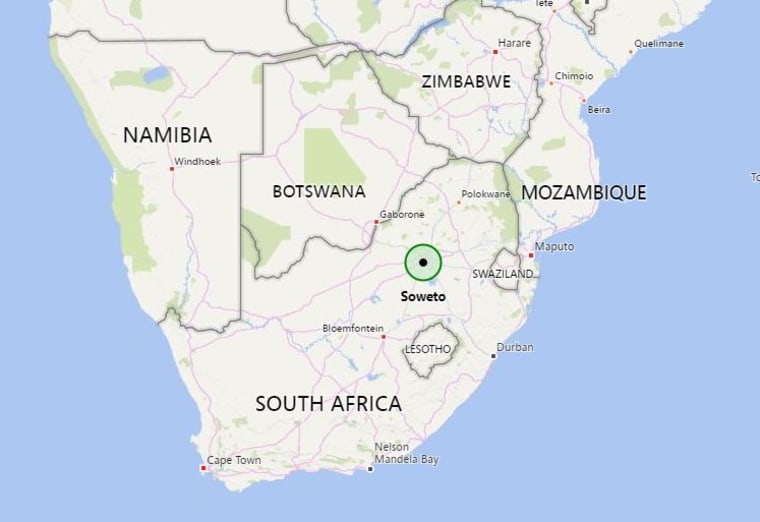 "There isn't anyone around who comes close to the stature of Nelson Mandela," Raji said. "He was in a class of his own. I don't think South Africans should even aspire to have another Mandela."
In speculating about what kind of leader South Africans should aspire to, Raji said ideally the person would have the education of Thabo Mbeki, who succeeded Mandela as South Africa's second president, as well as "the grass-roots appeal of Zuma and the negotiation and business acumen of Ramaphosa."
"While Ramaphosa falls short on two of those qualities, he is a technocrat," Raji said. "He is the safest pair of hands at the moment."