SEOUL, South Korea — South Korea's capital has vowed to move people out of dangerous basement apartments made famous by the movie "Parasite," after three members of a family who lived in the low-income housing died in record flooding this week.
The rains inundated Seoul and the country's north from Monday to Wednesday, leaving at least 11 people dead, with eight still missing as of Thursday.
The dead included a family who were trapped underground in their home, leading to a national outcry and calls for government action on glaring social inequalities.
Now, officials say they will no longer grant permits for the small apartments — often cramped and dingy homes known as "banjiha," which were featured in Bong Joon-ho's Oscar-winning film — and work to convert existing homes.
"Homes in the basements and half-basement or banjiha are backward housing models that threaten the vulnerable group of people and they must go," Seoul Mayor Oh Se-hoon's office told NBC News on Friday.
The family of three were a 12-year-old girl, her mother and the mother's sister, who had Down syndrome. They all drowned in their basement home in the southern Gwanak district of Seoul on Monday, on the first day of a fierce rainfall that caused flooding up to 15 inches deep in the area. All but two families in the area were evacuated by emergency services, according to city officials.
The mother, identified as Hong by her labor union, worked as a sales associate at a duty-free store an hour from her home.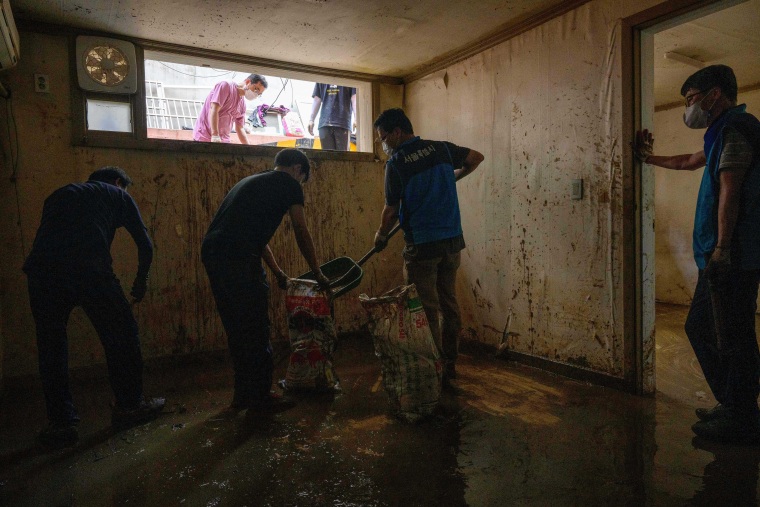 "Her name was Ms. Hong and she was the breadwinner and the head of her household," an official from the Korean Federation of Service Workers Unions said. "She lived with a strong sense of responsibilities for her disabled sister, elderly mother as well as her 12-year-old daughter."
Hong had lived at the apartment with her sister and daughter for seven years, after spending almost 20 years of savings to move closer to her sister's care center, the public broadcaster Korean Broadcasting System reported. She left behind her 72-year-old mother, who was in a hospital at the time of the flooding.
South Korean President Yoon Suk-yeol and the Seoul mayor visited the family's home Tuesday, where plates and dolls belonging to the girl floated on muddy water, according to footage provided by the presidential office.
The dire storms affected the entire city, including extensive water damage to the wealthy and glitzy Gangnam district, which was particularly affected as it lies lower than its surrounding areas "like a bowl," according to Oh, the mayor.
The flooding left more than 3,032 people without homes in total, his office said, but the focus of the fallout was on Hong and Seoul's most vulnerable.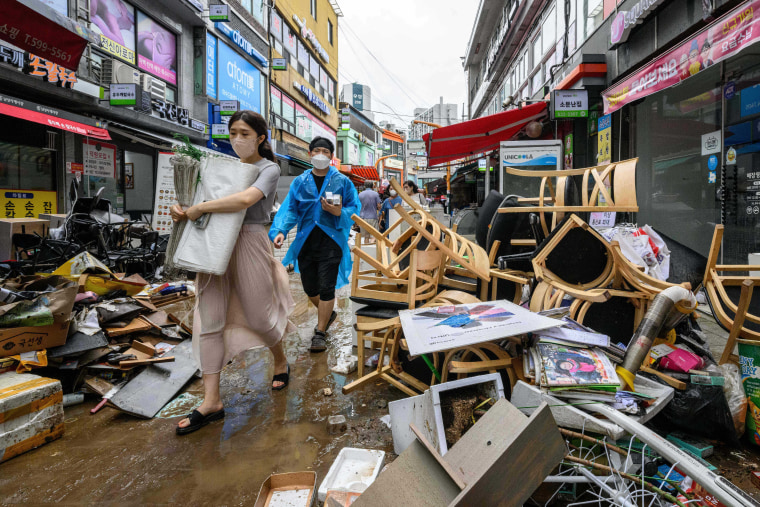 Around 200,000 people live in banjiha homes in Seoul, making up around 5 percent of residences in the capital, according to official data cited by the mayor's office.
The low-income housing units, which typically sit below street level, left residents particularly vulnerable to flooding. Others who lived in banjiha homes elsewhere in the city felt they narrowly escaped the same fate as Hong and her family.
"I could have died if I was stuck in there for another half an hour and I only lived because of the people who rescued me out," Lee Seung-hoon, 28, told the Seoul Broadcasting Station.
Existing city regulations passed in 2012 already banned the building of homes in basement areas, but around 40,000 banjiha homes have been built in the decade since, according to the mayor's office.
The flooding revealed the South Korean capital's dire need for better drainage infrastructure to deal with extreme rains.
On Wednesday, Oh announced $1.15 billion in spending in the coming decade to build six underground tunnels to drain rainwater and prevent future flooding.
The three days of rainfall were the heaviest since records began 115 years ago, according to official data cited by the president. Yoon warned officials to prepare for similarly devastating weather in the future as climate change makes extreme weather more frequent.
"It clearly is an unusual weather situation. But we cannot just say this kind of unusual climate situation is unusual," Yoon told his Cabinet members at a meeting Wednesday at the central disaster and safety measures headquarters to discuss the recent flooding.
"This kind of unusual situation can and will be repeated at any time."
Stella Kim reported from Seoul, and Rhoda Kwan reported from Taipei.