South Korea said it has agreed to begin talks with Washington on the possible deployment of a U.S. missile defense system, hours after North Korea launched a rocket in defiance of international warnings.
The discussions will examine the possibility of deploying the Terminal High Altitude Area Defense system on South Korean soil, South Korean deputy minister for policy Yoo Jeh-seung said at a joint briefing with U.S. Army Lt. Gen. Thomas Vandal.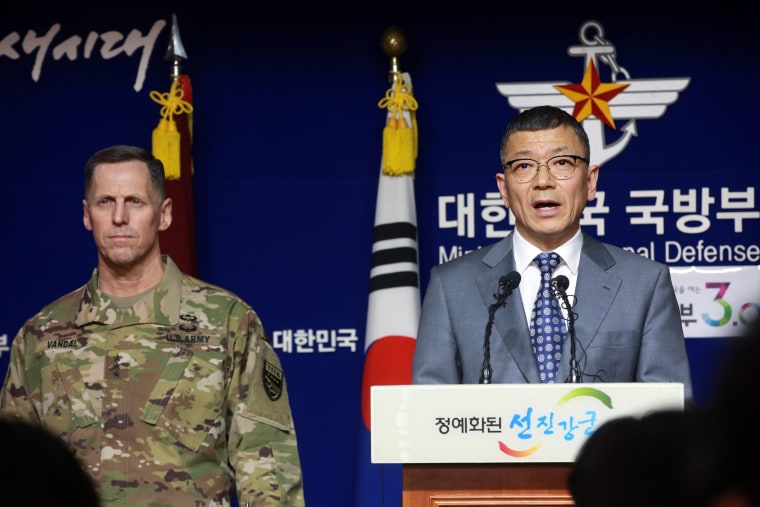 "Both governments have decided that North Korea's recent nuclear experiment and firing of long-range ballistic missile are a serious threat to the peace and stability of the Asia-Pacific region," a South Korean military officer told NBC News.
The THAAD system uses interceptor missiles to target ballistic missiles in flight. The United Nations Security Council will also meet Sunday morning to discuss North Korea's latest rocket test.
The announcement comes after North Korea launched a rocket carrying what it claimed was a satellite into orbit Sunday morning, a month after the isolated country claimed to have conducted a hydrogen bomb test.
The rocket launch violates U.N. resolutions ordering the country to not test ballistic missile technology.
Like rockets that launch satellites, intercontinental ballistic missiles are sent to space — but the latter delivers nuclear warheads to targets back on the ground.
Related: North Korea Launches Long-Range Rocket Despite U.N. Ban
"It is an intolerable act of provocation," South Korean President Park Geun-hye said in a televised address to the nation after the launch. She said the U.N. "must enact powerful sanctions as soon as possible."
U.S. Secretary of State John Kerry called the launch "a flagrant violation of UN Security Council Resolutions, while Japanese Prime Minister Shinzo Abe said the country will stand firm with the world to take action.
U.S. National Security Advisor Susan E. Rice called the launch "yet another destabilizing and provocative action."
"We condemn today's launch and North Korea's determination to prioritize its missile and nuclear weapons programs over the well-being of its people, whose struggles only intensify with North Korea's diversion of scarce resources to such destabilizing activities," she said in a statement.
Related: North Korea Likely Lying About Hydrogen Bomb Test, Experts Say
North Korea has been under international sanctions over its repeated nuclear weapons tests, and the U.N. has adopted resolutions ordering that the country not use ballistic missile technology.