SEOUL, South Korea — Most South Koreans born this century don't remember a time before North Korea had nuclear weapons.
And Kim Jong Un's constant threats have left some with a fatalistic view.
"We shouldn't be panicking just because North Korea can start a war against us," Kim Sun-woo, 15, says calmly when asked about the potential of a nuclear strike. "We have to maintain our daily routines. If we die, at least we'll die together."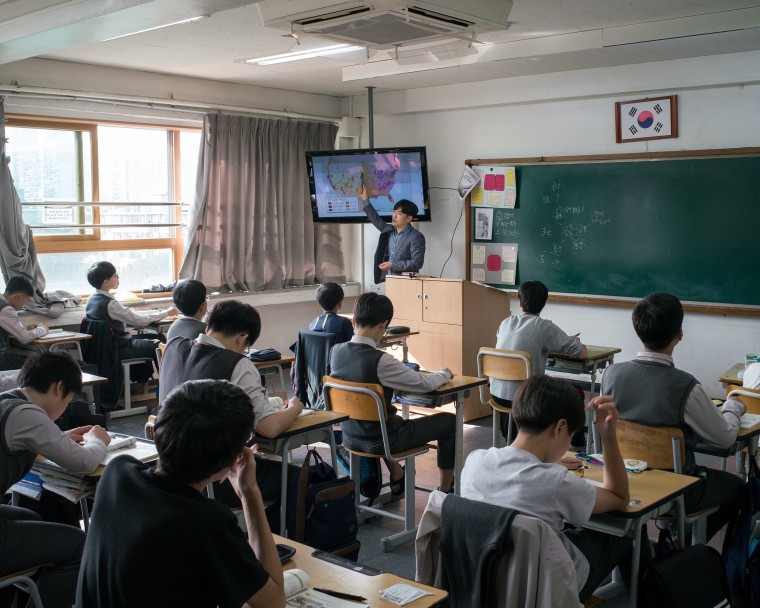 Sitting at a desk in Joongdong Middle School, Sun-woo speaks with the poise of someone who has deeply considered the situation. He believes national security has to be Seoul's top priority because the Kim regime is continuing to build weapons.
The teenager is part of a generation that is expected to someday unite the peninsula, a goal firmly rooted in South Korea's Constitution. Sun-woo and his classmates are taught in government-mandated lessons that it's their duty, and not a choice, to unite the Koreas.
But as long as North Korea poses an existential threat to the South, this unification education presents students with an apparent paradox: North Korea is both your friend and your enemy.
The neighbors are technically still in conflict because the Korean War ended in 1953 with an armistice, rather than a peace treaty. In the decades since, the North has issued regular apocalyptic threats, saying it will engulf Seoul in "a sea of fire."
Related: Bomb Shelters Are Everywhere in Seoul
Some teachers argue that unification lessons haven't fully evolved from decades of "anticommunist" propaganda. Those same teachers have been labeled communists by conservatives who worry that North Korea is being portrayed too positively. A teachers' union in Seoul declined to be interviewed on the subject amid fear of a backlash.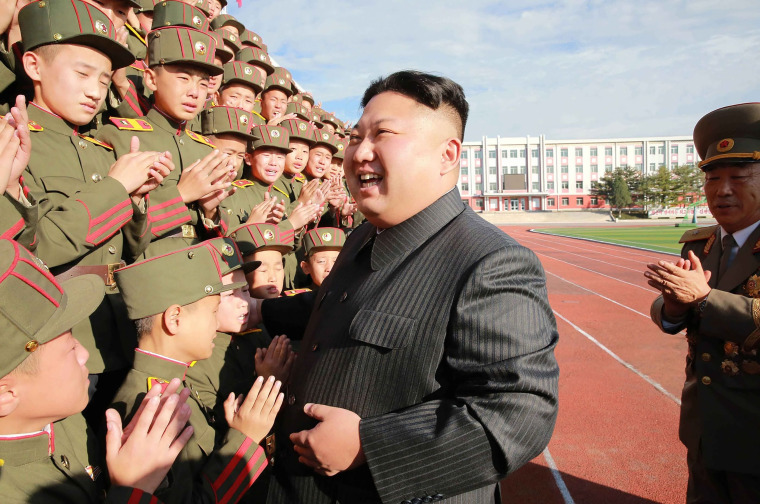 The Unification Ministry told NBC News that the school curriculum, revised in 2015, is focused on raising "understanding of community" and fostering "democratic citizens." Gone are the texts, it said, of the post-war 1960s that delivered anticommunism ideologies.
Still, some educators say more changes are required.
A sixth-grade teacher in the Seoul suburb of Suwon, who asked only to be identified as Chang for fear of reprisals, grabs an ethics book and flips to a section about unification.
The book highlights, as he puts it, "the violence created by North Korea." The lesson recounts the 2010 sinking of a South Korean naval corvette and the shelling of Yeonpyeong Island. South Korean soldiers and civilians were killed in both attacks.
Related: K-Pop Dancers Party On Just Miles From Kim's Artillery
The Unification Ministry said the government tries for balance in its curriculum. National security needs to be taught, it said, but North Korea should also be presented "as a partner."
Chang believes teachers should foster a positive image of the North in students before educating them about fatal attacks for which Seoul has blamed the North.
However, he can't control what they hear and see outside the classroom. "Learning by the textbook can be meaningless," Chang said, when considering children's exposure to harsh realities through mass media.
At Joongdong, however, Sun-woo and two classmates say their overall view of unification education is positive. If the peninsula unifies, he says, he and his schoolmates won't be conscripted into the military. The money spent on defense, he adds, could be used to improve the lives of all Koreans.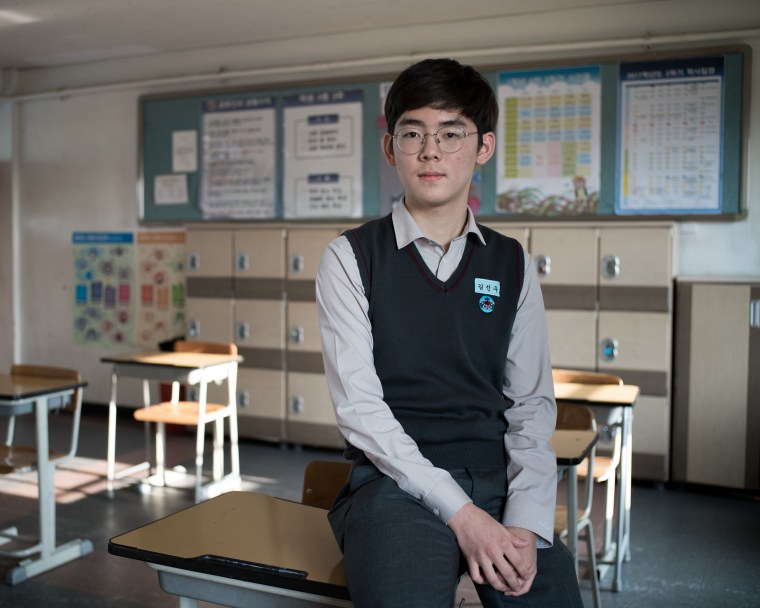 The only time they talk about North Korea, the teens say, is when Kim Jong Un makes the news for testing a nuclear device or launching a missile.
They spend the rest of their time studying and hanging out with the latest technology in heavily wired South Korea. Aside from a couple of shared holidays with the North, they believe South Korea has much more in common with the West.
Related: N. Korea Brainwashed Him to Hate. Now He's Coming to U.S.
This lack of a shared experience with the North may actually be the biggest hurdle to unification. It's something that can't be taught, says Park Ju-hwa, a researcher and psychologist at the Korean Institute of National Unification.
Park says unification education is based on the premise that the countries must rejoin because their people are of the same race. But young people, he says, don't see the impoverished people of North Korea as the same.
According to Park, unification lessons also fail to acknowledge that joining the countries isn't the only option.
He says permanent separation may actually be a road to peace, comparing it to a relationship.
"Sometimes, my wife and I fight, but we manage to talk things out," he says. If that doesn't work, he adds, "there's divorce."