SEOUL, South Korea — South Korea said Wednesday that it will shut down a joint industrial park with North Korea in response to its recent rocket launch, accusing the North of using hard currency from the park to develop its nuclear and missile programs.
The decision to end operations at the industrial complex in the North Korean border city of Kaesong, the last major cooperation project between the rival countries, comes after North Korea on Sunday launched a long-range rocket considered by other nations to be a banned missile technology test.
By closing the complex, South Korean President Park Geun-hye has done something her conservative predecessor resisted, even after two attacks blamed on North Korea killed 50 South Koreans in 2010. It is among the strongest punitive measures available to her.
South Korean Unification Minister Hong Yong-pyo said at a news conference that the suspension of operations at the park would stop the North from using currency earned there to develop nuclear and missile technology.
The park, which started producing goods in 2004, has provided 616 billion won ($560 million) of cash to impoverished North Korea, Hong said.
"It appears that such funds have not been used to pave the way to peace as the international community had hoped, but rather to upgrade its nuclear weapons and long-range missiles," he said in the televised briefing.
The Unification Ministry, which is responsible for relations with North Korea, said in a statement that the government had "decided to completely shut down" the park. It notified North Korean authorities of the decision and asked them to help ensure the safe return of South Korean citizens from Kaesong.
There was no immediate reaction to the move from North Korea.
Related: North Korea Has Resumes Weapons-Grade Nuke Work, Intel Chief Says
South Korea's government will provide financial compensation to companies that operate at the park, the Finance Ministry said.
South Korean businesses with factories at the park reacted with a mixture of disappointment and anger. In a statement, the association of South Korean companies in Kaesong denounced the government's decision as "entirely incomprehensible and unjust."
Lee Eun Haeng, chairman of Ilsung Leports, which produces fashion goods at the park, said the companies had become "victims" of a political situation.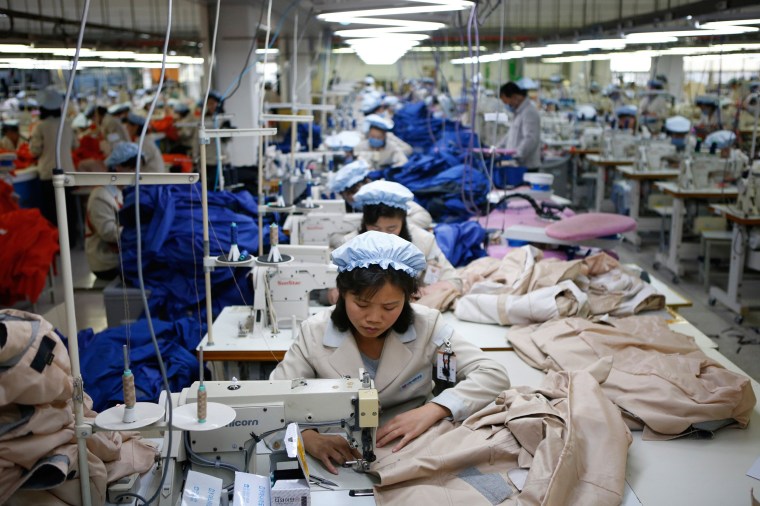 Nonetheless, he said, he had no choice but to accept the government's measures because they were for the sake of "national security."
Combining South Korean initiative, capital and technology with the North's cheap labor, the industrial park has been seen as a test case for reunification between the Koreas. Last year, 124 South Korean companies hired 54,000 North Korean workers to produce socks, wristwatches and other goods worth around $500 million.
In addition to the business benefits, the park also allowed people from both Koreas to interact with each other and glimpse into lives on the other side of the border.
South Korea's government and companies invested more than 1 trillion won ($852 million) to pave roads and erect buildings in the park zone, which lies in a guarded, gated complex on the outskirts of Kaesong, North Korea's third-largest city.
South Korean companies in Kaesong survived during past periods of tensions that led to the suspension of other inter-Korean projects. A major interruption to the park's operation came in 2013, when North Korea pulled out its workers for about five months in protest of South Korea's joint military drills with the United States.