BUSAN, South Korea — Kim Kwan-jung, a craftsman in the South Korean port city of Busan, has long been fond of the U.S. South Korea and the U.S. share a history of friendship, he said, and American troops helped repel the communist North during the Korean War.
But 70 years later, with the two countries technically still at war and South Korea under growing pressure from the nuclear-armed North, doubt is starting to creep in.
"If North Korea invaded now, I don't know if we can assume that America would protect us again," said Kim, 65.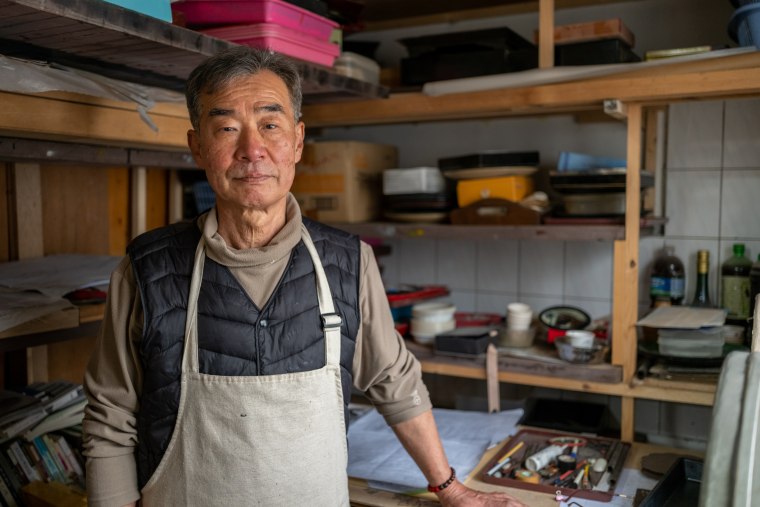 One solution to the growing threats, Kim said, could be for South Korea to develop its own nuclear weapons.
The evolving threat from North Korea, as well as South Korea's security concerns, are expected to be high on the agenda Wednesday when President Joe Biden meets with South Korean President Yoon Suk Yeol in Washington.
Kim's view was once confined to the fringes. Now, 71% of South Koreans say their country should build its own nuclear weapons, according to a poll last year by the Chicago Council on Foreign Relations, even though the U.S. promises to defend South Korea — a treaty ally hosting 28,500 American troops — from an external attack, with its own nuclear weapons if necessary.
North Korea launched a record number of ballistic missiles last year as talks on its denuclearization efforts stalled, and leader Kim Jong Un has vowed to expand the country's nuclear arsenal and threatened to use it against the South. Some experts say North Korea is using the weapons tests to ease U.S.-led sanctions, while others believe the launches aim to weaken the U.S.-South Korea alliance.
The U.S. and South Korea have countered North Korea's increasing aggression by expanding joint military drills in the region, part of the U.S.'s effort to strengthen its overall defense posture in the Asia-Pacific region in the face of a growing challenge from China. In February, officials from the two countries simulated a North Korean nuclear attack in a "tabletop" exercise at the Pentagon that was aimed partly at reinforcing Washington's security commitment.
But the idea of a nuclear-armed South Korea has support even among people who are confident in the U.S. alliance, the 2022 poll showed.
Many respondents cited threats other than North Korea, such as China, which the U.S. says is also expanding its nuclear arsenal. More recent polling finds similar levels of support: A poll late last year from Gallup Korea found that over 76% of the public supports nuclear armament, and another poll published this month by the Asan Institute for Policy Studies found about 64% support.
Rep. Lee Jae-jung, a left-leaning lawmaker who opposes nuclear armament, said Washington's focus on other issues, like the potential for confrontation with China over Taiwan, has prompted South Koreans to consider their own responsibility for self-defense.
"The fact that the nuclear-armed North is not a priority for the Biden administration makes the Koreans nervous," she said.
A State Department spokesperson said the U.S. commitment to defend South Korea remained "ironclad."
"The Yoon administration has made clear that it is not pursuing a nuclear weapons program and that it is working closely with the United States through existing extended deterrence mechanisms," the spokesperson said.
"The United States needs to show us that we can really rely on them to protect us."
— south korean student Lee Hak-joon
Experts say there are several reasons South Korea will not be acquiring nuclear weapons any time soon. 
South Korea is a signatory to the Treaty on the Non-Proliferation of Nuclear Weapons, known as the NPT, which bars countries from seeking them, and withdrawing from it could bring international sanctions.
Nuclear armament would most likely anger both China, South Korea's largest trading partner, and the U.S., its longtime defense guarantor. A nuclear-armed South Korea could also inspire other countries in the region, like Japan and Australia, to develop arsenals of their own.
"Anybody who genuinely believes that South Korea will get its own nuclear weapons has absolutely no idea what they're talking about," said Jung Se-hyon, a former unification minister.
"But the robust support for proliferation does speak to the Korean people's fears of conflict," he added, "and the South Korean public just doesn't trust what the Americans are saying right now."
Official U.S. policy is for all of the Korean Peninsula to be free of nuclear weapons, meaning Washington would not support a nuclear-armed South Korea. Some argue it should instead start sharing its nuclear weapons with South Korea or redeploy the tactical nuclear weapons it withdrew from the country at the end of the Cold War. 
"South Korea is actually staying naked without nuclear weapons, and I have long argued that we need nuclear parity on this peninsula, regardless of the consequences," said Kim Tae-woo, who was an adviser to conservative former President Lee Myung-bak. 
South Korea previously tried to acquire nuclear weapons in the 1970s, when President Richard Nixon considered withdrawing U.S. troops from the Korean Peninsula, said Ellen Kim, the deputy Korea chair at the Center for Strategic and International Studies in Washington.
"What is different now is that there's a nuclear-armed North Korea that threatens to use nuclear weapons against non-nuclear South Korea," Kim said, "and North Korea continues to advance its nuclear missile capability."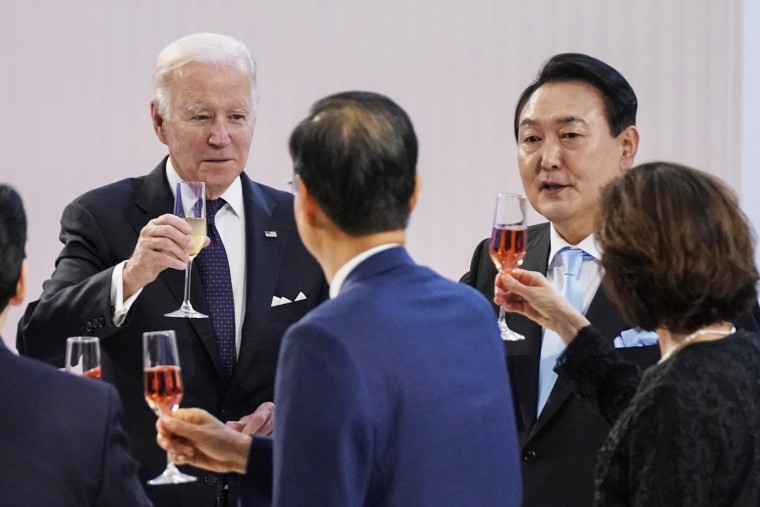 With North Korea testing weapons thought to be able to strike anywhere in the U.S., some South Koreans worry the U.S. will abandon them in a conflict with North Korea. Others fear that the U.S. will miscalculate and entrap them in a potential nuclear war with North Korea or China. Having its own nuclear arsenal, supporters say, would allow South Korea to decide whether and when it fights a nuclear war.
There is also concern that U.S. troops could still be withdrawn one day, an idea floated by former President Donald Trump.
That cocktail of uncertainty, Kim said, is "driving South Korea's nuclear debate."
Rep. Jang Hye-yeong, a member of the progressive Justice Party, said South Koreans have not fully debated the pros and cons of nuclear armament because the subject is still somewhat taboo.
"If we as a country really have an honest discussion about the risks of developing our own nuclear arsenal, I believe the public's support will decrease," she said.
Some South Koreans say they are primarily looking for reassurance.
"North Korea is firing more missiles, China could invade Taiwan, and politics in the United States are very unstable right now," said Lee Hak-joon, 24, a public affairs student at Sungkonghoe University in Seoul. "The United States needs to show us that we can really rely on them to protect us."