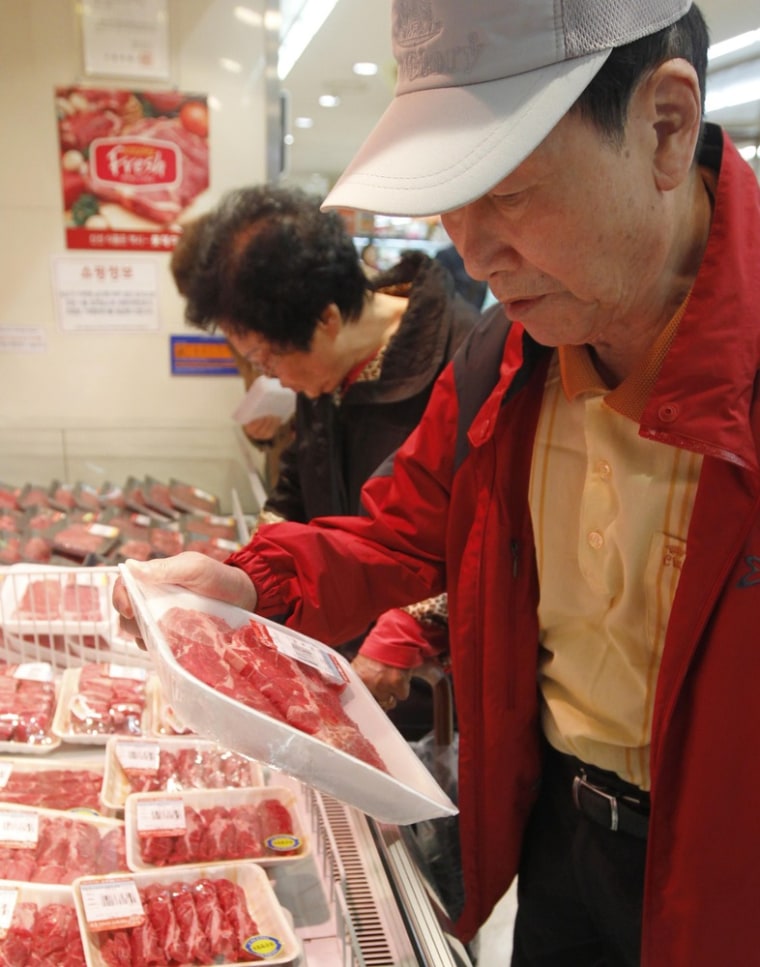 SEOUL, South Korea -- Two major South Korean retailers suspended sales of U.S. beef Wednesday following the discovery of mad cow disease in a U.S. dairy cow. Reaction elsewhere in Asia was muted with Japan saying there's no reason to restrict imports.
South Korea's No. 2 and No. 3 supermarket chains, Home Plus and Lotte Mart, said they have "temporarily" halted sales of U.S. beef to calm worries among South Koreans.
"We stopped sales from today," said Chung Won-hun, a Lotte Mart spokesman. "Not that there were any quality issues in the meat but because consumers were worried."
South Korea is the world's fourth-largest importer of U.S. beef, buying 107,000 tons of the meat worth $563 million in 2011.
California mad cow 'just a random mutation'
The new case of mad cow disease is the first in the U.S. since 2006. It was discovered in a dairy cow in California, but health authorities said Tuesday the animal was never a threat to the nation's food supply.
Reuters reported that the first U.S. mad cow case, which was identified in 2003, caused a $3 billion drop in exports. It took until 2011 before those exports fully recovered.
Mad cow disease, or bovine spongiform encephalopathy, is fatal to cows and can cause a deadly human brain disease in people who eat tainted beef. U.S. authorities said the dead California cow has what scientists call an atypical case of BSE, meaning that a random mutation in the animal rather than infected cattle feed was the cause.
Carcass quarantined
The infected cow, the fourth ever discovered in the U.S., was found as part of an Agriculture Department surveillance program that tests about 40,000 cows a year for the disease.
USDA confirms 4th mad cow case in US
The USDA is still tracing the exact life of the infected animal, and the carcass of the cow is under quarantine and will be destroyed.
The cow was found at a rendering plant, which processes diseased or sick animals into mainly non-edible products for use in things like soap or glue.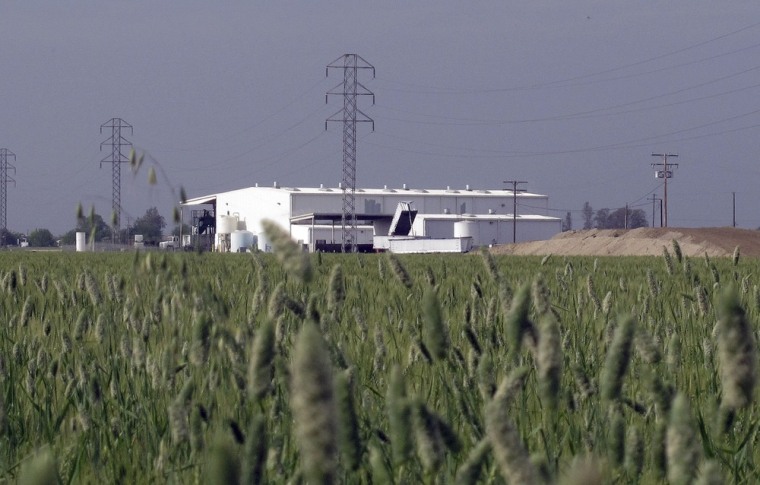 First discovered in Britain in 1986, the disease has killed more than 150 people and 184,000 cows globally, mainly in Britain and Europe, but strict controls have tempered its spread. The first U.S. case was found in late 2003 in an animal imported from Canada, followed by two more in 2005 and 2006. Two of those cases were also "atypical".
The news spread quickly in South Korea, which imposed a ban on U.S. beef in 2003 along with China and other countries because of mad cow disease concerns. Seoul's resumption of U.S. beef imports in 2008 sparked daily candlelight vigils and street protests for several months as many South Koreans still regarded the meat as a public health risk.
South Korea imports U.S. beef from cows less than 30 months old and there is no direct link between U.S. beef imported into South Korea and the infected animal, the country's agriculture ministry said in a statement. The infected U.S. cow was older than 30 months.
Public concern
But the ministry decided to step up inspections of U.S. beef and request detailed information on the case from the United States — initial measures to appease public concern while avoiding possible trade conflicts.
"We are still reviewing whether we will stop quarantine inspections," Chang Jae-hong, deputy director of the ministry's quarantine policy division, told The Associated Press by telephone.
Halting quarantine inspections would prevent U.S. beef from being delivered to stores as it couldn't clear customs.
At a Home Plus store in southwestern Seoul, some shoppers said they were not worried about U.S. beef as long as officials had said there were no health risks.
But others criticized the U.S. government as "arrogant" and "inconsiderate" in asserting that the discovery of an infected cow would have no impact on its meat exports.
"I won't eat meat from the countries where mad cow disease was found," said Kim Woo-sig, a self employed 47-year-old.
In Japan, officials said the country's import policy was unchanged.
'No need for change'
Japan, the world's third-largest consumer of U.S. beef and veal, restricts its imports of U.S. beef to cows of 20 months or younger.
"There is no need for change," in Japan's import rules, Chief Cabinet Secretary Osamu Fujimura told reporters.
But the latest mad cow case may jeopardize moves to expand American beef sales in Taiwan, where the government recently sparked protests by allowing sales of U.S. beef containing ractopamine, a growth additive.
Taiwan's legislature on Wednesday indefinitely postponed a planned discussion on U.S. beef imports. It is likely the government engineered the delay, fearing that the opposition would stoke sentiment against U.S. beef.
There was no immediate response from China's government. Beijing no longer has an outright ban on U.S. beef but exporters have been unable to overcome continued barriers involving inspection of the meat.
The news comes at a time of booming beef exports, with total shipments reaching a record last year thanks to expanding markets in countries like Russia and Canada, according to Commerce Department data.
But exports to Japan, Mexico and South Korea, which bought more than 80 percent of U.S. beef and veal exports in 2003, have yet to match their earlier peaks, with many of them maintaining certain restrictions that may help temper any fallout.
Mexico, which buys more U.S. beef than any other country, said it has no plans to halt imports and that it would maintain the same regimen of inspections for trade across the border.
Vietnam, which suspended U.S. beef imports between December 2003 and September 2011, also said it had not changed its policy on U.S. beef in response to the latest news.
It has also been a difficult period in the domestic market, with firms still reeling from fallout over a ground beef filler that critics called "pink slime", which was pulled from grocery store shelves and forced one producer to idle several factories and another to file for bankruptcy.
The Associated Press and Reuters contributed to this report.