SEOUL, South Korea — North Korean leader Kim Jong Un says he plans to shut down his country's nuclear complex, halt missile testing and cease hostile acts toward South Korea as part of a new agreement unveiled Wednesday.
The pact, announced during a joint news conference held at the end of a two-day meeting with South Korean President Moon Jae-in in Pyongyang, also includes plans for the countries to host the Summer Olympics in 2032.
"We have adopted a military agreement to end the history of tragic confrontation and the history of hostility once and for all and promised to aggressively work towards making the Korean Peninsula ... a land of peace that is freed from nuclear weapons and nuclear threats," he said while standing next to Moon.
Big questions hang over the announcement, and analysts warned against overestimating the significance of the agreement.
While the agreement marked the first time Kim specified his denuclearization intentions, it was unclear how exactly he would achieve that.
The shutdown of the Yongbyon facilities in the North would happen with expectations that the United States would honor reciprocal measures, Moon said.
Officials have said that an announcement from the United States as well as North and South Korea to formally end the Korean War would be chief among these measures.
North Korea has demanded a declaration formally ending the Korean War, but the conflict — which drew to a close with a 1953 armistice — isn't specifically mentioned in the agreement.
South Korea and the United States have also promised to stop large-scale joint military training on the peninsula, Moon said.
Other moves many in Washington have called for — including Pyongyang's commitment to provide a list of the North's nuclear facilities and a step-by-step timeline to allow international inspectors to assess the country's progress — were not in included in the pact.
While not at the meeting, Donald Trump presence's was felt at the proceedings. After starting his presidency trading insults with Kim and raising fears of open conflict, Trump went on to meet with Kim and oversaw a reduction in tensions.
Trump has maintained that he has a solid relationship with the North's leader, although a follow-up summit to their meeting in June in Singapore has yet to be announced.
Kim thanked Moon on Tuesday for launching the June summit with Trump.
"It's not too much to say that it's Moon's efforts that arranged a historic North Korea-U.S. summit. Because of that, the regional political situation has been stabilized and more progress on North Korea-U.S. ties is expected," Kim said, according to Pyongyang Press Corp's pool reports.
Moon responded by expressing his own thanks to Kim for making a "bold decision" in a New Year's speech to open a new era of detente and send a delegation to the South Korean Winter Olympics in February.
The statement, signed by the two countries' defense chiefs, also mentioned concrete moves aimed at reducing tensions on the Korean border.
A buffer zone along their land and sea borders would be established to reduce tensions and help prevent accidental clashes. They also agreed to withdraw 11 guard posts from the Demilitarized Zone by December and to establish a no-fly zone above the military demarcation line that bisects the Koreas that will apply to planes, helicopters and drones.
The two leaders also acknowledged the role of international officials, including from the United States, have played in advancing peace negotiations.
As a mediator, Moon can use the agreement to push forward discussions with Trump on U.S. relations with the North, which had been losing steam. A South Korean presidential official told NBC News that both Moon and Kim planned to meet with Trump next week during the U.N. General Assembly in New York.
Sen. Lindsey Graham, R-S.C., issued a note of caution on Tuesday when he tweeted that South Korea's visit to the North would "undermine efforts" by U.S. officials working "to impose maximum pressure on the North Korean regime."
The North has not moved toward denuclearization despite stopping testing of missiles and nuclear devices, Graham said, adding: "South Korea should not be played by Kim Jong Un."
Analysts also warned against reading too much significance into the agreement and its impact on long-term negotiations with North Korea.
There is a disconnect between what the United States and North Koreans are demanding of each other, Moon Jung-in, an adviser to the South's president, told NBC News.
"President Trump wants the list of the nuclear weapons as of now in present tense, whereas Chairman Kim is talking about abandoning the future capabilities as in the future tense," he said. "Chairman Kim thinks that he is making progress in that score and expects President Trump to reciprocate. President Moon is trying to narrow the gap ... as the eventual goals are the same."
Mark Fitzpatrick, executive director of the International Institute for Strategic Studies Americas, said much of South Korea's "exuberance" from the meeting was based on discussions that are not in writing.
"We've seen what happens when deals w/ DPRK aren't specified in writing," he said on Twitter.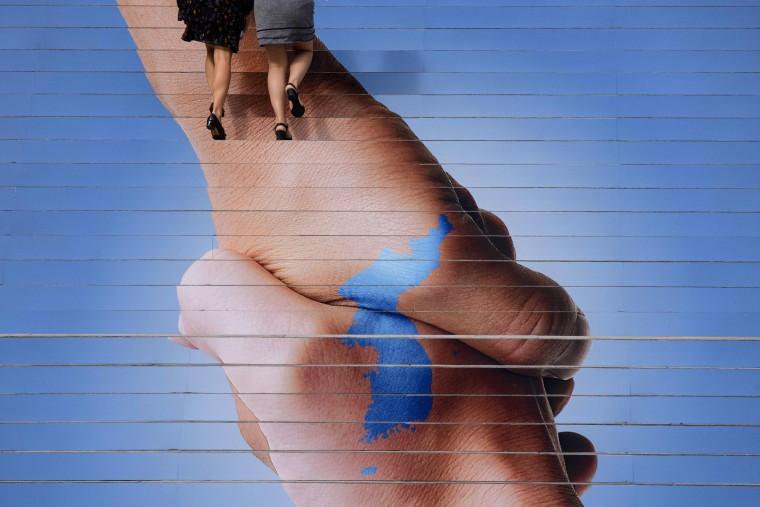 Robert Kelly, professor of international relations at Pusan National University in Busan, Korea, also warned that a peace agreement ending the war between the countries is still far off and that Wednesday's agreement is only "a baby step" to keep the United States engaged in negotiations.
"It's a benchmark for progress," he said. "The North Koreans are going to ask for a lot more before they give up nuclear and missiles."
Any future meetings between presidents are unlikely to produce significant advancements in the process because no party wants to appear as though it's backing down, especially during closely watched summits, Kelly said.
The agreement does help Kim improve his global image ahead of further meetings.
"This is good for him. It normalizes him. It makes him look like a real statesman. It makes him look like he's a real world leader," Kelly said.
Stella Kim reported from Seoul; Linda Givetash from London.