President Donald Trump vowed Saturday that the United States supports its ally Japan "100 percent" after North Korea launched a ballistic missile into the sea, in what appears to be its first missile test since Trump took office.
The launch at 7:55 a.m. Sunday Seoul time toward the Sea of Japan came as Japanese Prime Minister Shinzo Abe is on a visit to the United States to meet with Trump.
"North Korea's most recent missile launch is absolutely intolerable," Abe said at a joint appearance with Trump Saturday night in Florida. Abe said Trump's presence at the joint appearance was a demonstration of support for Japan.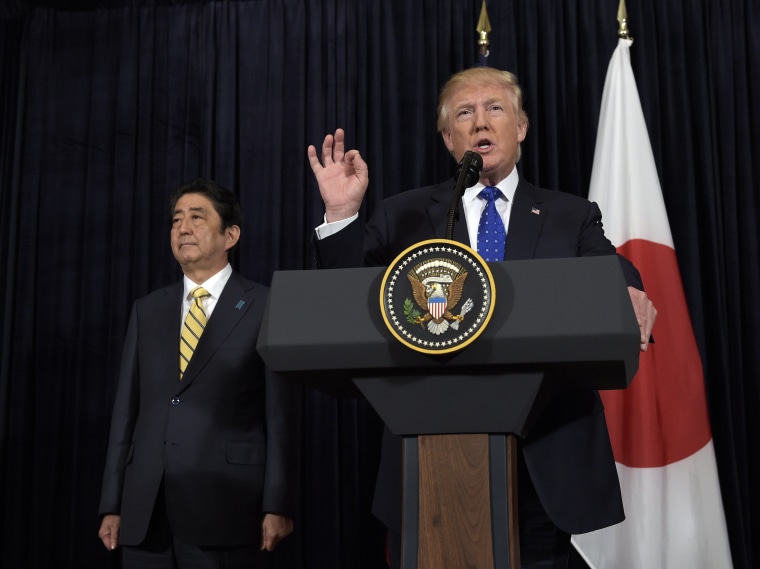 Trump made a brief statement: "I just want everybody to understand and fully know that the United States of America stands behind Japan, its great ally, 100 percent."
Earlier, after South Korea reported the missile launch, Trump was asked about the event at a short appearance before the press pool and did not respond to the question. The White House said the president was briefed.
The missile was not an intercontinental ballistic missile, U.S. Strategic Command said. It said the missile is believed to have been a medium- or intermediate-range ballistic missile, and the launch posed no threat to the U.S.
A U.S. Defense Department official said the U.S. detected a ballistic missile launch from Banghyon Air Base at 7:55 a.m. Seoul time, and that the missile flew 500 kilometers (310 miles) and landed in the East Sea, as the Sea of Japan is also known.
Related: Is Trump Right to Point Finger at China Over North Korea Nukes?
South Korea's military characterized the missile launch as a "show of force" to the Trump administration, Reuters reported.
North Korea has conducted ballistic missile tests in the past, and has conducted five nuclear tests — most recently in September, when the isolated country detonated what it said was a "higher-level" nuclear device.
Trump in January responded to North Korean claims that it was ready to test-fire an ICBM by Tweeting: "North Korea just stated that it is in the final stages of developing a nuclear weapon capable of reaching parts of the U.S. It won't happen!
In June, North Korea launched two missiles believed to by Musudan mid-range ballistic missiles which crashed into the Sea of Japan. A Musudan has a range of 1,200 to 2,400 miles and is theoretically capable of reaching bases on the U.S. Pacific territory of Guam.
The nuclear tests, two of which were conducted in 2016, sparked international condemnation and raised concerns that North Korea was moving towards its goal of a nuclear-armed missile that could one day be capable of striking the U.S. mainland.
The Sept. 9 nuclear test was estimated at an explosive yield of 10 kilotons, compared with an estimated 6 kiloton yield in a test in January of 2016. The atomic bombs dropped on Japan in World War II have been estimated at around 15 kilotons.
The type and range of the missile launched Sunday has not been determined.
A North Korean senior regime official in January told NBC News that it was ready to test-fire an intercontinental ballistic missile "at any time, at any place."
North Korea has never successfully launched an ICBM.
Related: Inside North Korea's DMZ, the Front Line of Unfinished War
In 2016 North Korea conducted three ballistic missile tests launched from submarines, with varying levels of success.
A submarine-launched missile in August, believed to be a KN-11, flew about 300 miles before splashing down in the sea, a U.S. defense official said at the time. A test in July ended when the missile blew up in mid-air, while a missile launched April 29 traveled about 30 km, or a little more than 16 and a half miles.
The United States has said it would deploy an advance missile defense system to South Korea. The system, called Terminal High Altitude Area Defense or THAAD, uses interceptor missiles to destroy ballistic missiles, ideally without detonating them.