Their friendship was forged by an assassin's bullet and charted an orphaned young woman's rise to her country's top office. Now it could bring down a president.
For more than a month, hundreds of thousands of South Koreans have spilled onto the streets each Saturday to protest President Park Geun-hye's relationship with Choi Soon-sil — the powerful daughter of a late cult leader who is accused of massive influence peddling.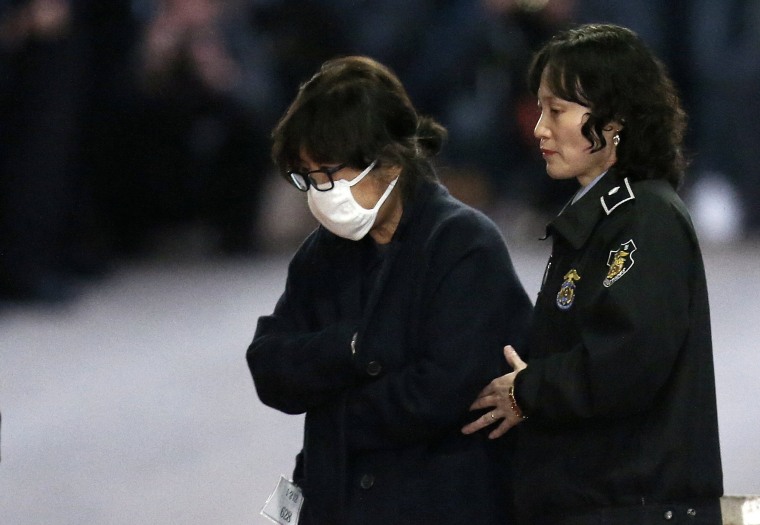 The allegations have plunged the world's 11th biggest economy into an unprecedented crisis and exposed a series of bizarre revelations — including the mass government purchase of erectile dysfunction medication.
The corruption scandal has also prompted leaders of the country's opposition to consider a vote on Park's impeachment — possibly as early as Friday.
Park, 64, has immunity from prosecution in the case as long as she remains in office but is alleged by prosecutors to have colluded with Choi.
She has denied wrongdoing but acknowledged carelessness in her ties with her friend, who has already been indicted.
Choi, the woman at the heart of the scandal, is the daughter of late cult leader Choi Tae-min.
Despite having no official role in government, South Korean prosecutors allege Choi wielded huge power, had a say in policy decisions and exploited her relationship with the president to bully companies into handing over tens of millions to businesses and foundations she controlled.
Samsung was dragged into the case on Nov. 7, when its headquarters were raided by investigators searching for evidence of the beleaguered smartphone giant's ties to Choi.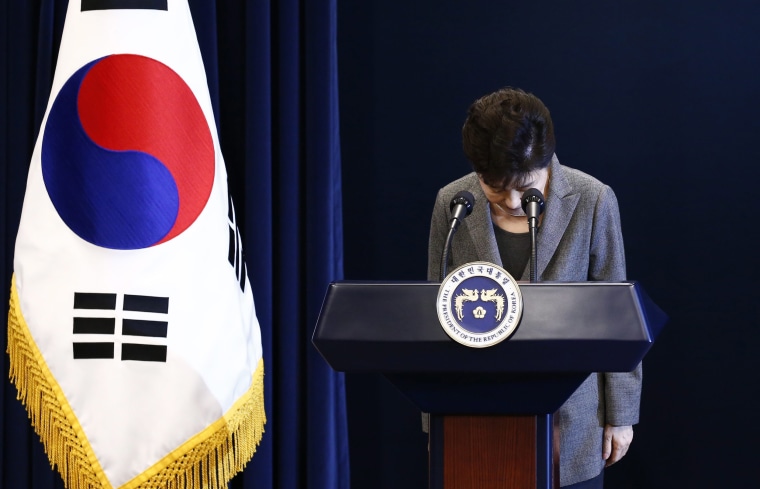 According to prosecutors, Choi also used illicitly obtained funds to pay for equestrian training for her daughter.
In October, South Korea's Segye Ilbo newspaper reported Choi said she received drafts of Park's speeches after her election victory but denied she had access to other official material, influenced state affairs or benefited financially.
Park's friendship with the Choi family stems back decades.
The New York Times has reported that Choi's father — an ex-police officer turned cult leader — befriended a grieving Park soon after her mother was assassinated in 1974.
Park's mom, Yuk Young-soo, was fatally shot by a sympathizer of North Korea who was attempting to kill her husband at the National Theater in Seoul.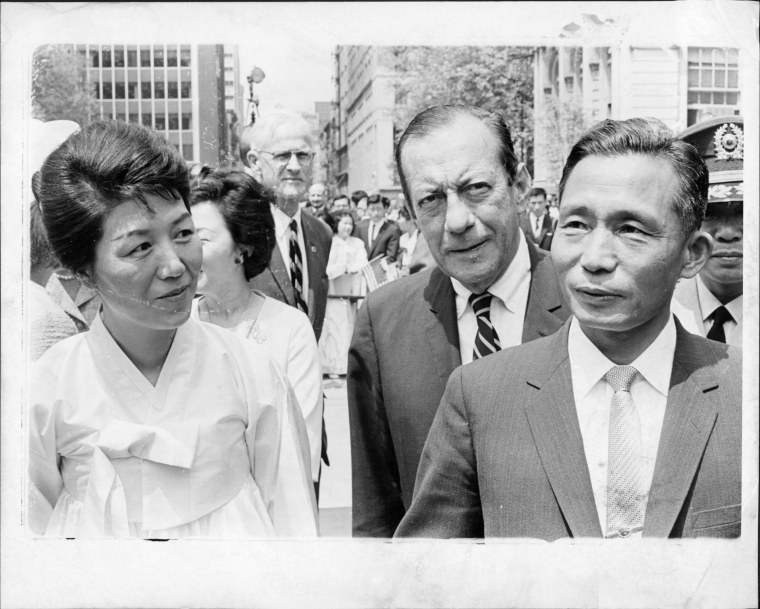 According to leaked U.S. diplomatic cables reported in Korean media, Choi told Park that her dead mother had appeared to her father in dreams requesting the cult leader help the young woman. Park's father — military dictator Park Chung-hee — was also assassinated by his own spy chief in 1979.
"Rumors are rife that the late pastor had complete control over Park [Geun-hye]'s body and soul during her formative years and that his children accumulated enormous wealth as a result," a U.S. diplomatic cable reported according to Korea Joongang Daily.
On Tuesday, Park said she would leave office early if ordered to by the nation's parliament.
"I will abide to whatever arrangement the ruling and the opposition parties work out, including reducing my term," Park said during a news conference in Seoul. "I am ready to put all things down."
This will not be enough for many South Koreans, according to political scientist Kim Ki Jung.
"That President Park did not admit any of her wrongdoing in her address and will further infuriate the public," the Yonsei University professor told NBC News.
Many South Koreans citizens that NBC News spoke to on Tuesday were unforgiving.
"In the last weeks as the scandal got exposed, she only proved that she is incapable to carry out her duty as a president," said Chung Chol Joon, a pharmacist from Seoul. "She is totally incompetent."
Blue Pills in Blue House
Little blue pills also play a part in the scandal — make that around 360 little blue pills.
On Wednesday, Park's offices confirmed allegations by an opposition lawmaker that her office had bought hundreds of doses of Viagra pills last December.
Park's office claimed the purchase had been made to help treat altitude sickness among the president's aides and security staff ahead of a trip to Africa.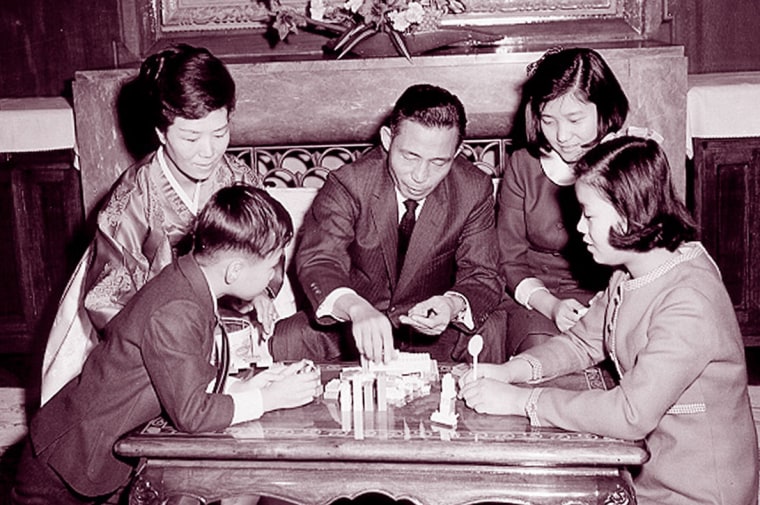 The pills weren't used, said Jung Youn-kuk, a spokesman for South Korea's equivalent of the White House known as the Blue House.
Doctors in South Korea occasionally prescribe Viagra-style drugs to climbers.
The mysterious Viagra revelations increased the growing pressure on Park's administration.
Prosecutors on Sunday said they thought Park was involved in Choi's criminal activities and enabled her friend to meddle in state affairs.
Prosecutors also believe two presidential aides allegedly bullied companies into giving tens of millions of dollars to foundations and businesses the cult leader's daughter controlled.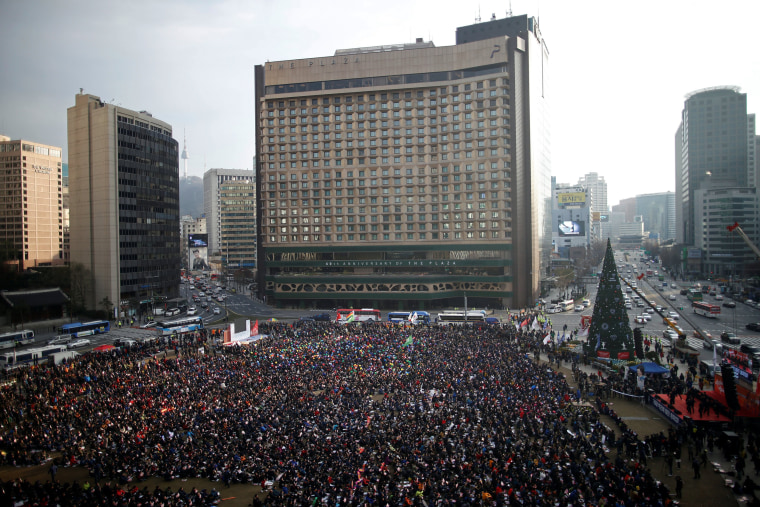 Choi and the aides have been indicted but Park's office has denied the accusations, while refusing attempts to interrogate her in person.
Park's fate depends on whether the country's opposition parties can lure members of the president's own party cross the aisle to vote for impeachment.
In the meantime, further demonstrations are expected Saturday which may push lawmakers one way or another.
Park's approval ratings have slipped as low as 4 percent, with her disapproval rating standing at 93 percent, according to a poll by Gallup Korea, which is not affiliated with the U.S.-based Gallup, Inc.
Only 9 percent of people aged over 60 said Park was doing well, according to the Gallup Korea survey.
Her support is lowest amongst young people. Ninety-nine percent of 19-29 year-olds and 98 percent of people in their 30s disapproved of Park, according to Gallup Korea.
Jang Haeng Joon, a computer programmer from Seoul, reflected the anger and frustration many fellow South Koreans feel.
"There will be more people going to the protest on coming Saturday," she told NBC News. "She made it clear that she had no idea about separating the private matters from the public responsibilities. Her biggest crime is that she failed to stop her friend from abusing the presidential power."