Two major challengers for South Korean president, a conservative and a centrist, conceded defeat Tuesday, paving the way for liberal Moon Jae-in to claim victory in an election that followed months of turmoil caused by ousted President Park Geun-hye's corruption scandal.
The concessions by conservative Hong Joon-pyo and centrist Ahn Cheol-soo followed exit polls that earlier forecast Moon would win, ending a decade of conservative rule in the country and setting up a sharp departure from recent policy toward nuclear-armed North Korea.
The exit poll of about 89,000 voters showed Moon received 41.4 percent of the vote.
The election comes amid persistent tensions with North Korea, wrangling over the installation of a controversial American missile defense system and a stubbornly high unemployment rate among young people in Asia's fourth-largest economy.
Last month also saw the indictment of Park, 65, on charges of bribery, extortion, abuse of power and leaking state secrets.
On March 10, after months of massive protests, Park became the country's first democratically-elected president to be removed from power in an evolving corruption scandal that included the powerful daughter of a one-time cult leader, the mass purchase of erectile dysfunction medication and the solicitation of bribes from Samsung Group.
Park is in jail, on trial, but denies any wrongdoing. She decided not to cast a vote, South Korean media reported.
Related: Murder, Cults & Viagra — A World Leader on the Brink
Park is a conservative, while Moon is from the opposition Democratic Party. He will be the first liberal to occupy the country's highest office in nine years.
Exit polls conducted jointly by three network television stations suggested Moon had won 41.4 percent of the vote — ahead of the 23.3 percent by his nearest rival, former prosecutor Hong Joon-pyo. A total of 11 other candidates were also running.
Moon, a former human rights lawyer, has called for a moderate approach on North Korea. He has also called Park's hard-line policy a failure. He advocates a two-track policy of dialogue with Kim Jong Un's regime while maintaining pressure and sanctions to encourage change.
He said in a YouTube live stream on Tuesday that Seoul should take on a more active diplomatic role to curb North Korea's nuclear threat and not watch idly as the United States and China conduct talks.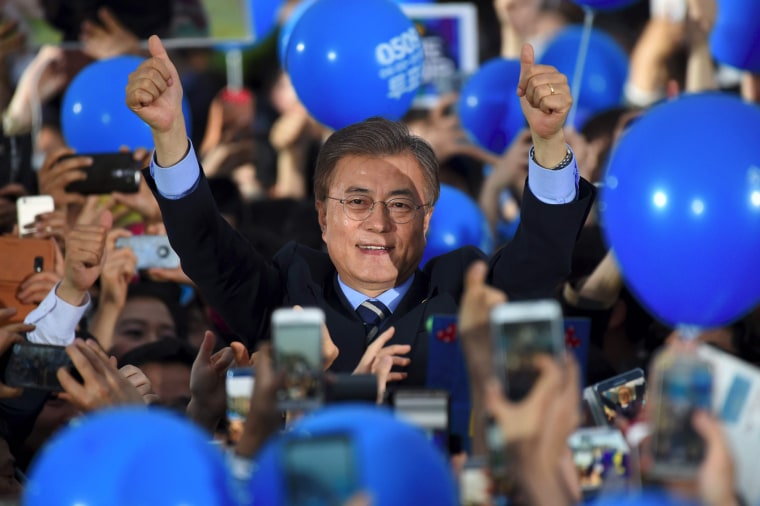 And despite his political affiliation, a conservative economist and former adviser to Park has been helping Moon craft his economic plans, which includes a far-reaching but vague promise to deliver 500,000 new jobs per year, according to Reuters.
Moon, 64, lost narrowly to Park in 2012.
He has also been scolded by gay rights groups. In a televised debate last month, Moon agreed with rival conservative candidate Hong Joon-pyo, who said that gay soldiers were weakening the country's military.
Moon's supporters said his views aren't unusual in this deeply conservative country, where a powerful Christian lobby regularly presses lawmakers to oppose anti-discrimination laws, and where only one out of presidential candidates openly advocates for gay rights, according to the Associated Press.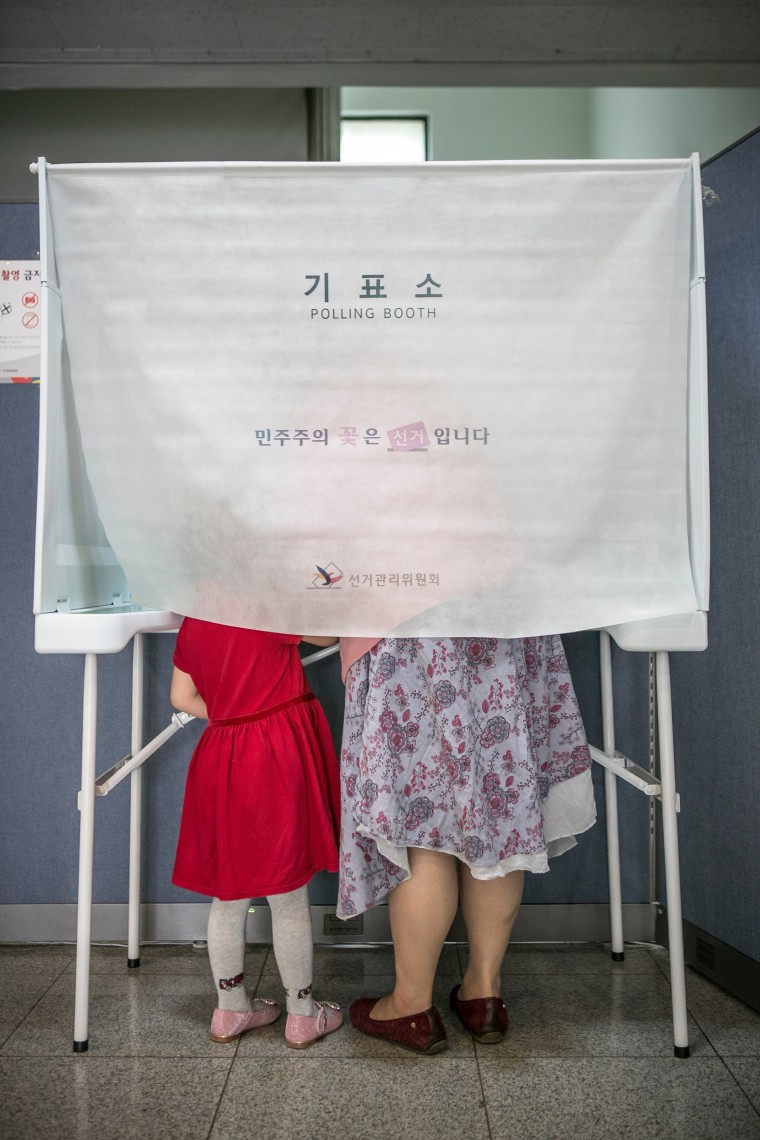 Moon's comments triggered protests — 13 activists were detained after he gave a speech at the National Assembly on April 26 — and pleas from gay rights activists to apologize.
"What he said was clearly hate speech," one activist, Jung Yol, told the AP. "Since he is the candidate favored to win the election, his words can influence how people think."
The winner is expected to be sworn in on Wednesday.
The State Department said Washington looked forward to continuing "close, constructive, deep cooperation" with South Korea's new president.
"We will continue to meet all our alliance commitments, especially with respect to defending against the threat from North Korea," State Department spokeswoman Katina Adams told Yonhap News Agency on Monday.
A big challenge for Moon will be Trump, who has proven himself unconventional in his approach to North Korea, swinging between intense pressure and threats and offers to talk.
Related: N. Korea's 'Hostage Diplomacy' Has a New Aim
"South Koreans are more concerned that Trump, rather than North Korean leader Kim Jong Un, will make a rash military move, because of his outrageous tweets, threats of force and unpredictability," Duyeon Kim, a visiting fellow at the Korean Peninsula Future Forum in Seoul, wrote recently in Foreign Affairs magazine.
"It is crucial that Trump and the next South Korean president strike up instant, positive chemistry in their first meeting to help work through any bilateral differences and together deal with the North Korean challenge."