Heavy explosions and gunfire rocked the capital of South Sudan on Monday, as the world's youngest nation hovered on the brink of a return to all-out civil war.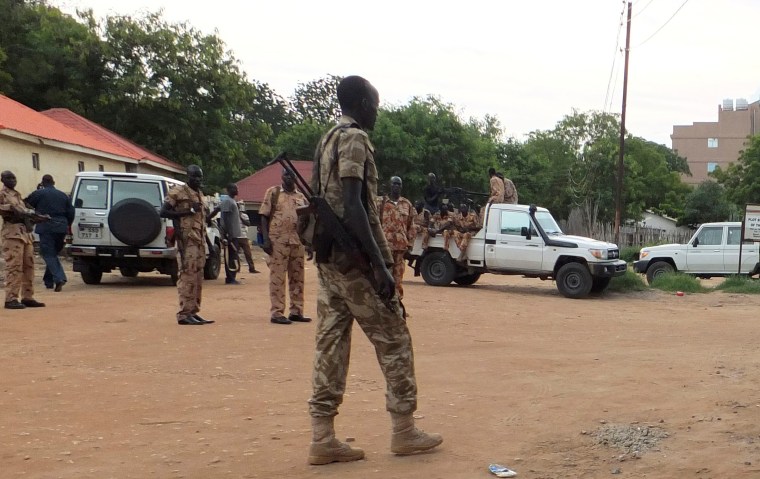 The deadly spasm of violence started with a skirmish Thursday between two longtime rival's forces and since rapidly intensified — all amid mounting fears the groups' leaders have lost control of their forces.
Thousands of civilians have fled their homes in the capital of Juba to seek shelter at United Nations bases — sites which have themselves been caught in the crossfire.
"Heavy shooting is happening right outside our windows," one aid worker at a U.N. base wrote on Twitter. "House keeps shaking with RPGs & tanks firing."
"Large explosion just now," added a journalist in Juba. "Seems like whole city hearing big booms right now."
How did we get here?
South Sudan split from Sudan in 2011 after years of fighting. The new nation's independence was championed by the U.S. — its success seen as an exercise in democracy.
However, tensions quickly emerged between South Sudan's President Salva Kiir and his deputy, Riek Machar. The country descended into chaos in 2013 after Kiir accused Machar of attempting a coup.
Both sides have since been accused of committing atrocities in the ensuing conflict, which has killed thousands.
The U.N. and international organizations have warned of an impending humanitarian crisis, with the threat of starvation looming as fighting has blocked the delivery of aid to many parts of the country.
A sign of hope, deferred
The signing of a peace deal between Kiir and Machar last August raised hopes of an end to the bitter fighting.
The deal called for a two-year transitional government composed of individuals from both sides of the conflict prior to elections.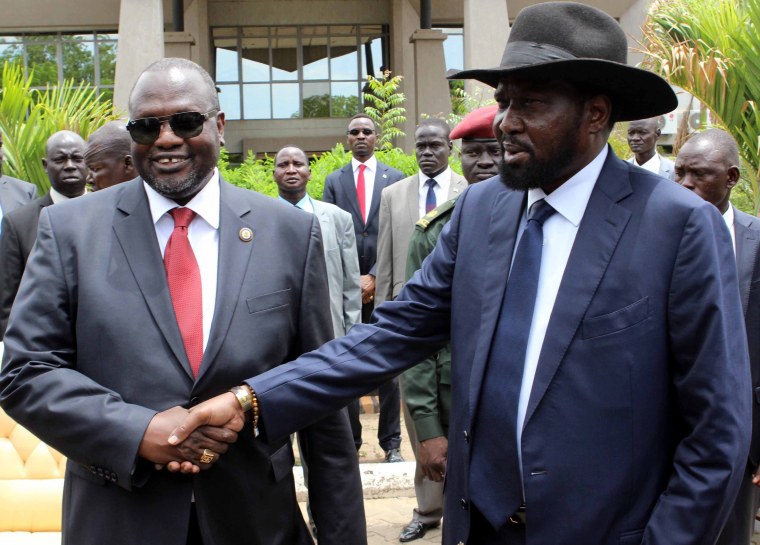 Machar's return to Juba in April was seen as a positive step towards peace. However, fighting has continued amid haggling over the deal's details. International actors have warned the agreement was being exploited.
Earlier this month the International Crisis Group said "formerly warring parties are now flouting it and increasingly preparing for widespread conflict."
"Implementation is stalled and fighting is already proliferating around the country," it said in a report. "Unless something is done, it is a matter of only a little time before there is a return to war."
That warning became a reality in the capital Juba after soldiers loyal to Kiir and Machar clashed on Thursday, triggering intense fighting over the weekend.
The violence erupted as the world's youngest nation celebrated its fifth anniversary of independence.
U.N. Secretary General Ban Ki-moon said he was "appalled" by the "outrageous" renewal of fighting, which "makes a mockery of commitments to peace."
"Yet again, the leaders of South Sudan have failed their people. Rarely has a country squandered so much promise, so quickly," he said Monday. "What kind of leadership is it that resorts to deadly weapons and identity politics, time and again? Failed leadership."
He urged the Security Council to impose an immediate arms embargo on South Sudan and to fortify the U.N. mission in South Sudan.
"When a government cannot or will not protect its people, and when warring parties seem more intent on enriching and empowering themselves at the expense of their people, the international community has a responsibility to act," Ban added.
Descent into chaos
There has been no official death toll for the outbreak, though Reuters reported that it topped 200.
The State Department has ordered non-emergency personnel to leave and those remaining to "shelter in a safe location away from doors and windows."
Explosions were heard again Monday near the United Nations compound in Jebel — which saw some of the fiercest fighting over the weekend. At least two Chinese peacekeepers were killed and five others injured.
The U.N.'s mission in South Sudan (UNMISS) condemned the use of heavy weapons — including "rockets from attack helicopters" — near its sites.
At least eight people were killed and 67 injured in 24 hours in or around U.N. civilian protection sites, UNMISS said Monday.
"UNMISS compounds are caught directly between the fighting and continue to sustain impacts from small arms and heavy weapons fire," it added in a statement.
The Security Council, meanwhile, has expressed "shock and outrage" over attacks on U.N. compounds and civilian sites in Juba, which it said "may constitute war crimes."
Such "deplorable" attacks are "outrageous" and go "beyond even the savagery that we've seen over the life of this conflict," said Samantha Power, the U.S. Ambassador to the U.N.
She spoke Sunday outside of an emergency meeting of the United Nations Security Council, telling journalists the situation was "spiraling out of control."
As fighting exploded questions have been raised over whether Kiir and Machar — who met Friday after the initial spasm of violence — are fully in control of forces loyal to them.
"We are extremely worried by what appears to be the lack of command and control over the troops," Power added.
The U.N. Security Council demanded the two leaders "do their utmost to control their respective forces, urgently end the fighting and prevent the spread of violence."
After the emergency meeting late Sunday, the Security Council also called on nations in the region to start readying troops for possible deployment.
No sign of a cease-fire
There was no sign of tensions easing on Monday, however. Some aid workers and journalists reported that gunships might now be involved, upping the ante and level of danger.
Juba was "completely shut down" on Monday evening — with the streets deserted save for the sight of civilians running with their belongings, according to Oxfam country director Zlatko Gegic.
Explosions and gunfire "we can hear even now," he told NBC News, describing how his team has been hunkered down "like prisoners" with "bullets flying over our heads."
Even the U.N. mission appears "completely powerless," according to Gegic. He said there has been no sign of U.N. peacekeepers on the streets amid the fighting.
"We have seen those gunships and attack helicopters flying over the city," Gegic said. "It seems that both sides in this conflict are using everything they have in their arsenal. Artillery fire, heavy machine guns, tanks… Everything they've got."
As he spoke, Kiir's office reportedly announced a temporary ceasefire. Gegic was not immediately convinced.
"We have been hearing all the right words from both leaders — Kiir and First Vice President Machar — who keep calling for calm and keep pledging for peace," Gegic said. "Unfortunately the current situation on the ground cannot be farther from their rhetoric."
"The situation is not getting any better and it might get worse before it gets any better," he added.
As international leaders continued to condemn the violence and urge a halt to hostilities, fleeing civilians were streaming into U.N. protection areas in search of safety.
About 10,000 people have been displaced by the fighting around Juba and are in need of life-saving assistance, according to the U.N.
The U.N.'s mission in South Sudan said more than 7,000 people have sought protection at two of its compounds alone.