The guns were quiet in South Sudan's capital on Tuesday as a shaky cease-fire appeared to take hold following days of deadly violence.
Fighting in the capital Juba started with a skirmish Thursday and descended into heavy fighting between forces loyal to South Sudan's President Salva Kiir and Vice President Riek Machar, a former rebel leader.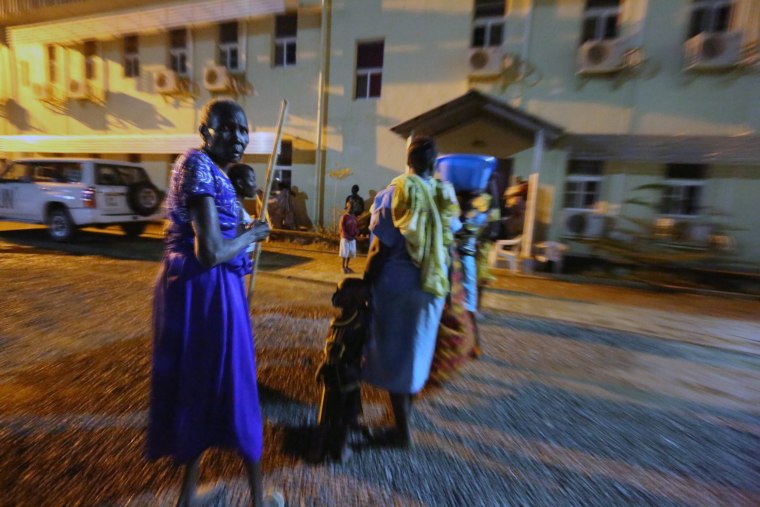 The two rivals had signed a peace deal last year to end an ethnically-charged civil war that had raged since 2013 and killed thousands, pitting the Dinka supporters of Kiir against the Nuer followers of Machar.
However, the deal failed to stem the fighting — and the recent spasm of violence was seen as a dangerous step toward returning to all-out civil war.
No official toll has been released but U.N. Special Adviser Adama Dieng said "several hundred" died in the clashes — with some victims reportedly targeted based on their ethnicity.
"It's been a bit nerve-wracking ... There's been a general sense of panic in the city"
The U.S. and U.N. had demanded an immediate end to the hostilities, which saw civilian sites and U.N. installations caught in the crossfire.
Heavy-weapons fire also hit the maternity wing of an International Medical Corps hospital, which the organization said had been operating for three days without water and treated nearly 140 people injured in the outbreak of violence.
As tensions escalated U.N. Secretary General Ban Ki-moon on Monday had called for the Security Council to impose an immediate arms embargo on South Sudan and beef up its mission there.
After days of heavy fighting South Sudan's president declared a unilateral cease-fire at 6 p.m. local time (11 a.m. ET) Monday. Following what appeared to be a burst of celebratory gunfire that evening, the truce appeared to be holding.
The State Department — which ordered nonessential staff out of the country — said the U.S. ambassador has "repeatedly" spoken to senior officials on both sides of the conflict.
"The situation remains tense," the U.S. Embassy in Juba said Tuesday.
Red Cross volunteers meanwhile began the grim task of preparing bodies for a mass burial, donning rubber gloves outside of Juba hospitals.
Marial Jok, a spokesman for the South Sudan Red Cross, would not comment on the scale of the task at hand by giving even an estimate of the toll.
"We are focusing on what we are doing here — moving the bodies into the body bags," he told NBC News.
Meanwhile, Juba's international airport reopened amid the lull, with charter flights taking off on Tuesday morning.
CARE's Fred McCray was among the 100-or-so humanitarian workers there waiting to evacuate.
He and his team had been on lockdown in their compound for the past several days amid the "extremely intense" fighting.
"We could hear heavy fire — small arms fire but also heavy arms, with what sounded like tank fire and mortar fire," he told NBC News. "It's been heavy, it's been a bit nerve-wracking ... There's been a general sense of panic in the city because you never know where the fighting is going to start."
The cease-fire announcement, he said, brought calm — save for a burst of what was most likely celebratory gunfire at around 8 p.m. (1 p.m. ET)
McCray and several colleagues made their way to the airport Tuesday morning in a humanitarian convoy.
"There were no signs of fighting," he said of the drive. "The streets were extremely quiet."
While downtown Juba was mostly deserted, aid workers said they saw signs that people were emerging from hiding.
"Groups of people are coming out for fresh air after seeking shelter for several days," said World Vision's policy and advocacy adviser Jeremiah Young.
The United Nations has said that at least 36,000 people were displaced by the fighting in Juba and are in need of urgent assistance.
Several reports have alleged peacekeepers blocked fleeing civilians from seeking refuge at U.N. bases — and being shot at while trying to do so. The U.N. said Tuesday it was "deeply concerned" over those claims — and by reports of violence spreading to other parts of South Sudan.
Young described witnessing families — some of the thousands of displaced — desperately seeking safety in the midst of the violence.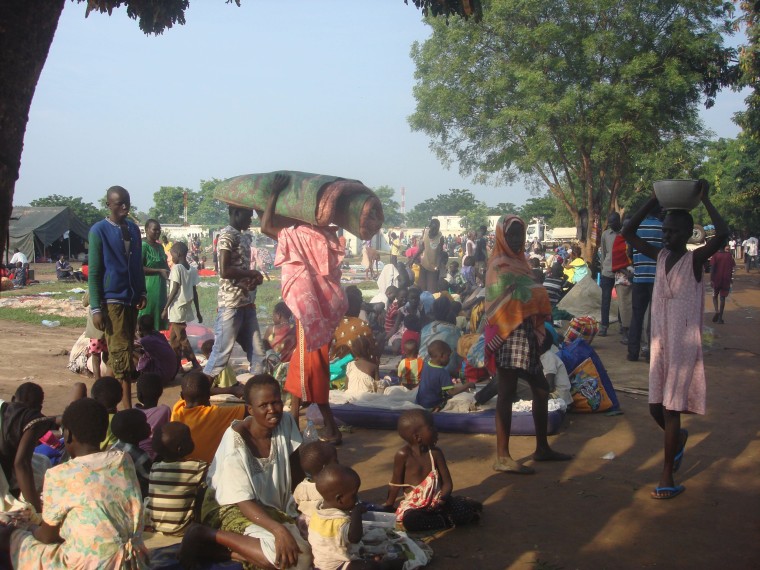 "Watching mothers carrying their children, carrying everything they have ... It's incredibly frustrating as a humanitarian knowing there's not much you can do because the security situation just does not allow it," he said.
Now that the guns have gone quiet he said aid organizations were working to assess the needs — as long as the cease-fire holds.
"It's certainly a difference atmosphere than it was but I can't overemphasize the fact that things are still very, very tense," Young warned. "It's a very fluid situation."