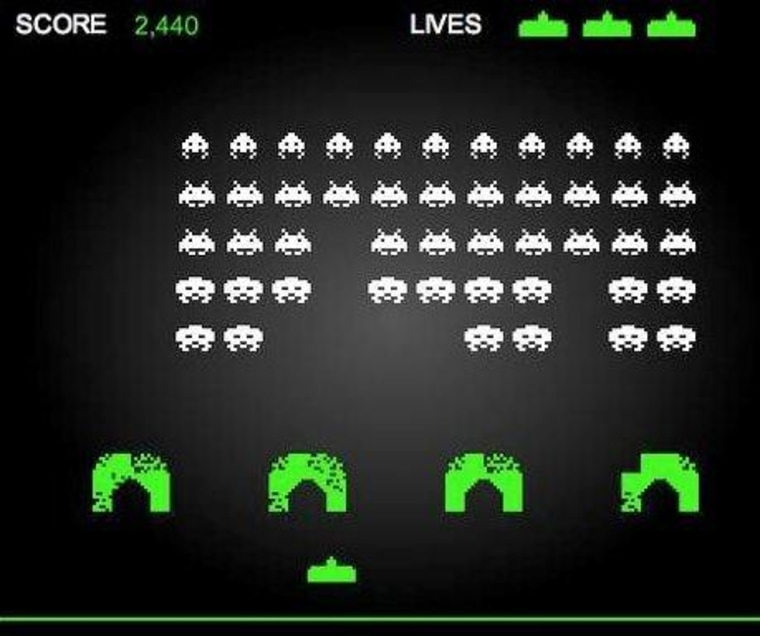 If ever there was a video game that begged to be made into a movie it's ... "Space Invaders."
Or at least, that's what some people in Hollywood think.
As you may recall from your days spent in dank arcades during the 1970s and '80s, "Space Invaders" is a game that features a complex and emotionally evocative plot that follows the heart-wrenching struggle of a lone soldier who must defend his home and country from a merciless horde of enemies while coming to grips with his own internal demons. The nuanced narrative explores themes of loneliness, isolation and, ultimately, the triumph of the human spirit.
Oh wait...I'm sorry. I was confused. We're talking about that "Space Invaders" game — the one in which you shoot down a bunch of blocky aliens as they march back and forth and up and down across the screen at an ever-accelerating pace.
Yeah, they're going to make a movie out of that. To which I say bravo! At long last, someone is going to challenge "Super Mario Bros." for Worst. Movie Adaptation. Ever.
This cinematic news comes to us from The Hollywood Reporter which, er, reports that producers Lorenzo di Bonaventura and Odd Lot Entertainment's Gigi Pritzker have teamed up to option the rights and develop the movie and are, in fact, on the  hunt for a writer to, you know, make up an actual story to go along with the thing. (Ooooh, pick me, pick me! I totally have some awesome ideas.)
Certainly di Bonaventura has a lot of experience when it comes to transforming childhood passions into silver screen gold. He's produced the "Transformers" and "G.I. Joe" movies. And, in addition to "Space Invaders," he's developing a film based on that other classic-arcade-game-with-no-real-plot: "Asteroids."
But hey, if they were able to make some pretty decent/entertaining films out of a Disneyland ride with no real plot, then surely they can do the same thing to a game with no real plot. Perhaps Johnny Depp is available?
At least one superb actress has already thrown her hat into the ring for "Space Invaders: The Movie." Gaming and geek idol Felicia Day made her wishes known with this post on Google+: "This will be excellent. I want to play a green one. (WTF?!?!)"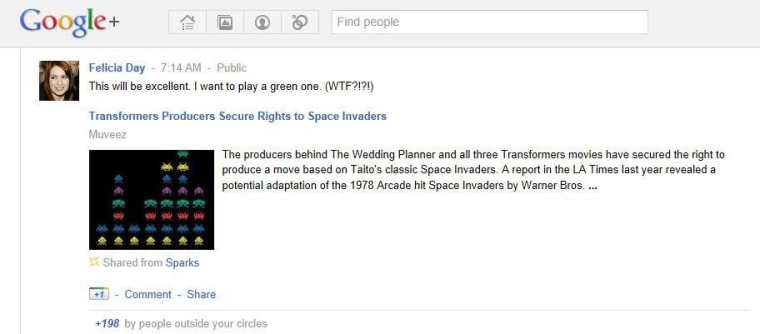 As awful as a "Space Invaders" movie might sound, admit it gaming old timers ... you would totally rent this movie just for nostalgia's sake.
But really, what I want to know is, when are they going to make a movie out of my favorite arcade game — "Tempest?"
For more gaming news, check out:
Winda Benedetti writes about games for msnbc.com. You can follow her tweets about games and other things right here on Twitter.