Spain's King Juan Carlos I was championed decades ago for leading his country away from dictatorship and into democracy.
But after he announced Monday that he was stepping down from the throne — following a string of scandals, health concerns and economic catastrophe — many Spaniards were looking beyond his son and heir for their next head of state, many of them demanding their country become a republic with no monarchy at all.
Juan Carlos acknowledged this dissatisfaction when announcing his decision to hand the throne to his son, 46-year-old Crown Prince Felipe, promising in a televised address that it would "open a new era of hope."
"A new generation is quite rightly demanding to take the lead role," he said.
But for the country with an unemployment rate of more than 25 percent, the gesture rang hollow, according to Matthew Bennet, editor of thespainreport.com. Just hours after the king's announcement, anti-monarchy groups were planning marches in dozens of towns and cities across Spain on Monday evening.
Galvanized by the king's historic move, they were demanding a referendum to decide whether to do away with their royal rulers.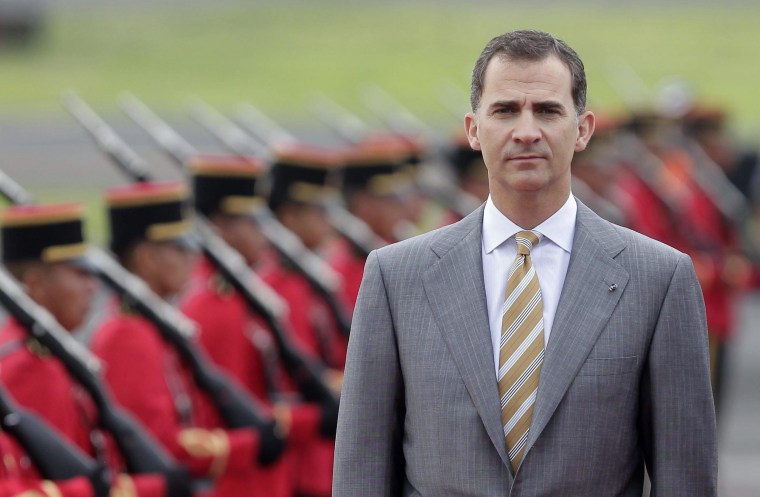 "You speak to young workers in Spain and you can see they have a sparkle in their eye," Bennett told NBC News via telephone from Madrid, where he said authorities were preparing for the biggest march of the evening in the prominent square, the Puerta Del Sol.
"They are in favor of the idea of implementing a Spanish republic and the government knows it, too."
Felipe is a far more low-key figure than his father. He has not been tarnished by the scandals that have driven the king's popularity to a measly 41 percent, according to a recent poll in Spanish media reported by Reuters.
Juan Carlos once enjoyed widespread popularity as the man who took Spain from the autocratic rule of Gen. Francisco Franco in 1975 and pushed it into the democratic era.
Thirty-nine years after he took the throne, the outgoing king is now seen as a man deeply out-of-touch with the social landscape of post-economic-meltdown Spain.
"We demand the government call a referendum"
Some estimate the king's worth could exceed 2 billion euro, a galling sum for a country that has been one of the hardest hit in Europe by the financial crisis.
This disconnect came to a head in 2012 when Juan Carlos injured himself on a secret, colonial-style elephant-hunting trip in Botswana and had to be flown home for treatment via private jet.
In the hour after news of Juan Carlos' abdication broke, Spaniards took to Twitter to give their reactions. A trend map of popular terms on the social network showed that "abdica" was among the most common. Not far behind, worryingly for Spain's royals, was the unambiguous "república."
The Chief Justice of Spain's Supreme Court, Carlos Lesmes, said after the king's announcement that he could not see a reason for a referendum.
But Bennet said the abdication was the latest event in what could be seen as a domino effect for Spain in recent weeks, coming after the resignation of several mainstream party leaders and the anti-monarchy Podemos political party gaining 1.2 million votes in the recent European Parliament elections.
"It might be that Felipe can go some way toward appeasing this sentiment, but the Spanish establishment is worried about what's coming," he said.
Reuters contributed to this report.