BARCELONA, Spain — As authorities hunted the driver who plowed into a crowd in the Catalan capital, Barcelona, some have expressed concern that the region's large Muslim population puts it at particular risk from Islamic extremism.
An ISIS-affiliated news agency said the terror group took responsibility for the van atrocity, which killed 13 people including an American, and for related attacks that have rocked the area since Thursday.
Police believe they have dismantled a terror cell, and have raided an apartment belonging to a Muslim cleric. The father of two of the suspected terrorists involved in the attacks said his sons had been radicalized by a local imam.
A fiery editorial in right-wing newspaper La Razon branded Catalonia the "capital of Salafism in Spain." With this reference to an ultra-conservative branch of Islam, polemicist Alfonso Ussía took aim at local politicians for avoiding the issue and suggested local Muslims had not shown sufficient anxiety.
The attention from La Razon and others has shone a harsh light on the area's Muslims — even as those opinions clash with those held by the many in a city that elected a progressive mayor in 2015.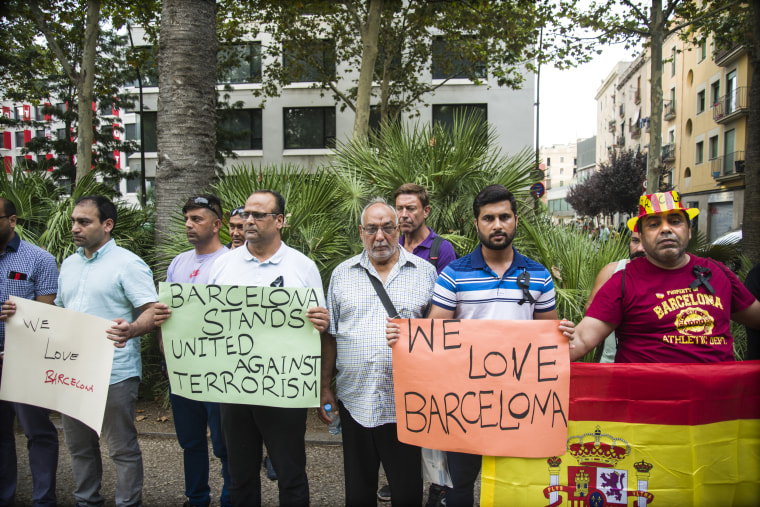 Dozens of Muslims gathered Saturday on La Rambla, the tourist hotspot where the van attack took place, and chanted "Not in my name" and "Islam isn't terrorism."
They also held placards emblazoned with "We are all Barcelona" in Catalan, the language of the region.
David Garriga Guitart, a criminologist based in Barcelona and an expert on Islamic extremism, says some 30 percent of Spain's almost 300 mosques are in Catalonia, which has a population of about 7.5 million. Around 46.6 million people live in Spain as a whole.
Government statistics, meanwhile, show that authorities in Catalonia conducted 11 anti-terror operations and detained seven suspected extremists in 2017 before the attack — more than any other region in Spain.
The worry now is that "parallel societies" could develop in parts of the country like El Raval, a gritty neighbourhood with a large Muslim population right next to La Rambla, said Garriga Guitart. The district has been dubbed by some as the Molenbeek of Barcelona — a reference to the suburb of Brussels that has been tied to Islamic extremism.
"We're not talking external ghettos — they are right in the middle of urban centers," he said. "But people are isolated, some imams don't speak Spanish."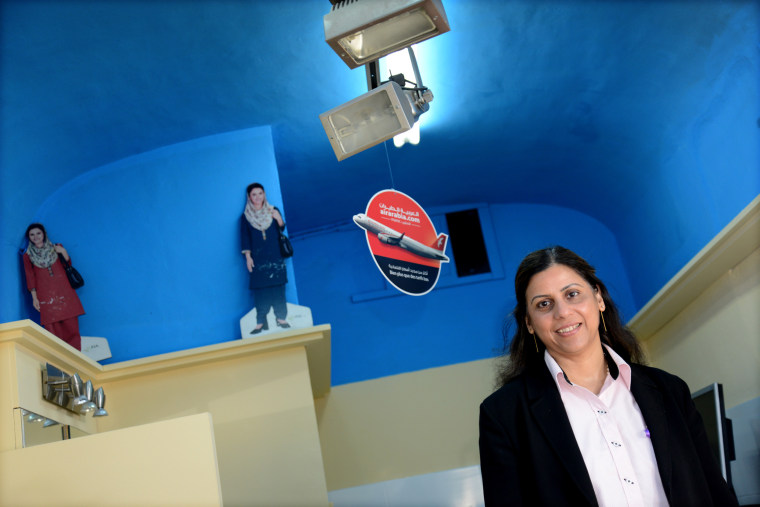 Garriga Guitart warned that El Raval could be one of these "parallel populations."
As shown by Saturday's demonstration, the anger the recent attacks provoked have compelled members of Catalonia's 500,000-strong Muslim community to respond.
"We ask forgiveness from the families and the souls that we were not able to take care of these people," said Javid Mughal, the director of El Mirador dels Immigrants, a newspaper based in El Raval aimed at recent arrivals.
Mughal, whose paper is printed in Urdu, Spanish and Catalan, warned his co-religionists to remain alert to extremism within their own ranks.
"We cannot lower our guard — if we see strange things we have to take them to the police. It affects all of us."
Suspected jihadists were behind a string of attacks across Europe in which vehicles has been used as weapons — a crude but deadly tactic that is near-impossible to prevent and has now killed nearly 130 people in France, Germany, Britain, Sweden and Spain.
While Mughal acknowledged the community's role in preventing extremist attacks, he was also was quick to warn of xenophobia stemming from Thursday's onslaught.
"Just because someone is a criminal doesn't mean everyone in the neighborhood is responsible," he said.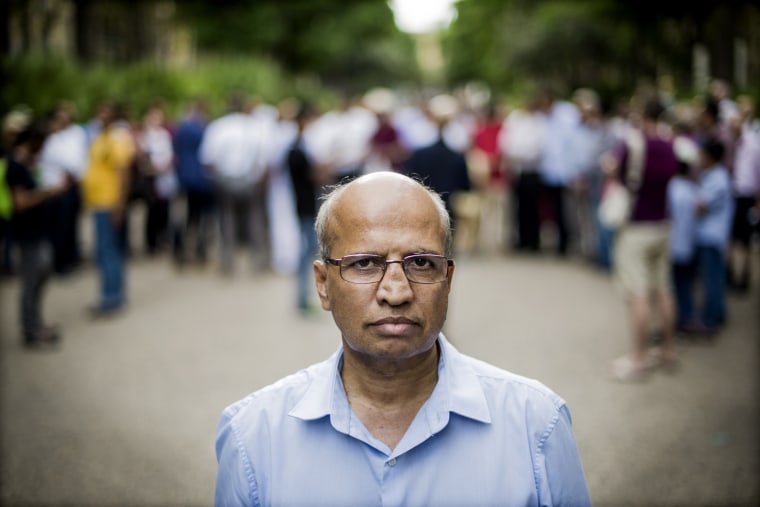 With the raw grief on display in the growing memorials throughout La Rambla and news of the manhunt dominating the news, feelings are running high on all sides.
"It is claimed this attack was done by Muslims. This is bulls---," said Samir, a worshiper at Tariq bin Ziyad mosque in El Raval.
The 32-year-old, an engineering student who declined to provide his last name, questioned whether those who committed the crime were true Muslims, since their acts were "against Allah" and could not have been committed by anyone with faith in God.
"No religion supports this," he said. "I don't think they are practitioners."
Samir blamed social isolation typical of Western cultures for the wrongs committed by some in the name of Islam.
"The lonely can be misguided by their frustrations," he said.
Regardless of whether the perpetrators of the Barcelona attack were Muslim, his coreligionists had the obligation to seek out those who were troubled and bring them back into the fold, Samir added.
Other Muslims looked beyond the community for answers.
Thursday's attack "was a complete failure of the security system of the government," said Huma Jamshed Bashir — who owns a string of travel agencies and has worked on the issue of forced marriage and women's rights.
"Yes, there are some little groups of radical people but it doesn't mean they are terrorists," said the 51-year-old. "So the government should have taken some measures to get closer to those groups and try to change their minds."
Jamshed Bashir, who was embroiled in a legal dispute with the municipal government after having been expelled as a local counselor, also believes her fellow Muslims have an important role to play in combating extremism. She said they should promote a more inclusive image — one that, for example, includes women.
Related: Scared but Defiant, Barcelona Marches to Reclaim City From Terrorists
"There is no open mosque for everyone. If you ask any Muslim leader they will say 'Yes, she is allowed, she can pray,'" she said.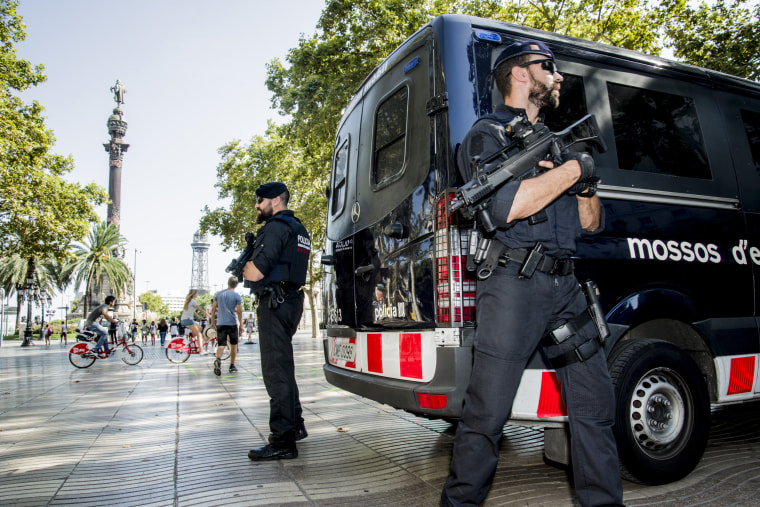 "They will say this but they don't have two bathrooms. And they don't have a separate place for them to pray."
Garriga Guitart, the criminologist, takes a more holistic approach. The key to dealing with extremism is integrating young Muslims into mainstream society overall, he said.
"We have to fight really hard for prevention," he said. "We have to stop the growth of this ideology from the roots … and this will take an investment from society."