Spanish authorities said Monday that Catalan police fatally shot the man suspected of killing 13 people in a van attack on Barcelona's La Rambla.
"Just before 5 o'clock in the afternoon, the Catalan Police has shot dead Younes Abouyaaqoub, driver of the van and direct perpetrator of the attack in Barcelona on Thursday causing the death of 14 people," President of Catalonia Carles Puigdemont said at a press conference Monday evening.
Earlier, regional police confirmed the death of Abouyaaqoub in Subirats on Twitter.
Police also said on Twitter that so far there were four detained suspects and eight dead suspected terrorists in connection with the attacks in Barcelona and the nearby seaside town of Cambrils, where an additional person was killed in a separate attack.
Catalan police chief Josep Lluis Trapero said at the press conference that members of the public called authorities when they saw Abouyaaqoub at a train station.
When police found him near a vineyard, Abouyaaqoub opened his shirt and shouted "Allahu Akbar" while wearing a suspicious belt, Trapero said. Police then shot him and he was identified by fingerprint matching, he added.
Trapero added that the apparent suicide belt was a fake and did not have any explosives. Abouyaaqoubwas carrying several "knives and daggers," he added.
Police had named Abouyaaquoub as the only remaining suspect yet to be arrested after the attacks, but said Monday that the investigation was still ongoing.
Police gave a detailed account of how Abouyaaquoub, 22, allegedly careened down a busy Barcelona thoroughfare — killing 13 and injuring more than 100.
They said he escaped the scene on foot, stabbed to death another driver and took his car before mowing down a policewoman.
Police said Abouyaaquoub's fled through La Rambla via the nearby La Boqueria food market, walking just under four miles to the city's university neighborhood where he then killed 34-year-old Pau Perez and took his vehicle.
Perez is the 15th person to be named by police as a victim in the attacks.
Police said they tried to stop Abouyaaqoub in the university neighborhood, firing shots at the car but he slipped the net, running over a policewoman in the process.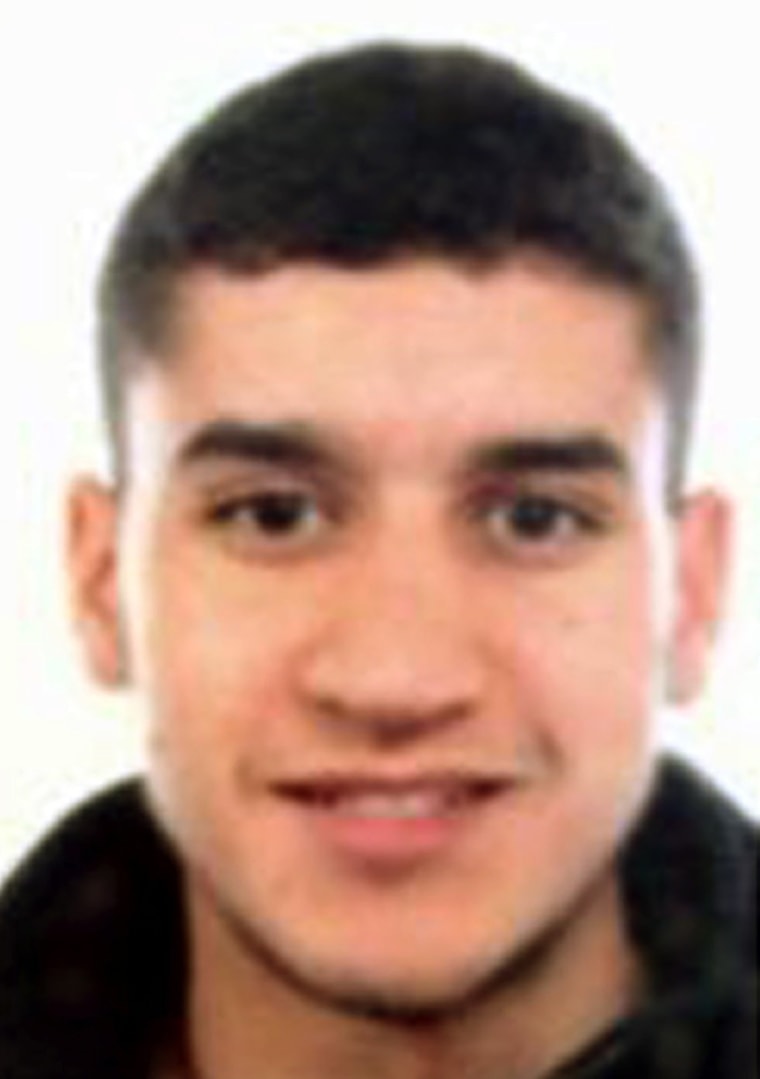 The vehicle was later found in the Sant Just Desvern area although police say they lost all trace of Abouyaaqoub there.
A local government official had earlier told Catalan radio that investigators believed "everything indicates" that Abouyaaquoub was the driver.
Joaquim Forn, who runs the Catalonia regional government's interior ministry, also said that Abouyaaqoub was the final member of the 12-man cell suspected of carrying out the attacks who remains at large and that the he was being sought by police in "all European countries."
Abouyaaqoub's mother had pleaded with her son to surrender.
"He must go to the police," Hannou Ghanimi told reporters Sunday.
Ghanimi went on to say she wanted her son to go to jail, according to a translation by Abouyaaqoub's cousin.
"She doesn't want others to be killed," she said.
On Sunday, police said the driver of the van, who they had not named at that point, had fled and may have crossed the border into France. They reiterated Monday that they could not rule that scenario out.
Police also said they thought there was only one person in the van at the time of the attack.
However, they believe those suspected of being involved in the plot were part of a group which had planned one or more attacks on Barcelona using explosives.
Two people are believed to have died in an explosion in a house in the town of Alcanar, around 100 miles to the southwest of Barcelona Wednesday.
Police believe the property was used to plan the attacks, and that the accidental explosion prevented a far deadlier strike. Police shot dead the five attackers who were wearing fake bomb belts in Cambrils early Friday.
They also said Sunday that four more suspects had been arrested, one in Alcanar, southwest of Barcelona, and three in the town of Ripoll.
Catalan police on Monday also said they found 120 gas canisters in the Alcanar house which was flattened by Wednesday's explosion. Remains of two or three bodies were found in the house, they added.
Authorities at the press conference on Monday evening said that the body of an imam thought to have inspired the terror cell was found in the rubble.