BARCELONA, Spain — Facing his possible removal from office, the president of the Spanish soccer federation refused to resign Friday despite an uproar for kissing a player on the lips without her consent after the Women's World Cup final.
Luis Rubiales defiantly told an emergency general assembly of the federation "I won't resign" four times in quick succession and claimed he was a victim of a witch hunt by "false feminists."
Several Spanish media outlets had reported on Thursday that Rubiales was planning to step down after grabbing and kissing Jenni Hermoso on the lips during the award ceremony after Spain beat England in the final in Sydney, Australia, marring the title celebrations in front of a global audience.
Instead, he said the kiss was "mutual and with the consent" of Hermoso and painted himself as a victim. He received various applause from the overwhelming male assembly.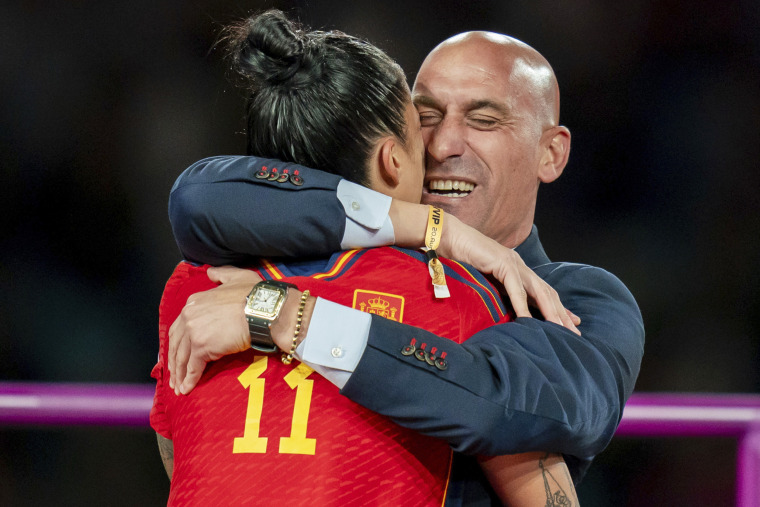 Among those who applauded his decision to cling to power were women's national team coach Jorge Vilda and men's national team coach Luis de la Fuente.
Hermoso had said in a video streamed on social media after the kiss last Sunday that "I didn't like it, but what can I do?" Later, her players' union issued a statement on her behalf saying that it would defend her interests and ensure that the act "does not go unpunished."
The federation's first attempt to respond to the scandal was a statement it released in the name of Hermoso in which she downplayed the incident. Later, a local media report by sports website Relevo.com said that the federation had coerced her into making the statement. The federation has denied this to The Associated Press.
In the version that Rubiales told the assembly, he said Hermoso had lifted him up in celebration and he asked her for "a little kiss?" and she said yes.
"The kiss was the same I could give one of my daughters," Rubiales said.
He said that he would defend his honor in court against politicians, including two ministers, who called his kiss an act of sexual violence.
Alexia Putellas, Hermoso's teammate and a two-time Ballon d'Or winner as the best player in the world, posted a message of support on X, the social media platform formerly known as Twitter.
"This is unacceptable," the Barcelona player wrote. "I'm with you, my teammate, Jenni Hermoso."
Acting Deputy Prime Minister Yolanda Díaz, one of the ministers Rubiales said he would sue, also spoke out against the soccer official.
"The government must act and take urgent measures: impunity for macho actions is over," Díaz said. "Rubiales cannot continue in office."
The president of Spain's women's league, Beatriz Álvarez, told Spanish state broadcaster RTVE that she was not surprised because Rubiales' "ego is above his dignity."
"What surprises and scandalizes me are his words," Álvarez said. "Every time he speaks he shows what kind of person he really is."
The 46-year-old Rubiales is under immense pressure to leave his post because of his conduct after Spain's 1-0 victory over England on Sunday.
Since Rubiales became a national embarrassment, criticism and calls for him to go have mounted day after day, with Spain's acting prime minister, players' unions, and finally voices from inside men's soccer saying he must go. The only relevant institution to remain silent has been European soccer body UEFA, for which Rubiales is a vice president. Until Friday's assembly, he had received no public support in Spain.
FIFA, the governing body of soccer, opened a disciplinary case against Rubiales on Thursday. The FIFA disciplinary committee was tasked with weighing whether Rubiales violated its code relating to "the basic rules of decent conduct" and "behaving in a way that brings the sport of football and/or FIFA into disrepute."
FIFA gave no timetable for a ruling. The body's disciplinary judges can impose sanctions on individuals ranging from warnings and fines to suspensions from the sport.
Rubiales, who led the Spanish players' union for eight years before taking over as federation president in 2018, is currently heading the UEFA-backed bid to host the men's World Cup in 2030. Spain is bidding with neighboring Portugal and Morocco, and also possibly Ukraine.
The investigation by FIFA came after Spain's acting prime minister, Pedro Sánchez, said Rubiales' attempt to apologize, which came after he initially insulted his critics, was unconvincing and that "he must continue taking further steps" to be held accountable.
Spain's Higher Council of Sports, the nation's governing sports body, responded to Rubiales on Friday by saying it was immediately referring the complaints it has received from two federation assembly members, Spain's women's league and Díaz's political party to Spain's Administrative Court for Sports. Rubiales could be deemed unfit to hold office if the court finds that he violated laws or regulations sanctioning sexist acts.
"The speech by Mr. Rubiales before the general assembly of the Spanish soccer federation is absolutely incompatible with representing Spanish sports and with the values of an advanced society like Spain's," Spain's Higher Council for Sports said.
The Netherlands-based FIFPRO player's union, which had already demanded action against Rubiales, reiterated its position after his speech. It said that it "welcomed" the moves by FIFA and Spain, and asked UEFA to open its own disciplinary case against its vice president.
Shortly before the kiss, Rubiales grabbed his crotch in a victory gesture with Queen Letizia of Spain and 16-year old Princess Sofía standing nearby.
Rubiales only offered an apology for the crotch grab, saying it was in a moment of "euphoria" and directed toward Vilda on the field.
The first members of the elite in Spanish men's soccer spoke out against Rubiales on Thursday, when it looked like he was bowing out. Their words of reproach continued to trickle in after Rubiales' diatribe on Friday.
"What an embarrassment," former Spain goalkeeper Iker Casillas said on X. "We should have spent the last five days talking about our women players, about the joy they gave us all! About how proud we are that they gave us a title that we didn't have in women's soccer, instead…"
Real Betis forward Borja Iglesias, who has occasionally been called up for Spain's national team, said he would not play for his country again "until things change."